Avian Flu is ravaging bird populations across the world, and it stems from its ability to rapidly spread and induce numerous formidable symptoms, including death. Highly pathogenic avian influenza (HPAI) caused in 2021-2022 is what the European Food Safety Authority is calling "the largest epidemic so far observed in Europe." In the United States, there have been approximately 58 million detections of the HPAI virus, and that's just since January 2022. So, what does this mean and how disquieted should we be? 
What is Avian Flu?
Avian influenza, also known as H5N1, avian flu, or bird flu, has been present for at least a century ("fowl plague" was the name given to it in the late 19th century after its detection in Italy and other European countries) and is not a new disease. 
Like with other diseases, there are different variants or strains that fluctuate in infectiousness and severity. For avian flu, there are two main categories – low pathogenicity avian influenza A viruses (LPAI) and highly pathogenic avian influenza A viruses (HPAI). These different variants are classified by the "molecular characteristics of a virus and the virus's ability to cause disease and mortality to chickens," according to the Centers for Disease Control and Prevention (CDC).
"What we know about flu strains is that they're constantly changing," epidemiologist and environmental microbiologist at Johns Hopkins University Meghan Frost Davis said. "Influenzas has the potential to become epidemics or pandemics."
It is able to spread both directly and indirectly, through physical contact with birds or when birds come in contact with contaminated surfaces or materials, including manure, crates, or other farming materials and equipment.
How is Avian Flu affecting the world right now?
Avian Flu's decimation of numerous poultry populations around the world has meant that prices have increased for poultry-related products, in particular eggs. 
"A couple of years ago, in Humboldt, you used to be able to get a carton of eggs for four-fifty, five bucks," former Woodside student and current Cal Poly Humboldt freshman Cedrik Von Briel said. "Now, I went the other day, it was around seven bucks or seven-five bucks."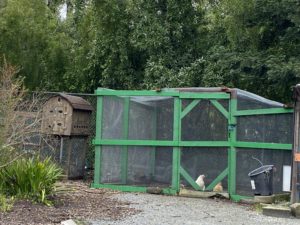 According to the United States Bureau of Labor, eggs have increased in price by 55.4 percent from February 2022 – February 2023, one of the greatest unadjusted percent changes compared to other items. 
Due to the close-packed conditions in many poultry living spaces, the avian flu is particularly transmissible, infecting huge flocks quickly. In most cases, "culling" or euthanization of chickens, ducks, gooses, or other poultry is carried out. 
"The main strategy for bird flu is if you detect one [infected] bird in your chicken flock, the sad part is you have to kill them all," Von Briel said.
While the name 'Avian Flu' suggests that the disease is strictly bird-involved, cases of HPAI Avian Flu have been found in wild animals like seals, foxes, dogs, and several other mammals including humans, and mink. 
Avian Flu does not usually affect humans, but among those infected, symptoms range from no symptoms to death. 
"[Cases of Avian Flu] have occurred sporadically in many countries, usually after unprotected exposures (e.g. not using respiratory or eye protection) to infected poultry or virus-contaminated environments," according to the CDC. "The risk to the general public from these viruses remains low."
What can you do to slow the spread of Avian Flu?
While for companies or farmers avian influenza can cause economic concerns, for individuals, it can produce different difficulties, such as concern over pets or feeders.
"I have a bird feeder," freshman Luca Marks said. "It's this little opened metal [cage] with suet [inside] where birds can grab onto with their feet and eat."
Bird feeders are common gathering places for a variety of birds, in particular songbirds. Considering HPAI's infectivity, is it warranted to be concerned about HPAI spreading through bird feeders?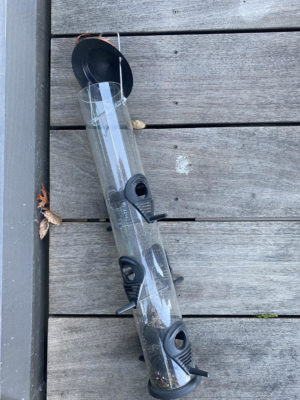 "There is currently a low risk of an outbreak among wild songbirds, and no official recommendation to take down feeders," according to AllAboutBirds.org.
Citing that songbirds are far less likely to transmit the disease, AllAboutBirds states that there is no need to take down feeders, but does recommend frequent cleaning to prevent potential spread. However, other bird organizations, including Audubon California, disagree.
"We're recommending that people take down their bird feeders or don't fill them right now," Audubon California policy director Mike Lynes said in an interview with PBS. "And to empty the bird baths where birds may come to drink or to bathe; that's just to minimize birds congregating in peoples' yards and bringing them closer together which can spread the disease."
While there may not be a clear consensus among birding groups to remove or maintain bird feeders and bird baths, the CDC has not given recommendations that they should be taken down. What they do recommend is frequent cleaning to minimize the spread.
"The recommendation is to clean [bird feeders] every couple of days," Von Briel said. "By cleaning your feeders every week or every day, you can [slow] or shut down the spread of this virus."
For keepers of domestic birds, such as those having several chickens in their backyard, the Animal and Plant Health Inspection Service has an online leaflet on how to protect your poultry from H5N1. Tips include cleaning and disinfecting equipment and clothing, isolating birds with symptoms, and preventing wild birds from coming into contact with your domestic birds.