Twelve-Year-Old Boy Shoots at Teacher, Fails Because of Safety Catch
In the latest instance of school gun violence, North Scott Junior High went into lockdown after a student attempted to shoot a teacher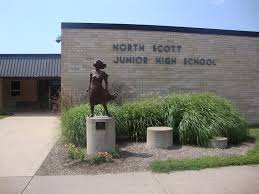 Mia Chu, Staff Writer
September 25, 2018
A 12-year-old boy pulled the trigger on his middle school teacher but failed to injure her because of the safety catch.
The student, whose name is unreleased, bypassed what security there was at North Scott Junior High in Eldridge, Iowa. He then purposefully attempted to shoot at his teacher during school hours.
The 22-caliber handgun luckily still had the safety catch on, so no one was injured. Police were notified and the school went into lockdown on August 31, at approximately 8:30 in the morning.
"We want all of you to know that North Scott Junior High is on lockdown at this time, everyone is safe and we ask you please not come to school or call as we process the situation with students and staff," school administrators described in an alert following the lockdown, according to The Washington Post. "We did have a student bring a gun to the junior high. The student is in custody and the gun has been secured."
"
It's still unclear where the boy got the gun or why he apparently took it to school and tried to shoot a teacher, but the teacher is being credited with helping to prevent another tragic school shooting."
— The Washington Post
Luckily, the teacher acted quickly. According to Quad City Times, when the gun failed to fire, the teacher wrestled it from the boy's hand and nobody was hurt.

"The teacher in the room — the decisions that she made — made all the difference in the world," Stutting, the superintendent, told The Washington Post.
The teachers and administration at Woodside High School are considering what they would do in similar situations.
"It's hard to tell if a situation like that is preventable… if metal detectors could be an option [at Woodside], that's cool," said Renee Alvarez, AVP Secretary.
Many school shootings have occurred in the past, some killing as many as 44 people. Some students feel Woodside isn't entirely prepared for such an attack.
"I feel like there should be better security at our school," Clara Kirksey, a Woodside freshman, commented.
Others believe that Woodside's faculty are almost fully prepared to handle a shooting situation.
"I do feel as if at least 90% of the teachers [know the safety procedures], and the only ones who don't know would be the new staff… But we are planning on having drills so they will be properly informed," Alvarez told the Paw Print.
And, all Woodside teachers and administration believe that parents, faculty members, and students should be aware of the occurrence of these events and should know how to what to do if they occur.
"It's a crazy world out here," Amy Wheeler, the mother of a student present at the event, told The Washington Post.