Para leer este artículo en español, haga clic aquí.
On February 14, 2018, seventeen-year-old Joaquin Oliver walked to class with a bouquet of flowers and a plan for a date with his girlfriend to celebrate Valentine's Day. Later that day, Oliver was shot in the hallway outside his creative writing class. He and 16 others died that day at Marjory Stoneman Douglas (MSD) High School in Parkland, Florida.
Four days after the shooting, the student survivors formed the political action committee Never Again MSD. The movement already had both a policy goal for stricter background checks and a plan for a nationwide protest, March For Our Lives, scheduled for March 24, 2018.
The March For Our Lives protest drew at least 1.2 million protestors nationwide, including Woodside High School students who attended local protests. Woodside students also helped organize the March For Our Lives rally in Redwood City. Over 4,000 people attended the rally to honor the Parkland victims and to advocate for stricter gun control.
Stefan Sujansky, a former Woodside student, was one of the student organizers and speakers at the Redwood City rally. 
"One of my first memories of being exposed to gun violence was hearing about the Sandy Hook shooting in middle school," said Sujansky. "I remember that shocking me… but those children were a lot younger than I was."
Sujansky felt even more motivated to join the gun violence prevention movement in the aftermath of the Parkland shooting, especially because the students were the same age as he was at the time.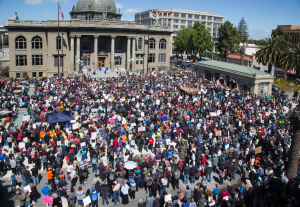 "What really prompted me [was] the reality that that could have very easily been me in one of those classrooms in Florida," said Sujansky. "I wanted to help organize something that brought the reality of gun violence in America to the attention of the public."
But, despite the actions of the nationwide activists, gun violence and mass shootings remain extremely common in the United States. According to data from the nonprofit Gun Violence Archive (GVA) and CNN respectively, there have been 385 mass shootings and 45 school shootings so far in 2019.
"I feel like [school shootings] shouldn't be happening… students shouldn't have to worry about a shooting at school," said Jazmin Carrillo, a Woodside senior. "At school, your priority is your education, and you shouldn't have other distractions."
In light of the shooting in El Paso in August that targeted immigrants and Latinx people, Carrillo also spoke about about the impacts of the gun violence and hate crimes. When asked if shootings like El Paso made her feel more concerned about being targeted, Carrillo responded that they did, but she also expressed a broader concern for all victims affected by gun violence.

"It does [make me more concerned]," said Carrillo. "But I just think in general I'm concerned just because [shootings] have happened in so many different places."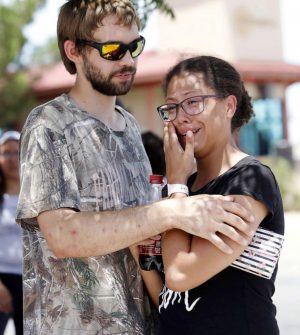 Mass shootings have also occurred in places of religious worship, including synagogues, churches, and mosques.
"It is upsetting that [mass shootings] do happen in schools and synagogues," said Woodside senior Ivria Crane. "Jews may be afraid to practice their religion…and that's kind of upsetting to me that they can't even be in the place where they should feel the safest to practice their religion."
Though Crane expressed concern about the shootings, she explained that she doesn't feel unsafe or unaccepted on the Woodside High School campus.
"I'm Jewish, and I've never felt like anyone was going to do something bad to me because of that," said Crane. "I've always felt very safe and accepted here… I also think we live in a community that's very educated."
Gavin Carlson, the president of the Black Student Union at Woodside, also identified a difference between school shootings and shootings in general. Injury data for Americans under the age of 20 has revealed significant racial disparities in gun-related homicide rates; the homicide rate due to gun violence for black males is 15.3 times as high for non-Hispanic white males. However, it is unclear if the risk is higher in the situation of a school shooting due to minimal data.
"Outside of school, I think you're definitely more likely to be killed at the hands of gun violence if you're black," said Carlson. "For in-school shootings, I think it's the same [amount of risk compared with other students]."
Carlson felt a more personal connection to the recent shooting at Saugus High School in Santa Clarita, California because his cousin attended that school.
"I know [my cousin] was upset… knowing that it happened at a school where you knew a lot of the people; it definitely felt weird for him," said Carlson.
Chuck Velschow, one of the Administrative Vice Principals at Woodside, explained the general procedure and preparations in place for students and staff in the case of an active shooter on campus.
"If we believed there was an intruder with a weapon on campus, we would go into a lockdown and barricade," said Velschow. "You barricade the door, pull all the shades, turn off the lights, try to get away from any possible opening, and cover yourself."
Velschow explained how the procedure differs depending on whether or not class is in session and provided advice to students about the actions they should take in the actual event of an active shooter on campus.
"[Students should] follow the instruction of the adult supervising them," said Velschow. "A lockdown and barricade is what the call would be if it was during class time. If it was at brunch or lunch, basically [students] run from campus."
Velschow also explained that whenever a fire alarm is pulled unexpectedly, teachers must follow the "look, listen, and leave" procedure in which they look for some type of provocation or listen for shots before continuing with a regular evacuation.
"If it's during class time and the fire alarm is pulled and it's not a drill, the expectations are look, listen, and leave for the teachers," said Velschow. "That was implemented after the Florida shooting, when the shooter pulled the fire alarm purposefully to get people out in an open space and started shooting."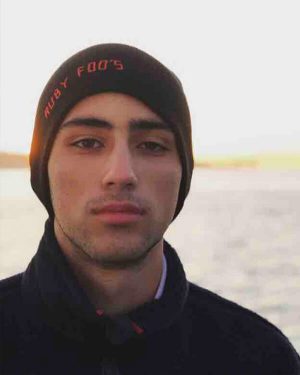 Though Velschow values the active shooter drills and safety procedures in place, he believes the best way to prepare for a shooting is to prevent one from happening in the first place.
"Obviously, the best preparation we can do is preventing something, and I think that is really where you want to put your efforts," said Velschow. "We may practice those things in terms of lockdowns, but the hope is that we never, ever have to do that."
Despite the drills and preparations, some students still don't worry about a shooting happening at Woodside.
"I don't really worry about [a school shooting happening at Woodside] very much, because I feel like the area we live in is pretty safe," said Crane. "It's just not something that happens around here very often, so I don't feel like I have to worry about it."
Other students still fear the possibility of a shooting occurring on their school campus, even after high school. Sujansky still worries about school shootings happening at Georgetown University, the college he currently attends, especially given the nearby shooting at Virginia Polytechnic Institute and State University in which 32 people were shot and killed in 2007.
"Every time I go into a classroom, sometimes my mind will wander, and I'll wonder where I'll have to hide if a gunman comes into the room," said Sujansky. "I think that sadly that's a thought that a lot of people have, and it really doesn't go away once you come to college."
Sujansky remains passionate about the issue and has found ways to continue his work in the gun violence prevention movement in college.
"When I got to college, I was put in touch with other people…who were interested in starting a March For Our Lives chapter on campus as well," said Sujansky, who now serves as the Political Affairs Director within the Georgetown March For Our Lives chapter. "So, we co-founded the university's March For Our Lives chapter, which is now incorporated in the broader March For Our Lives D.C. chapter as well." 
Woodside students spoke positively about March For Our Lives and young gun control advocates.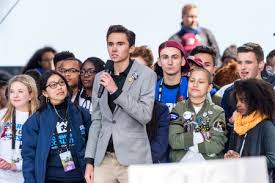 "I feel like students should use their voice and try to make a difference, so I support those groups," said Carrillo. 
Carlson also expressed the importance of youth activism and their ability to get others involved in social justice causes.
"I think it's amazing whenever younger people do anything because I think a lot in government doesn't get done without serious pressure," said Carlson. "I feel like too many times, for all sorts of issues, only the people who are affected are the ones that really care, but for school shootings the students start it… through that, teachers get involved, parents get involved."
When asked what actions he recommends to students in order to decrease gun violence, Sujansky emphasized the importance of people on both sides of the issue educating themselves. 
"I'd rather have informed participants in this conversation than just automatically have everybody on my side," said Sujansky.
Sujansky also highlighted the importance of participation in voting, especially from young people.
"I think a lot of it comes down to making this a top priority for voters," said Sujansky. "Politicians aren't going to act on those bills unless voters make it clear that they will vote them out of office if they don't act."