Girls flag football's historic first season is nearly over, with six league wins and three losses. The team's playoff game is against Mills High School this Wednesday, November 1.
Along with other local schools like Sequoia High School and Aragon High School, Woodside incorporated girls flag football into its fall sports repertoire for the first time ever in its 65-year history. Its inclusion comes after the California Interscholastic Federation, in charge of California high school sports, approved a proposal to integrate the sport this past February.
"To be part of representing a powerful strong image of girls in sports is super cool," senior and middle linebacker Bridget Reynolds said. "I think Woodside is doing a great job at being part of the overall movement."
Reynolds is one of 31 players on the team this season, which is led by history teacher and coach Armando Carbajal and assistant coaches Dan Peterson and Jose Maciel.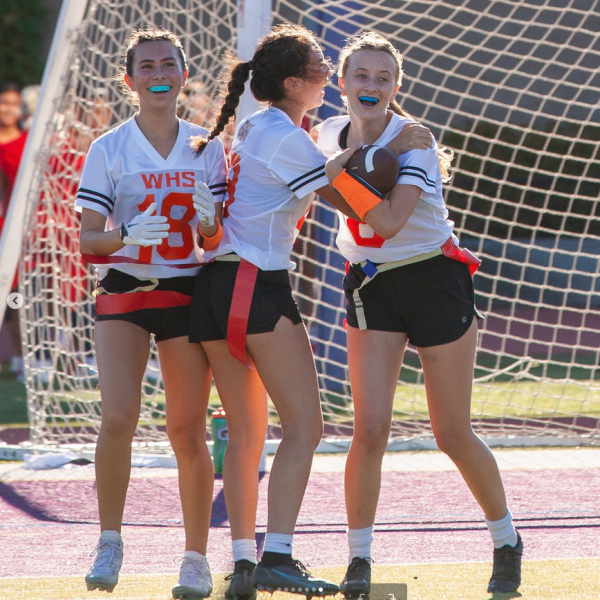 "[Being part of the first girls football team at Woodside] is actually one of the things I still haven't gotten a grip of," Carbajal said. "It's still kind of a whirlwind. I leave practice thinking we're doing the right thing. It's a cool thing we are starting at Woodside."
When Woodside students heard about flag football's incorporation into California sports, an informal summer practice was held, which eventually culminated in regular practices and finally a team.
"At the beginning, we didn't have a ball, we didn't have flags or anything," junior quarterback and rusher Sophiya Karer said. "So we were mostly in the weight room. Then as time went on, we got jerseys, pennies, flags, and balls. And we were able to start practicing outside and practice on the softball field. And now we even go on the football field."
The team's most recent game was an away match ending in a loss against Aragon High School, the final result a hard-fought 12-21.
"The goal of every coach is to be on top," Carbajal said. "We are here to compete. We are here to represent Woodside's best and in the best way."
Unlike other Woodside sports, there are no varsity and junior varsity teams, but rather one, combined team.
"There are only seven people in the field at the time and we have 30 people on our team," Karer said. "So a lot of people don't get to play but I really like that everyone really keeps a positive attitude."
As the team prepares themselves for the upcoming playoff battle, Reynolds encourages students to try-out for the girls flag football team next year.
""If you're thinking about [joining], just do it," Reynolds said. "No one's going to be judgmental. I think everyone is super accepting. So join [the team] because then you can help create what it will be."