Current Woodside High school Senior, Elise Evans who verbally committed to Stanford her Freshman year, is officially becoming a part of the first-ever mother-daughter duo to compete in Women's Soccer at Stanford next fall.
Evans is a Nationally recognized Defender who currently plays for FC Bay Area Surf soccer club and signed the papers for official commitment to Stanford University on November 10, 2021. Evans' mother, Dena Evans is a former Women's Soccer player and track runner for Stanford. 
"When I first saw my mom showing me photos of her playing on the same fields, in the same uniforms I just thought It was so cool," Evans said.
Although Evans verbally committed to the University in February of 2019, the student-athlete has been playing soccer for as long as she can remember.
"I started playing I believe when I was able to walk, so two or three, but I didn't start playing on my first actual team until I was about six," Evans said.
This was only the beginning of Evans' soccer playing career; after beginning on a Recreational team at a young age, Evans' quickly moved upward to the national level through playing for a variety of teams and her love for the sport began to blossom. 
"I played for two or so years, and then my sister was at Juventus, so my parents joined me up with them [Juventus] and that's where I really started and fell in love with playing soccer," Evans said.
With raw talent and passion for the sport, Evans continued her path of joining and getting experience playing with different Club teams and coaches.
"After Juventus, I moved to DeAnza Forcehttp://www.deanzaforce.org/, and then from there I stayed for a while, and after that, a Development Academy opened up for girls, and I joined the San Jose Earthquakes and it was really great," Evans said. "After the Development Academy ended I went to join the new club FC Bay area."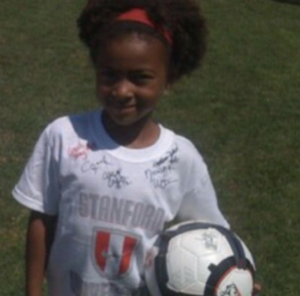 All changed for Evans in a tournament that took place on the opposite side of the country.
"It was after a showcase of 2018 in Florida, where we had coaches all down the sidelines, which was pretty crazy and all those coaches were there to watch our team," Evans said.
ID soccer camps and showcases give aspiring college players a feel for the collegiate soccer environment. ID soccer camps give players the opportunity to showcase what they can do to grab the attention of college coaches; showcases usually follow a more tournament-style layout in which soccer players have the chance to play in front of college coaches from across the nation. 
"After that showcase, I had a conversation with my coach and he explained the schools that had an interest in me," Evans said. "I ended up choosing Stanford, which I loved the most."
Although the process for recruiting can be stressful and overwhelming, Evans recognizes her support system and is grateful for the help and resources she has access to.
"I was also super fortunate that my club coach with [DeAnza] Force and then the Earthquakes [coach] had girls go play at all different levels at Stanford and all different schools so he had a lot of connections," Evans expressed.
In addition to coaches and outside resources, Evans' parents are familiar with the recruiting and committing process as Stanford Athlete Alumni, as well as her sister who is a current Division 1 Soccer player at the prestigious University of Pennsylvania.
"I think the support system I had at home really allowed me to get through the stressful recruiting process, especially with some coaches putting pressure on you to decide [where] to go in a very short period of time, but overall the support system I had at home with my extended family, as well as parents and sister, helped me," Evans said.
Family is something that Evans holds close to her heart, and her parents and sister not only motivate her but originally inspired her to pursue soccer in the first place.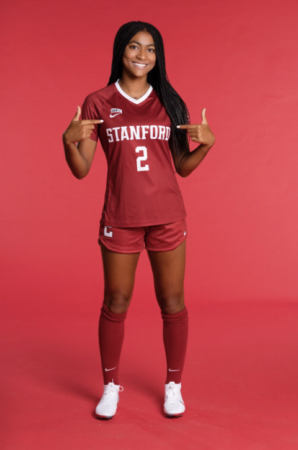 "My parents, as well as my sister, motivate me; I've always looked up to them and wanted to be just like her and that is actually the original reason I started playing," Evans said.
Since committing in 2019, Evans has spent her entire high school career working hard to maintain her position on the team and overall commitment to the University.
"I've tried my hardest with everything, I try hard to give myself the best opportunities possible with school and in soccer because I not only want to go to Stanford and play on the team, but I want to make an impact on the team," Evans said.
As Evans approaches the end of her high school career, her dreams remain big in addition to the amount of love she has for soccer itself.
"My main goal was always to play on the full national team and go to the World Cup and Olympics and represent my country," Evans said. "I do want to play professionally which has also been a huge goal of mine and then use the platform in a positive way."
Disregarding Evans' personal history, her mother Dena Evans is a former Stanford Women's Soccer player and takes pride in her alma mater.
"This is a cool thing to me mostly because it represents the history of our program as a varsity team extending beyond the first generation and firmly into the next," Dena Evans said.
Although both ended up in Cardinal jerseys, Elise and her mothers' upbringing regarding soccer is not exactly parallel.
"I grew up playing soccer informally with my dad, and he coached my first team along with my friend's dad," said Dena Evans. "By the time I had the chance to join a recreational team, in 4th grade, my own kids had already had years of opportunity in a variety of sports."
Evans and her mother grew up in different geographic areas which contributed to the intensity of college recruiting and rigorous athletic opportunities. Despite their differences in accessibility to opportunity, they both have ties to one of the top colleges in the country; talent clearly runs in the Evans' blood regardless of these differences.
"I grew up in the state of Washington, which has a strong history of women's youth soccer," Dena Evans said. "I had good coaches and we won a couple of State Cups, but the whole operation was completely apples and oranges [compared] to today."
Although parallels in their adolescent soccer-playing careers may be sparse, the two share many memories that would not have been possible without soccer.
"One connection I can draw between our experiences is that the friends we have made through each of our youth soccer journeys, and the family time we have had has been a plus," Dena Evans said.  "We've eaten a lot of Panera, but we have spent a lot of time as a family, with other great families, and that isn't such a bad way to spend your weekends."
Elise is currently set to graduate from Woodside High school this upcoming year and plans to complete her dream of playing in a Cardinal jersey while continuing to work towards her goals for the future.
"When I was little I used to go to the [Stanford] women's soccer games with my club teams and  now I can't wait to be able to play in front of the home crowd I grew up being a part of," Evans concluded.