As Woodside swiftly returns back to campus life after a year of remote learning, students have the opportunity to join exciting extracurriculars and get more involved on campus. 
Whether it be through Woodside-offered academies, the new girl's golf team, extracurriculars like robotics/Team 100 and various new and existing clubs on campus, students have a plethora of ways to get involved
Academies at Woodside are two unique programs offered on our campus. The most popular of the two is the Green Academy. Green Academy is a program for students who love, and want to learn everything they can about the environment. The academy acts as a roof over all your classes so that you spend all of your time learning about environmental issues; there are various field trips involved and specific preparation for specific green/environmentally involved careers. AP Environmental Science teacher and Green Academy Advisor Mrs. Akey summarized the program's dynamic.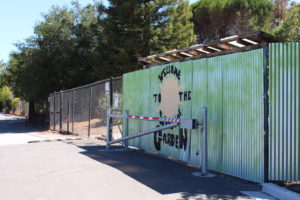 "We like to think of it as a community within a community. We have smaller classes and students take many of their classes together," Akey said. "It's also beneficial for students who think they would succeed in a smaller, more compact community."
For more information on Academies visit the Woodside website. It's not too late to join if you are a Freshman or Sophomore! Woodside offers a Green Academy and a Graphics/Technology Academy which is a revised version of the business Technology Academy that was offered in past years. Both follow a similar structure that differs from normal classes but goes more in-depth regarding each topic. It is always encouraged to get involved with Academies because they are one of a kind at Woodside.
In high school, students are introduced to new sports like water polo, cross country, badminton, and baseball. In an interview with Woodside senior Teaghan Lynch, she discusses the dynamic of Woodside's first-ever girl's golf team, and why you should join in on the fun. 
"It's super laid back and easy-going. We are really all just here to have a good time and get better and have fun," Lynch said. "I had experience in other sports like soccer, and I just lost interest over time, so I decided that something laid back and enjoyable like golf would be a good decision for me."
If the girl's golf team does not appeal to you, maybe the robotics team will! Dating back to its start in 1995, the robotics team has since won various competitions and been taught by several mentors of varying experience in robotics. A plethora of information can be found on their team's website.
"We work with industry mentors to provide advanced technical training," robotics teacher Mr. Wheeler said. "You are working with state-of-the-art electronics and robotics. You're not working with kits some educators dreamed up to teach principles. It's the actual stuff that engineers work with."
Robotics is as much a class as it is a program and a club; all age groups are welcome to join. Stop by Mr. Wheeler's classroom, and pick up a flyer!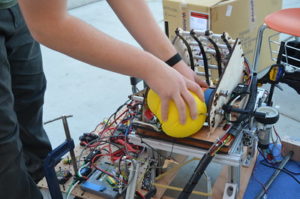 Not only does Woodside offer various sports and an abundance of extracurriculars like robotics, photography and culinary art to get involved, but the number one way students actively participate is through clubs!
Woodside holds an annual club rush every fall and spring so students can get a feel for what clubs they may feel like joining; some of the clubs offered include Pink Ribbon Club, Greenies Club, Toast Club, Robotics Club, French Club, and so much more. Clubs are student-run with the help of a staff advisor and can be created by anyone with a good idea and 10 people interested in forming the club!
Gabriel Perez talked about how he turned his idea for a club into a reality. 
"The club's starting process has been pretty straightforward. I've had this idea [for a film club] since my freshman year as well, so I already had a pretty solid base which just required a bit of polishing" Perez said.
Any Wildcat can join academies, sports, robotics, and clubs regardless of what your interests are and what prior experience you may have in a specific field.
 "Despite what you already know, it's always fun to get experience in different things here and there," Akey concluded.