Thousand Oaks Bar Shooting Leaves At Least Twelve Dead
A mass shooting in the affluent Thousand Oaks, California occurred during the Borderline Bar and Grill's weekly college night
At least 12 are dead and more are wounded from a shooting that occurred late last Wednesday night in at a country bar and dance hall in Thousand Oaks, California.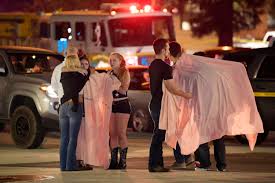 According to the Ventura County Police Department, the gunman, Ian David, took his own life after being confronted by officers at the scene. Witnesses at the scene detail a mass panic as the David began shooting sporadically at the dancing crowd, killing and wounding as he went. He used a legally purchased .45 caliber handgun outfitted with an extended magazine.
David was a Marine Corps veteran who had previous encounters with the law: in April, officers came to his house to address a disturbance and irrational behavior. Mental health specialists believed he suffered from post-traumatic stress disorder, although they eventually determined he was not an immediate danger to himself or others.  
Ventura County Sheriff Geoff Dean said that there were at least six off-duty officers in the Borderline Bar and Grill, where the shooting occured. Some of these officers helped to save the lives of college students participating in the bar's weekly college night. Among the dead was Sergeant Ron Helus, who was killed while entering the building.
While the police department does not know the gunman's motive at this time, they are continuing the investigation.