Meek Mill Gets Denied Bail
The 30 year old, Philly-based rapper, was unfortunately denied bail from a judge, stemming from his sentence to 2-4 years for violating his probation from a 2008 arrest, last November.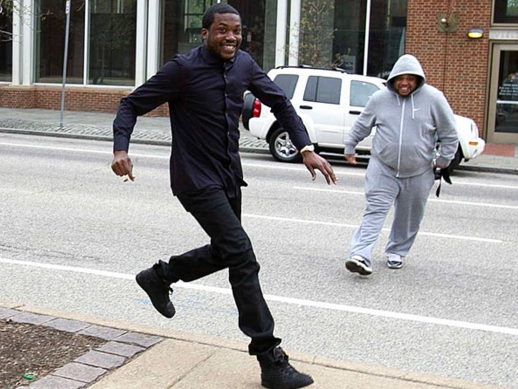 Some might know him as the rapper who beefed with Drake and 50 Cent, or as someone who has had a publicized relationship with Nicki Minaj, others might know him as someone with a history of legal conflicts in the past with parole violations and assault charges.
However, Judge Genece Brinkley's decision to deny the bail of the controversial hip-hop artist who has remained in jail since last November, has come off as a biased settlement to those who side with Mill.
"This ruling from Judge Genece Brinkley simply reaffirms the fact she has turned Meek Mill's case into a personal vendetta," stated Meek's lawyer, Joe Tacopina, told TMZ.
In spite of that, Judge Brinkley defends herself by saying there wasn't a logical reason for her to challenge the case, defending his sentence by pointing out that it was his fifth probation violation according to Meek's legal team.
"Meek had a little bit more opportunities but then it started looking real fishy because it looks like the judge really doesn't like him. It looks like the cops probably lied and it looks like Meek might have been set up to be in this position in the first place," stated radio-host, DJ Akademiks, who believes that it's a possibility that it could've been a set-up and that those against Meek were being dishonest.
The "cops" that Akademiks are referring to are those who convicted him in Mill's first arrest in 2008 of drug-dealing and gun possession, which later led to his five-year parole agreement at the time- as well as his more recent arrest last March for assaulting two pedestrians at a St. Louis airport.
"
This ruling from Judge Genece Brinkley simply reaffirms the fact she has turned Meek Mill's case into a personal vendetta."
— Joe Tacopina
Some Woodside students were wondering about the lack of Meek Mill news recently; since Meek's publicized relationship with Nicki Minaj ended last January, he hasn't appeared as much in the news.
"I remember Meek was taking some L's a few years back, but I haven't heard much about him recently," stated junior Karl Nuelkel on what he thought of Meek's relevance in the news.
Recently, Governor Tom Wolf voiced his support for the MC on Twitter by stating that "our criminal justice system is in need of repair" and that his administration has made efforts to improve public safety and promote fairness.
Meek's legal team is currently seeking an appeal to the Pennsylvania Supreme Court to help him escape his current sentence.