Closing of a Redwood City Essential
Redwood Roller Rink closes after 60 years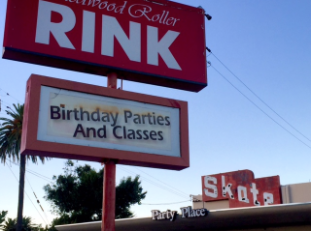 Redwood Roller Rink, one of the last roller skating rinks in the Bay Area, is closing September 30th after sixty years of serving the community.
Redwood Roller Rink has been a place full of fond memories for children and adults alike. From roller derbies to middle school parties, the roller rink has been an essential part of Redwood City since its opening.
"It is really the end of an era," Hannah Frost, coach of the Peninsula Derby team, remarks sadly.
Adrienne Evans, a sophomore, visited the rink frequently during her middle school years. She regards the rink as a source of many good memories, and will miss all of her adventures there.
"The roller rink I feel is like a Redwood City staple," Evans says. "I will always remember it as a place I made great memories at during my childhood."
A wide range of students see the rink as a source of fun and affectionate memories for years.
"I thought it was super fun to be there with all of my friends and skate around and stuff and eat the food there," Gabe Wilde, a sophomore, recounts. "All in all, it was a pretty good experience."
The friendly atmosphere is a community favorite, but the roller rink is loved for much more than that. In addition to the fun, the rink provided a location for the local roller derby team, Peninsula Junior Derby, to practice. As an effect of the shutdown, the team must find a new place to practice.
"I will always appreciate how the rink provided a… fun physical activity," Frost reflects.
The rink will be missed dearly by the Woodside community. Many students have visited Redwood Roller Rink through many middle school field trips and parties, and it has left a lasting impression.
"I'm sad it's closing because it means future generations might not get to experience the same fun my friends and I did," Evans says gloomily.