Canvas: The New Schoolloop
Some students, teachers and parents are still struggling to use Canvas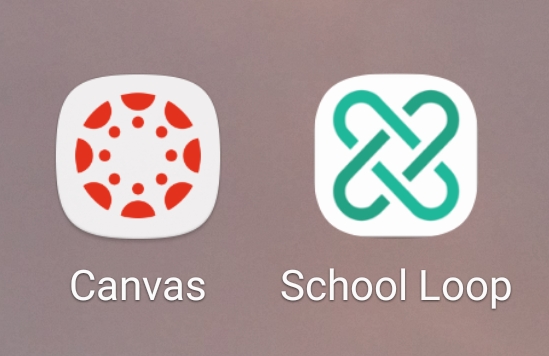 The introduction of Canvas to Woodside's community this year was sudden and unexpected, bringing with it some frustration over the new system and why it was put in place.
Canvas is an online learning management system that allows students, teachers, parents and administration to communicate via the program. A user can view grades, assignments, and courses, as well as submit assignments and participate in discussions on the website and mobile app. This new system is in contrast to Woodside's previous system, Schoolloop, which was mainly a platform to post grades and assignments and had limited forms of interaction between students and teachers.
Although teachers received training on how to navigate the program before the school year started, students and parents were generally unprepared for the transition.
Woodside senior Luis Espino said he received "very little" instruction from his teachers on how to use the program, and that "It's a good software, but it's hard to start learning. The [website] is way better than Schoolloop, but the app is way worse."
Parents especially haven't quite caught on, and many aren't satisfied with the new system.  
"The parents have an app for Canvas. It's terrible," said Diane Mazzei, the Instructional Vice Principal at Woodside. "The parents are frustrated….[they] aren't happy because they don't know how to use it."
There will be an opportunity at "Back to School Night" on August 31st for parents to get help and more information about Canvas, but Mazzei still says that "more work needs to be done" to ease the transition.
Despite these complications, most teachers and students are satisfied with the new system even with the learning curve.
"It's a very good program, better than what I've seen before," said computer science, animation and web design teacher, Eric Ettlin. He cites the ability to turn in assignments directly to where they're posted on the website, and that he "[feels] very optimistic that it's going to be a better tool to facilitate communication between students and teachers."
One of the things students and teachers are most happy with is the all-in-one platform that Canvas provides for grades, homework, submitting assignments and having discussions.
"I like that it does what Schoolloop and Google Classroom did, but in one place," said Kelsey Theriault, a history teacher at Woodside. Theriault had previously used Canvas when she attended school, and said it is "more like what students will get in college."
The decision to make the move from Schoolloop to Canvas had been in the works for four or five years, when the Sequoia Union High School District first began using Schoolloop. Although at the time Canvas wasn't ready for use in high schools, the district decided that now it is the best choice in learning systems.  
"We talked about what's going to be best for students, teachers, parents and the school system," said Mazzei, who took part in the district discussions. "The fundamental difference is…Schoolloop had so many limitations."
There had been rumors floating around the Woodside campus that the district was being sued by Schoolloop because of a breach of contract, but it's nothing for the school to worry about.
"We did leave our contract early," said Mazzei. "However, there's no lawsuits pending that I'm aware of."
Some students are still struggling with the different features in Canvas, but teachers are receiving ongoing training that they are sure to pass on to their classes.
"I keep asking my students to turn things in a certain way, and they keep not doing it that way," said Ettlin. "There are still some bugs….But once we get all the kinks worked out, it'll be a very effective tool to grade, to turn in assignments, to communicate what assignments are, and just to help students organize their lives."
Although the first few months of using Canvas may be tedious, Woodside teachers and administrators are confident that the new system is a change for the better.
"Schoolloop had reached as far as it could go," said Mazzei. "Canvas has the potential to provide services for students and teachers and parents all at once."