As high school is a melting pot of stress and anxiety, many students engage in unusual hobbies for a much-needed break in the day. Often, these niche activities, like karate, memorizing digits of pi, and underwater hockey, help preserve student mental health and overall well-being at school. 
When individuals participate in hobbies, people achieve a sense of meditative "flow" that has positive effects on anxiety and stress. In doing so, these hobbies boost self-images and deepen connections with others. Whether the hobby is unusual or not, all forms of engaging leisure activities have proven to increase mental health. One such example is karate.
Karate: 
Despite karate gaining popularity through movies and TV like "The Karate Kid," this hobby proves too unusual for many to participate in. However, for freshman Tyler Yuen, karate is a lifelong passion.
"I go to Twin Dragon Academy," Yuen said. "I have been doing it for eight and a half years now. I just got my black belt. I do [karate] anywhere from two to four times a week for about one to two hours."
Although Yuen did not have a Mr. Miyagi to begin his karate journey, his hobby did start in an unusual way. 
"I actually started because I went to a birthday party once and then they gave free trials for a month or two," Yuen said. "I really liked it, so then I continued, and the rest is history." 
Karate has helped Yuen through school and everyday life. 
"I'm [gaining] a lot of skills [such as] discipline, lots of memorization, and a hard work ethic," Yuen said. "I wouldn't say it makes or breaks those traits, but it definitely helps with those skills outside of school."
Yuen has found that karate has expanded his friendships and taught him important leadership skills. Fighting might be individual but karate is a team sport.
"I've made lots of lifelong friendships with [karate]," Yuen said. "[Karate's] not a one-on-one thing, or do it by yourself. So, I've made lots of friends who I know have gone off to college. I  also have younger students who I help teach with. It's not just people my age or just by myself."
In finding a community, karate has helped Yuen de-stress and improve his mental health during challenging and stressful times. 
"There have been some stressful times," Yuen said. "I mean, sometimes [karate] can be a little stressful, but I'd say overall, I definitely feel much better when doing it. I look forward to it. I've been doing it for many years."
(Watch Tyler Yuen do karate here!)
Similarly, karate and biking both provide mental and physical benefits. 
Road Biking:
While many enjoy biking leisurely, junior Connor Williams participates in endurance cycling.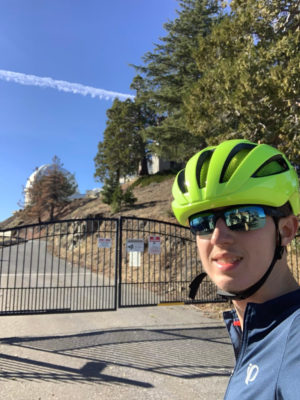 "My hobby is basically road biking, where I go extremely long distances when you would normally go such distances by car," Williams said. "I usually bike because it feels more like an accomplishment, and it's always fun and challenging."
Williams has always enjoyed endurance sports. On top of running for the school's cross country team, he has taken road biking to another level, with some workouts lasting over eight hours. 
"I usually record my rides on my Apple Watch, and it says that I burn nearly 4000 or 5000 active calories," Williams said. "So it always feels great to do that [and feel] just the sense of accomplishment, which is one of Woodside's traits. I just also feel mentally and physically [good]."
However, in late 2020, Williams noticed increasingly painful shin splints in his lower legs. He received shock therapy for these injuries, but the pain continued to intensify. His doctor diagnosed him with osteoporosis, a disease that weakens bones and makes them more fragile and susceptible to fractures. 
"Getting diagnosed with osteoporosis was a really good thing because [I discovered] how my bone density was really low," Williams said. "That's why [my shins] kept cracking so much. Osteoporosis is usually diagnosed later in life. At that point it's untreatable, but at my age, my bones are still growing. [So] I was able to treat this."
Williams increased calcium intake through pills and his diet, and incorporated lifestyle changes like using crutches for extensive periods of time.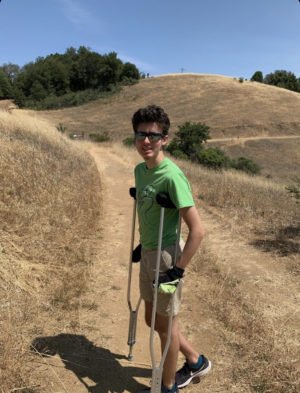 "This whole thing was kind of interesting because it's not just my running habits, but it's my diet that we needed to fix," Williams said. "So it's kind of based on that to recover [and receive the] best investment [in] preventing [injuries] from happening in the future."
While road biking has improved the physical and mental health of Williams, this injury proved more difficult to overcome. 
"Being injured has significantly hurt my mental health, especially during the beginning," Williams said. "My mental health didn't really restabilize until late July into August of 2021, and I had gotten injured in January 2021."
Despite this setback, Williams still loves endurance biking and its positive impacts on his mental health. 
"I kind of just noticed how engaging [biking] was," Williams said. "Not only that, but it felt enjoyable to see how far I could go and all the new places I could see because I could go wherever I wanted to. My favorite parts about road biking are more mountainous areas because they usually have the best sights."
Karate and endurance cycling provide a physically taxing experience, but memorizing digits of pi is a much more mentally demanding activity. 
Memorizing digits of pi: 
Of course, math and memorization might not seem like a fun activity, but senior Johnny Peck shares his unique love of memorizing digits of pi. 
"I started in middle school (6th grade I think?) when we were first introduced to pi, and I found its origins fascinating," Peck said. "There was a poster on the wall in my math class that had 95 digits on it (no clue why it didn't go to 100; that would've made more sense), so I started with those and continued from there. I currently have 16,000 digits memorized, and I plan to keep going."
Knowing all those digits of pi probably won't help Peck in math class, but he still continues to memorize numbers to this day. 
"Whenever I'm bored, I'll sit down and look at more digits," Peck said. "At this point, it's become less about the number itself (although I still love the number) and more about how far I'm able to go because 16,000 digits in, it hasn't gotten any harder."
While Peck initially began memorizing for fun, he quickly saw the benefits of testing his memorization skills to their limits. 
"I can memorize a phone number, credit card number, or just any number (up to about 20 digits in length) instantly in a single glance," Peck said. "I don't know if that comes off as creepy or not (hopefully not), but that skill has proven super handy."
Watch Peck recite the first 300 digits of pi! 
Math and computer science go together perfectly; while Johnny memorized digits of pi on the side, senior Shai Dickman, a computer whiz, codes. 
Coding: 
Dickman's interest in coding began during the pandemic when he had extra time to learn new hobbies. He taught himself how to code after taking the introductory computer science class at school. He explained why he continues to be drawn to coding.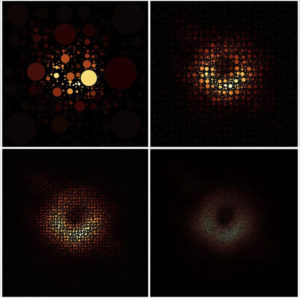 "Once I began to teach myself more, I quickly became fascinated by coding's limitless potential for artistic expression," Dickman said. "[I code] to express artistic creativity, whether it be displaying beautiful fractals, creating visual models of systems, or making fun video games."
Dickman agreed that coding improves his mental health.
"I often struggle to stay focused throughout the week due to stress, yet when I code, I am able to take my mind completely off everything and focus on whatever problem I am trying to solve with my program," Dickman said. "Though it can sometimes be frustrating when finding a bug in a program, coding is mostly very relaxing and overall a great way to reduce stress."
Coding, whether it be creating applications for Android phones, coding 3D video games, or making beautiful art, brings Dickman joy. Follow his Instagram for more art! 
"I have truly fallen in love with it," Dickman said. "It is the perfect tool for combining my passions for math, problem-solving, and art into one activity. It has both helped reduce my stress, as well as being a great outlet for creativity."
Coding also serves as the next step towards engineering. 
Robotics:
Robots and artificial intelligence might seem unusual or foreign, but for freshman Prithvi Pradhan, robotics engineering provides great interest and joy as a hobby. After her friends urged her to join the robotics club at Woodside, Pradhan began her engineering journey with coding. 
"Some of my friends wanted to join [robotics club], and I thought it would be interesting. So I was like, why not?" Pradhan said. "I do coding. I'm part of the coding short link. I'm very new to it."
However, inexperience has not stopped Pradhan. 
"I've learned some new skills like teamwork and building new connections," Pradhan said. "I've made quite a lot of new friends. Everyone's really nice." 
While providing an engaging experience, Pradhan believes that robotics has neither improved nor worsened her mental health. 
"I've been pretty balanced with school and extracurriculars so [robotics has] not really much of a challenge [mental health wise]," Pradhan said. 
While robots may seem alien, freshman Lior Levy's hobby is actually out of this world. 
Underwater hockey:  
Levy plays underwater hockey. 
"Underwater hockey is a sport played at the bottom of a pool," Levy said. "You use a snorkel so you can look in the water without having to look up. You also use fins to go faster, as well as a stick to push the puck from goal to goal."
Check out this video to learn a little more about the rules! Levy plays on a local organization called Club Puck. 
The youth presence at Club Puck is minimal. Levy didn't know anyone else who played it except for his dad.
"[My dad] has played it since before I was born, and I just played with him whenever he had time to teach me. I use it now as a way to have fun and bond with him," Levy said. 
This sport provides an unusual leisure activity. Because not many people play it, the community is really tight-knit, which Levy sees as a positive. 
"The thing I love about the sport is how small it is because I have made many friends and connections through it," Levy said. "I play it twice a week, on Sunday afternoons at Foothill College and Wednesday nights at the MLK Memorial Pool in San Francisco."
Levy sees the sport as a welcome break from the stresses of school, preserving his mental health. 
"It gives me something to look forward to each week, which means if something bad happens, I know I have hockey tomorrow or in just a few days," Levy said. 
Yet underwater hockey isn't the only hobby that demands foreign abilities. Gymnastics requires people, like freshman Taylor Rienhart, to demonstrate superhuman skills with their very human bodies. 
Gymnastics:
The mental and physical aspects of competitive gymnastics provide an unusual experience that Rienhart loves. Growing up, Rienhart was a very active child, spurring her gymnastics journey.  
"My nanny suggested that I should go to little kid gyms first, which I did, and then to gymnastics when I was about two," Rienhart said. "Since then, I just haven't been able to quit. Gymnastics is just something I love, and the thought of quitting breaks my heart."
For Rienhart, gymnastics helps increase mental strength while competing, an important skill to have both inside and outside of the gym. 
"Mindset is also very important in gymnastics," Rienhart said. "If you don't think through the skill or routine you will do, you are probably going to end up falling on most of your skills, and just not doing well, so the ability to switch gears and focus whole-heartedly on what you are doing at the moment is very helpful."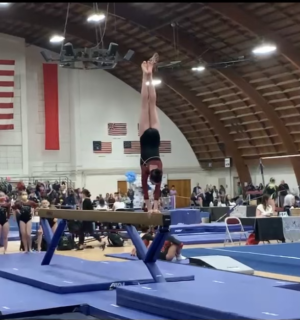 Despite needing a strong mental game in order to compete, gymnastics helps Rienhart de-stress from the anxiety of school and outside activities. 
"Gymnastics lets me get my mind focused on something besides school, and it gives me something to work on," Rienhart said. "I find that having something to work towards and goals to focus on definitely helps my mental health."
In the end, according to Rienhart, gymnastics is not for everyone. This unusual hobby is mentally, physically, and emotionally taxing, requiring extensive commitment and sacrifices to participate in. 
"The intense practices, constant frustration over skills, the focus it requires, and the passion it needs isn't in everyone," Rienhart said. "I am passionate about gymnastics which is why I'm still a gymnast. People who are not passionate about their hobby aren't going to get far, especially not in gymnastics."
Ultimately, these hobbies, while unusual, continue to support students in their mental health in and out of the classroom. 
"Hobbies in general [help with mental health]," Yuen said. "It's good to find your passion and continue through with it."