Woodside students rely heavily on technology to support their academic studies, but this dependence can result in various issues, such as bad eyesight, anxiety, stress, etc. With homework assignments and research activities increasingly online, students often spend extended periods in front of their computers affecting their mental health and self-confidence. According to research done by Common Sense Media, "72% of teenagers and 48% of parents feel the need to immediately respond to texts, social-networking messages, and other notifications." 
Spending hours on screens negatively impacts students' physical and mental health according to Valley Wisehealth. Extensive computer usage leads to eye strain, headaches, and blurred vision. Moreover, copious screen time can cause mental health issues such as anxiety, depression, and decreased social skills. To promote better overall physical and mental health, both students and their families should increase their awareness of the risks associated with excessive screen time by limiting their exposure. 
"When I was little, my parents always restricted my time on the screen," senior Connor Williams said. "But with everything being online now, especially after the pandemic, [many] assignments are just submitted online rather than physically turning it in." 
As technology continues to take over every aspect of our lives, it also negatively affects the classroom. Freshman Leila Kasle finds herself often distracted by social media platforms during class time.
"Technology has impacted my learning by distracting me from paying attention in class and learning important material," Kasle said. "It tends to lure me in through exciting videos on TikTok and funny content on Instagram, and before I know it, [my] class is already over, and [I have] missed instructions. It sets me back a lot." 
Senior Sierra Pestoni said that using technology has made her mental and emotional health worse as it can be very draining.   
"Hours and hours of screens have overall made my mental and emotional health decline," Pestoni said. "I feel like it has drained my perception and relationships with others. I also feel like my emotions are more sensitive and less outgoing." 
Kasle said she is concerned that using technology may affect her mental health and self-confidence sometimes. 
"Hours of screen time affect my mental health by making me have the fear of missing out," Kasle said. "When I see people on Instagram or Tiktok showing their eventful lives, it tends to have an effect on my mental health and self-confidence." 
Williams said that there should be a limit to how much younger children should use technology.  
"It might be good to have a limit for children because they don't have a need to be on the computer that much," Williams said. "All they do [in their] free time [is]  browse websites or find something on YouTube, and their eyes are still rapidly developing at that age. It might be potentially harmful to have so much screen exposure at such a young age."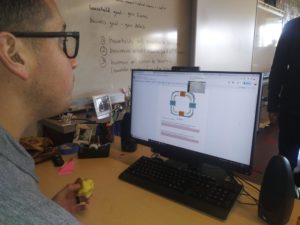 Teachers growing dependent on technology for assigning tasks and interacting with students puts a strain on students.
"I believe there should be a limit [to school screen time], especially because we are still adolescents with developing brains that need more hands-on learning compared to staring at a screen all day," Pestoni said. "However, this is difficult because teachers are now much more reliant on technology to assign students work and communicate." 
Parents can set time constraints on their teenager's computer usage, encourage good posture and breaks during screen time, and suggest the use of blue light-blocking glasses. By taking proactive measures to reduce screen time, parents and students can benefit from improved health and well-being according to Valley Wisehealth.
Blue light-blocking glasses are glasses that help with being behind the screens while being on a laptop or phone. Blue light-blocking glasses help cause less damage to the eyes because it blocks the overexposure of wavelengths and energy from devices according to BlockBlueLight.
Williams uses glasses to help him when he is in front of the screen studying for long periods of time.  
"In general, it is not possible to impose such a limit [on screen usage]," Williams said. "However, I will say that I find it useful to wear glasses [that can block blue lights] when I'm in front of the computer, I just find that they help reduce eye strain."  
With technology increasing everywhere, concerns about its impact on students' socialization and overall well-being have come to light. Freshman Elizabeth Kasman believes that screen time should be limited to avoid adverse effects on socialization and time management. 
"I think you should limit it to less than two hours because it could affect how you socialize with others and how [you] spend your time," Kasman said.
With the ability to turn in work anytime, senior Ethan Jaworski no longer feels pressured to complete homework assignments as soon as class starts.
"Technology has made it easier now that I have much more time to turn in work rather than as soon as class starts, for the most part," Jaworski said. 
Pestoni also sees benefits to technology in her daily life.
"Technology is helpful because it's a method of communication and learning opportunities like online simulations that are beneficial to the growth of learning," Pestoni said. "Technology is harmful because it can mostly be addictive and present some negative connotations."
Another positive aspect to using technology is the help it provides with researching topics for homework assignments.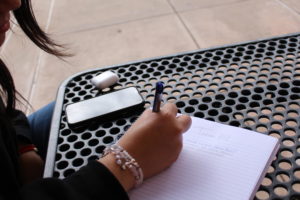 "[I] probably [spend] two to three hours [on homework, and] technology improves it a lot because it gives me more opportunities to do research projects or to learn better," Kasman said."
Technology has taken over the world and changed the way people live as it can help us with anything. However, more caution should still be taken when using technology despite its helpful benefits. 
"Technology makes it easier to stay on top of schoolwork and my life," Williams said. "I have no need to maintain any kind of planner because I use Canvas to keep up with [my] school assignments and Google Calendar to keep up with events in my regular life."