Behind the scenes of the cafeteria
What happens behind the counter at our school?
From the pre-packaged salads to the individual entrees made daily, everything is snatched up from the school lunch counter within minutes. We all know that there must be a system in place to bring us so much food at lightning speed, but how does the school kitchen really work?
With the sheer quantity of some meals offered, many students assume that most of the food is outsourced from the district, then sent on trucks to be warmed and served at school. According to Christy Ross-Velho, a food services cashier, this assumption is far from accurate.
"The only pre-packaged food that we get is the salads and the sandwiches," Ross-Velho said. "Everything we make here and package here. So [that would include] the spicy chicken, cheeseburgers, and Bosco Sticks. All that stuff we make here and package ourselves."
Some meals, such as burgers and spicy chicken sandwiches, are served every day. In addition to these meals, daily entrees are also offered. These meals feature more components, and the process of preparing them is generally more complex. 
"[For example,] we had pulled pork and then rice and beans," Ross-Velho said. "[Someone works on the pork,] and then we have another lady put on the salsa and the cheese. So [the time it takes] depends on how many components go into each meal."
Regardless of a student's lunch of choice, however, the necessary elements of a healthy lunch are always made available. 
"At lunch, you get your entree, and then your choice of fruit or a vegetable, and then milk," Ross-Velho said.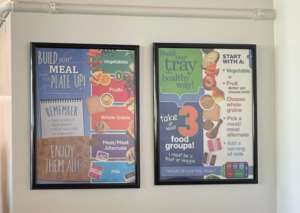 Naturally, each meal ranges in student popularity. While many daily hot lunches are certainly hidden gems, many kids tend to weigh reliability over risky variations. 
"I like the pre-packaged [lunches] because you have it every day, and [I don't have to] worry about whether or not my favorite thing is in stock," freshman Maggie Arana said. 
The Woodside kitchen staff takes care to ensure that these items are well-prepared and accessible to the student body. While they are responsible for the food at our campus, many decisions around the school menu are made at the school district office. Elements such as recipes and schedules are left in the hands of school officials. District officers work to ensure that students are served meals that hit the district's required standards. 
"We have food service software that helps us do what's called nutrition and nutritional analysis," Director of Food Services Sandra Jonaidi said. "And from that we [serve] items that we think will be useful, edible, and desirable… The goal is to make it so that we would want to eat it, [while] we have to hit calorie targets."
Since the campus has opened back up this year, many things have been changed. In previous years, there were individual kiosks spread around the campus, making meals more accessible across the school. Unfortunately, various complications have prevented this from becoming a reliable resource for food and snacks. 
"Once COVID happened I guess they just decided [to close them]," Ross-Velho said. "And there was a problem with some of the equipment there, so they weren't able to fix it and keep the food up to temp."
Alongside the refrigeration issue came another problem raised due to COVID-19. The addition of free lunches made way for the new requirement of the staff ensuring each student only receives one lunch.
"We have no control over it [when there are two locations to get food]," Jonaidi said. "We don't have a point of sale system. In other words, when you walked up prior [to COVID-19] you probably had to key in your number."
Students inputting their ID numbers offered a way to keep track who had already received a meal, preventing students from taking multiple lunches. 
Broken technology and no desire to reopen the kiosk any time soon causes a large rush to the MUR every lunch, consisting of students eager for the "fancy meals," formally known as "pop-up meals."
"Students all like to try the different options… we did a burrito bowl, and they were [very popular]," Jonaidi said. "I think it depends on the entree, but [the pop-up menu] has turned out to be pretty popular. Woodside gets 150-200 portions of whatever it is, so it can be gone very quickly."
With free lunches and a multitude of options, come eager students and strong opinions. Ross-Velho confirmed the undeniable popularity of certain meals, voicing what most Woodside students already suspected. 
"The spicy chicken, the chicken, the pizza, the Bosco sticks [are the most popular]," Ross-Velho said. 
These simpler lunches have been all-time favorites for students. 
"I really like the school pizza," freshman Maxwell Tienken said. "That's always been great. And the Bosco sticks have also been great."
The days that pizza is served are often seen as an easier day for lunch line cashiers, as the food is outsourced from New York Pizza, a local chain. The restaurant's pizza is a promising option for all students, even those who have other favorites.
"Salad [is my favorite because] for me personally, I don't like greasy stuff, [but] if there was no salad I would get pizza," sophomore Megan Xu said.
It is undeniable that pizza is one of the most appreciated lunches that the school offers. Previously, students had access to a New York slice every day. However, under the decision of new management, the pizza delivery schedule has been reduced to once a week. 
"We would like to think you have more sophisticated palates," Jonaidi said. "So when I came on board, I wanted to do some different things. So instead of having pizza every day, we opted to add what we call a pop-up menu once a week… to give more options, and more variety."
Additionally, waste piled up quickly through ordering enough pizza to provide food for the entirety of students who get lunch, which increased by over 20% since COVID.
"We were buying 50 whole pizzas a day… So [the boxes] just going into the trash… that just really bothers me," Jonaidi said. 
At the end of the day, pizza did not have enough health or quality benefits to counteract the high demands of wasteful boxes. In turn, SUHSD food staff hopes to continue to diversify the menu, adding new options with healthier ingredients. Additionally, those who create the menus value feedback from students, so that they can gauge which meals are most appreciated by their audience. If you are interested in providing feedback, feel free to reach out to [email protected]. 
"I would encourage kids to give us feedback on what they liked and what they didn't like… we don't know whether or not students really like the items," Jonaidi said. "I'm happy to take feedback one way or another."