Tech Crew: The unsung heroes of Woodside's performing arts
An often unappreciated group of students at Woodside is tech crew, who are instrumental in ensuring that drama productions run smoothly and efficiently.
This week, the members of tech crew have been working between five to ten hours every day in preparation for the spring musical, "Freaky Friday."
Many students, such as senior Kai Steiner, found their way to tech crew through a love of theatre, but a lack of desire to perform on stage.
"If you're interested in theater, or musical theater and you're scared of performing in front of everyone, working deck, lights, or spots is a fun way to get involved without having to be in front of everyone," Steiner said.
Many other tech crew members, such as senior Rian Morrison, also decided to join tech crew at Woodside, after being introduced to the work in middle school.
"I'm not actually on Woodside campus [for school]," Morrison said. "I'm at the Cañada College campus most of the time, but I still come back because I really like doing theater and tech."
Assistant stage manager and senior Charlie Leake also joined tech crew at Woodside after participating in tech crew in middle school.
"I got into doing tech crew at my old middle school," Leake said. "My friend was doing stuff for the booth and all the microphones and he invited me to try it out with him. I tried it once and I got addicted."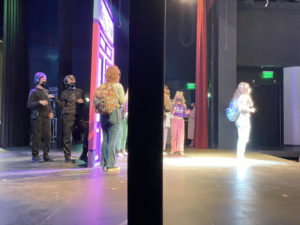 While Leake is the assistant stage manager for stage right, Jayden Maxham is the assistant stage manager for stage left. They both work under Stage Manager Meghan Souther and Technical Director Don Coluzzi.
"As a stage manager, I have a headset and I listen to cues given by Meghan and Don," Maxham detailed. "I tell people where to go, what to do, and when to do it."
Other members of tech crew such as senior Ethan Moore and freshman Lior Levy work in various jobs under the leadership of Leake and Maxham.
"I built most of the sets… and [for "Freaky Friday"] I plan to do either spotlight or work as a crew member," Moore said.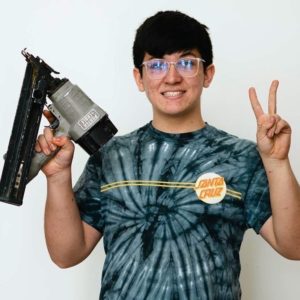 Levy joined tech crew at Woodside after previously working with other companies such as San Carlos Children's Theatre.
"I'm usually a stagehand," Levy said. "I move stuff around on stage."
This year there are roughly 20 members of stage crew, who serve in a variety of roles such as spotlight, props, mics, and being deckhands.
"Deckhands move sets and tell actors to get out of the way, clear the stage in case Meghan needs to fly something from the ceiling, and are in charge of everything on stage except for props," Maxham said.
In addition to the organizational skill and teamwork needed to run a successful tech crew, a large time commitment is also required.
"Crew has the worst hours. We get here first and leave last," Maxham said. "And because we only have a week to learn the entire show, our hours are ridiculous."
Tech week—the week leading up to opening night— is often stressful for all involved.
"You have to give up your whole week," Levy stated. "During tech week we start at 5:00 and go until 10:00 [p.m.]"
In addition to the massive time commitment, working in an environment with so many different people can prove a challenge for tech crew.
"Actors get in the way always," Maxham said. "They don't understand sightlines or volume levels and that we're actively doing our jobs even when we're not moving sets."
There are also less commonly realized challenges of working in tech crew.
"One of the biggest challenges I have is working in the dark because it's hard to see where you're going and where you're supposed to put stuff," Steiner stated.
After a nearly two-year-long break from in-person shows, tech crew is working to get back into the swing of things.
"We haven't done a full musical since sophomore year [2020-2021], two years ago," Leake stated. "Everybody's trying to get their bearings back together. Because it's been so long, we only have a lot of freshman and a lot of seniors."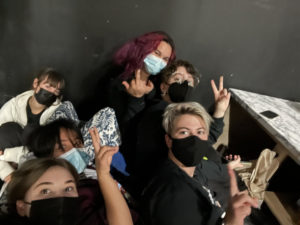 Although being in tech crew can be stressful at times, there are plenty of fun moments as well.
"A favorite memory that I have is from 'Addams Family'," Leake stated. "There was a remote control rat that went across the stage … It was so funny because it was so slow, and that was a great memory for me."
Another fun memory tech crew working on this year's musical, "Freaky Friday" is working with a particular prop.
"We really appreciate our skeleton prop," Steiner joked. "He has become part of our crew and his name is Frank."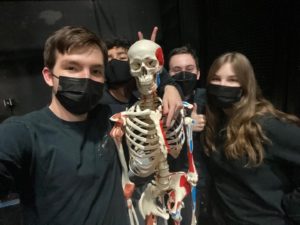 Most members of Woodside tech crew agree that a large draw of being in tech crew is the community.
"The best part about tech, in my opinion, is the community," Leake stated. "Everyone in tech is so nice. It's like we have our own little family and we all get [along] together really well. Even if you don't know some people, we make sure to include them. We just have a lot of fun."
Anyone interested in becoming a part of tech crew should start out by attending Tech Club meetings on Fridays at lunch.
"If you want to get involved in tech or you want to learn more about it, I think a great place to start would be coming to the tech club meetings on Friday during lunch in the scene shop and we can introduce you to everybody, show you the bearings, and make you part of our community," Leake said.