As California's fires rage on, one obvious problem to those nearby has been the smoke, which has been disrupting both life and the distance learning experience for teachers and students at Woodside.
Ever since a dry lightning storm hit California on August 16, hundreds of fires around California including the LNU, SCU, and SZU fire complexes have burned more than two million acres, causing mass devastation to structures, trees, and other general landscape. This has caused the air around the bay to become polluted with the gases and particles of their burnt remains, breaking a record with over 25 continuous Spare the Air days and leaving many to opt to stay inside.
"Around my house, it's pretty clear right now, Woodside junior Dasha Kamyshenko admitted. "But before, [the smoke] was really strong. I couldn't go out at all."
Staying inside has been heavily encouraged recently due to the continuing impact of the novel Coronavirus, with the smoke adding a whole new meaning as even backyards and local parks can become dangerous.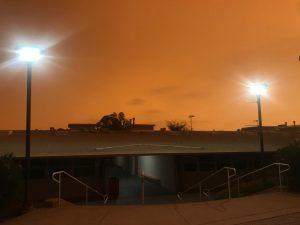 This is causing problems for some teachers who were planning on using the outside area for upcoming lessons, like Woodside biology teacher Julie Paoli. 
"In Biology, I had planned on them going outside and making nature observations, so we haven't done that yet," Paoli stated. "In [Advanced Placement] A.P. Biology, I'm a little worried about everyone going outside to find pill bugs… I probably would've recommended doing the pill bug lab outside, but now we've got to bring those into our houses."
Students soon had to come up with tactics in order to get some fresh air, using the advantage of fluctuating air quality as a memo.
"[When the air got worse], I wouldn't go outside as much," Kamyshenko observed. "So whenever the air cleared, I would spend all the time [when] it was getting a little better, outside."
Aside from air quality, the smoke has been causing other problems for Bay Area residents in various and often unexpected ways.
"A window got left open [overnight],  so at 6 am [Friday] morning, we had our fire alarm go off, which was a rude awakening," Paoli described. "Eventually it went to telling us [that] there was Carbon Monoxide, so we evacuated and called the fire department."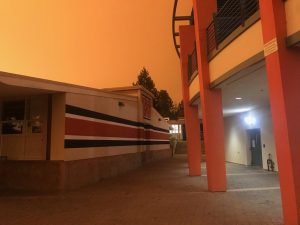 According to a paper on Wildfire smoke by various government agencies, wildfire smoke can have "thousands of individual compounds, including particulate matter, carbon dioxide, water vapor, carbon monoxide, hydrocarbons and other organic chemicals, nitrogen oxides, and trace minerals, " making its dangers similar to smoke from a house or building fire, though with much larger quantities of those materials. Paoli added that the response of those firefighters was indeed also similar to that of a house fire.  
"They came by and.. [had] some sort of meter, and they came all the way through the house and went into the bedrooms and checked any gas appliances, [and] made sure there was no leak."
However, even with house-fire like air threatening to creep in at any moment, students have been reporting their distance learning has not been tainted by the threat of smoke. 
"I don't think it's directly affecting my online learning experience, but moving online [in general] has been pretty stressful and unusual," Kamyshenko confessed. "The smoke is just adding on to the discomfort." 
For Paoli, however, the fires and smoke could indeed affect how students learn at home, especially if they were in the path of the fire.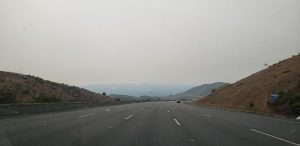 "I think just not having their materials right [could be a potential example of the effects of smoke upon distance learning],"  Paoli said. "Like some people had to evacuate [because] it was too smokey, so they might be at [their] grandparents' houses…that [don't] have really good internet. It can be hard when you don't have all your stuff. Maybe you only have your phone or your computer because you evacuated in the middle of the night."
Ultimately, Paoli maintains that considering the circumstances, students shouldn't feel bad if the smoke or fire causes them to miss a class or assignment, as everyone is getting used to this year's workings. 
"I think everything's just kind of up in the air for everyone, so I've been trying to be respectful of that and just get people a break if they need it."