More than 150 students at North Star Academy, a third through eighth grade school in Redwood City, walked out of class to raise awareness about climate change and demand climate action on Friday, January 31.
The hour-long event was the first student-led climate strike in the Redwood City School District, and Natalie Su, an eighth grader at North Star Academy, headed it. She explained that she began planning the event in August 2019 as part of a school project known as the 20% Time Project.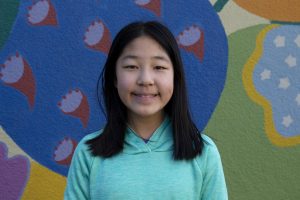 "You can basically pick a topic you're passionate about, and then you research about it, you do something about it, and then you make a Ted Talk about it at the end of the school year," Su described. "I chose climate change for my project because climate change is a really important topic right now… If we don't do something about it, there will be catastrophic impacts on everyone."
Sara Shackel, the principal of North Star Academy, kicked off the strike by greeting the crowd and introducing Su, who then gave a brief speech.
"There is a scientific consensus that climate change is human caused," Su said in her speech. "It is one of the biggest problems today, as there is no planet B that we can turn to if Earth warms up too much."
Su later shared that she drew inspiration from 17-year-old Swedish climate activist Greta Thunberg, who began the Fridays for Futures school climate strikes in 2018.
"We have seen an increasing amount of people, especially students… striking around the world," Su stated. "We will be the ones to suffer the consequences of climate change, so it is up to our generation to do something about it."
Susan Vargas, a Stanford University energy management specialist and mother of a North Star third grader, spoke about the importance of the strike.
"You're leaving school in order to do something more important, which is to bring attention to the issue of climate change," Vargas shared. "You among other young people all around the world are really leading on this and getting adults to think, 'If I care about children, I need to care about climate change.'"
Eighth graders Keira Lee, Kayla Tsui, and Carmen Pinto also spoke. Afterwards, their classmates Constantine Ciortea and Vanessa Piercey led the group in a march down Jefferson Avenue. Ciortea, who chanted into a megaphone, noted that he was excited to get involved but initially apprehensive.
"I said, 'hey, you know what? I want to lead change. I want to have a megaphone. That sounds like fun,'" Ciortea reflected. "But, I thought I would get nervous up there, like no one would be participating with me."
However, the students' excitement far exceeded his expectations, and their "Stop climate change!" and "Save the Earth!" chants were met with honks of support from passing cars.
"All the drivers were really nice, and people didn't mind waiting," Shackel explained. "They were really excited, and they were honking and cheering on the kids."
Shackel, various North Star teachers, and parents aided the strike, steering the crowd and giving speeches. Yet despite adult involvement, the event, at its core, was student-run.
"I just did what Natalie told me," Shackel exclaimed. "She really rallied the troops. I'm super proud of her."
Shackel also added that she was glad the North Star curriculum, including the 20% Time Project, could foster such student activism.
"We've always encouraged kids to do what they're passionate about," Shackel noted. "We encourage this level of kid-driven action and kid-driven focus, and [today's strike] sets kids up to do bigger and bigger things."
Ciortea voiced optimism about the effects of the strike.
"I definitely feel it's going somewhere," Ciortea stated. "People are going to hear about it, and people are going to think about it. I know we did something."
Eric Su, Natalie Su's father, agreed with Ciortea about the strike's impacts.
"Of course, I was very proud that she organized this, but I think I'm proud of the entire school," Su said. "That was a really great turnout, and the energy level was incredible. And I think this event really raised a lot of awareness…  around this important issue… The support in the school by the teachers was really amazing."
Su plans to continue her climate change advocacy; despite still being a middle schooler, she is currently working with the school board to develop district-wide climate action plans.
"Listen to the children," Su insisted. "We're the ones that are going to get impacted, so our voice is the one that matters the most."