With eighteen states across the U.S. banning trans-women and girls from playing on school sports teams, the question of providing equal opportunities to all, no matter gender, is often debated throughout school athletics. The answer to this hotly debated topic might be in co-ed sports. 
As senior Cameron O'Connor walked onto the pool deck before his water polo game, he was struck by the feeling that referees are watching him oddly. For O'Connor, this is a common occurrence as a transgender athlete. 
In California, the creation of sports teams must be in accordance with the California Interscholastic Federation (CIF) and Title IX. These rules maintain equal athletic rights for boys, girls, and transgender students. This includes allowing athletes to join the opposite gender's team if there are limited opportunities for the student's sport in their gender. 
"If there is a sport that is being offered, and they don't offer that sport for your gender, then typically you have the opportunity to play with the team," history teacher and varsity football coach Justin Andrews explained. "Whereas, if you have boys soccer and girls soccer for example because they offer it for both genders, I don't think you can cross over [to the other team]."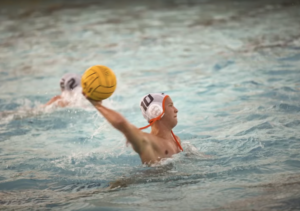 These mandates, along with the supportive atmosphere at Woodside, have helped O'Connor feel comfortable playing on the water polo team. After coming out the summer before his freshman year, O'Connor was able to smoothly transition onto the boy's water polo team at Woodside.
"I've had quite a good time [on the water polo team], but I know not every [transgender athlete] does," O'Connor said. "There's definitely been some confused people. Referees have had to ask my coaches, 'what's with that person', but nothing bad."
After graduating, O'Connor plans to continue playing water polo on the co-ed team at Carleton College in Minnesota. For O'Connor, this won't be a new experience.
"I was on a co-ed team in middle school," O'Connor said. "I think it opens up space for non-binary athletes. It takes some of the pressure off of trans athletes. There was less attention paid to the fact that I was transgender on the team because all the genders [were] there."
Currently, Woodside offers badminton, swimming, wrestling, cross country, track and field, dance, and cheerleading, as co-ed sports. While O'Connor's experience demonstrates how middle school sports can be co-ed, he also shared that it's not that simple.
"Certain sports are harder to [make] co-ed," O'Connor said. "With water polo, [it's] a harder sport to do co-ed teams partially because the gameplay is very different, with the swimsuit shape. A lot of the girls, as part of the play, grab people's swimsuits and move them."
Those against co-ed sports similarly argue the unfairness of these teams. Many find that boys' increased testosterone levels can enhance their athletic performance and provide co-ed teams an advantage over non-co-ed teams.
"There's a whole debate on the fairness of [co-ed teams vs non-co-ed teams]," Andrews said. "[Many questions whether co-ed teams] unintentionally undermine [the goal of] trying to [give] everyone an opportunity to play the sports that they want [by giving teams unfair advantages]."
Amid nationwide debates regarding whether girls should be allowed to play on football teams due to safety concerns, as head coach of the varsity football team, Andrews welcomes all girls to try out for the team.
"I don't know if we can say technically [football is] co-ed as if it was created for that purpose," Andrews said. "But we've had girls come [to try-out in] the past that has played [on the team] with no issues. There's no rule, school-wide or team-wide, that says [girls] can't play."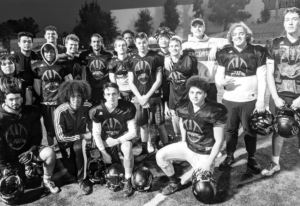 The last girl to play on the football team was Deja Ordonez during the 2019-2020 football season. While her year was cut short due to the COVID-19 pandemic, as an offensive and defensive lineman, she paved a way for girls among the male-dominated team. Yet Andrews states that the football team encourages and supports anyone who wants to play, no matter gender. 
"As far as I'm concerned, when you join the team, you become a football player, and we treat you like a football player," Andrews said.
The question is why aren't more girls playing football? To go even further, one could question why boys aren't on the girls volleyball team.
Purpose of co-ed sports:
These questions surrounding gendered sports are often solved at schools through co-ed teams, which provide students with the opportunity to connect with a broader community and increase competitive spirit.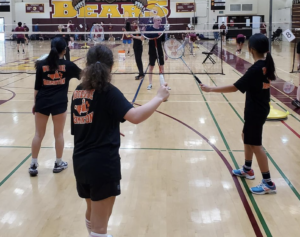 "[Co-ed teams provide a] sense of belonging," history teacher and former badminton coach Armando Carbajal said. "Last year, I felt that I had one of the most inclusive programs in the school. It made me feel proud as a coach. I was very happy to provide a space for anyone who wanted to join, and that's the benefit of having a co-ed team."
Under Carbajal's guidance, the badminton team was able to place third in the league standings and compete at the playoffs after sitting in last place for years. Freshman wrestler Alexa Zadesky experienced a similarly welcoming experience on the co-ed wrestling team. 
"There's more community building because everyone's [different]," Zadesky said. "It's a lot of different people, [which makes] the community better." 
Last year, the wrestling team saw a significant number of girls on the team with six females to twelve males. While small in numbers, these girls defied expectations, with former senior AJ Richter being the first Woodside wrestler in years to compete at the California Interscholastic Federation (CIF) state championship. This year the number of girls on the team has dropped from four females to nineteen males on the team. For Zadesky, being outnumbered by male athletes at first felt disconnected.
"When there are four girls and there are about twenty boys you definitely feel like an outsider at first," Zadesky said. "But then once I got to know people, it was fine."
Similarly, sophomore and track athlete Mia Farber expressed feeling disheartened by the low numbers of females when competing on a co-ed team such as track and field. 
"There were some people who are way better than you, and that was a little bit discouraging, but I found that you made more friends this way," Farber said. 
For students who want to create separate teams, Athletic Director Timothy Faulkner recommends creating a club first to gain support for the group. 
"[One can] start a boy's volleyball club first," Faulkner said. "I definitely talked to a lot of students about doing that. So if we did that for the first year and then had enough for a team, we would definitely be able to have a boy's volleyball team."
Additionally, creating co-ed leagues devoted to just co-ed teams within a sport, as suggested by Andrews, could increase participation in athletics. The end goal of this decision is, as Carbajal put it, to create a more welcoming environment for all.
"I hope it becomes a more inclusive place for any type of athlete," Carbajal said. "The fact that we use the term co-ed, maybe they call it just sports [and you don't] have to apply any type of title to it. One day, I do hope there is a chance for anyone to join whatever type of sport they feel they belong in."