The clock ticks down with only a few seconds left in the game. Sweat droplets dot the floor and the sound of squeaking shoes fills the air. Players cling to the last moments, hoping to make that final win. This is how the story normally goes. 
But for the many Woodside students who participate in sports outside of school, their story is a little different. From horse tracks to waterways, Woodside students enjoy all aspects of their unique sports. Whether playing recreationally, on a club team, or competing nationally in world-famous events, these students demonstrate what it means to be a Wildcat. 
Polo:
With mallets swinging through the air and plumes of dirt erupting from every direction, nothing beats the feeling of hooves bouncing beneath them in their unique sport of polo for sophomore Faye Krauskopf.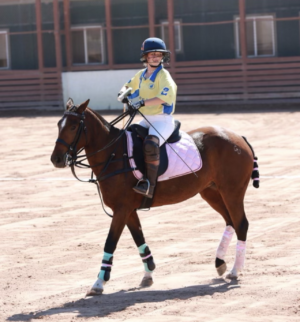 Combining soccer and horseback riding, the object of polo is to score a goal on the opposing team's side using mallets while on horseback. Each team consists of four members with two mounted officials observing the game. Due to its similarities to horseback riding, Krauskopf began polo after three years of horse jumping, beginning at the age of ten. 
"I was really bored of what I was doing before, which was pretty much just normal horse jumping," Krauskopf said. "I never really enjoyed it, and then my mom showed me [polo]. I tried it, and here I am." 
Krauskopf competes with the South Bay Polo Club, based in Gilroy, California. This team hosts players from all over California, and is one of the few teams in the state that participates in the Intercollegiate/Interscholastic Program, which organizes national tournaments for middle school, high school, and collegiate players. Last year, Krauskopf's team competed in nationals, sadly suffering a narrow defeat.
"Last year we almost won," Krauskopf said. "But the umpiring was really bad. We should have won because our skill level, overall, was better than the other team's. But we also had more penalties. So they won the game off penalty shots. Also, the umpires were moving our players outside [the field] so that they couldn't get to the ball [or] any players."
This year, Krauskopf and their team are aiming to compete at nationals again, hoping to get a win under their belt at their upcoming qualifying games.
"We have a tournament qualifying game the weekend of homecoming," Krauskopf said. "Other than that, [the season is] more towards the end of the year, but [I'm] definitely [looking forward to] regionals and nationals."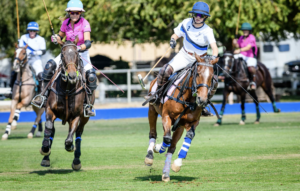 In the Intercollegiate/Interscholastic program, individuals participate in two leagues: Open and Women's division. Many of these tournaments last from one to three days, with qualifying, regional, and national tournaments being the most important. During these tournaments, teams follow a round-robin format, a system that allows teams to accumulate points after playing each other team an equal number of times. These tournaments require lots of traveling. For instance, last year's regionals were in Palm Desert, California. 
"But it's really fun," Krauskopf said. "[The tournaments] are really competitive, because all these kids want to get recognized for how good they are, so it's really difficult sometimes…but they're really fun."
During these tournaments, it's important for the polo players to care for their horses. Krauskopf's coach often brings the horses to various games, sometimes traveling across the state. As a result, polo players not only learn how to play but care for their horses during practices. For Krauskopf, these practices can happen up to four days a week. 
"Some days we will go to Woodside Horse Park, which is really nice," Krauskopf said. "But on Thursdays, Saturdays, and sometimes Sundays, we'll all drive down to Gilroy in really bad traffic."
These practices and games build teamwork and long-lasting friendships that create a positive atmosphere. Krauskopf invites others to try the sport even if they don't know how to play. 
"My favorite part about Polo is being able to be in the saddle," Krauskopf said. "Even if you don't play super well, you're always gonna be playing on horseback. It's just overall really fun, [especially the] teamwork. There's no way you can win if it's one against everyone else. If it gets to that point, you've already lost the game."
Rowing: 
Trading horses and ponies for boats and watercrafts, seniors Charlotte Hill and George Kreidler prefer the water in their sport of rowing.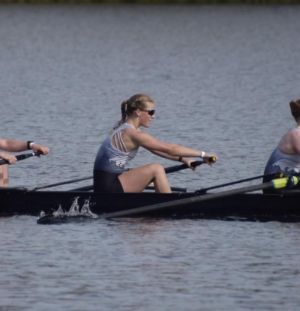 In rowing, players propel themselves in watercrafts, or 'shells', using oars. Individuals use one or two oars depending on the type of rowing and the number of people in the boat. Typically, rowing uses one oar per person, but sculling, a form of rowing that uses a different watercraft, utilizes two oars per person. 
"You're in a long skinny boat, and everyone has one or two oars," Hill said. You use your legs, body, and arms to pull the oars out of the water and go forward to race other boats. There's one to eight people in the boats and they all vary in size." 
Both Hill and Kreidler compete nationally with the Norcal Crew team. Last year, Hill's four-person rowing team ranked seventh at nationals, and Kreidler's team additionally ranked very high. Spots at nationals are limited, as teams have to place in the top four at their regional competitions.
"Our races are highly competitive around the country," Kreidler said. "Right now we're ranked tenth in the nation."
Both players are looking forward to their next competition at the Head of the Charles, in Boston, Massachusetts. One of the biggest tournaments in the rowing world, this regatta brings together a wide range of competitors.
"I [competed at the Head of the Charles] last year, and we [placed] 5th out of 87 boats, which was really fun," Kriedler said. 
In many of these larger competitions, Hill and Kriedler appreciate the supportive community of competitors and spectators that rowing provides. 
"There are people racing from middle school level to people in their 80s," Hill said. "It's super cool because all the local colleges go there. It's like tailgating a football game and it makes rowing feel like a big community."
Surfing:
Bodies of water seem to be a popular place to find Wildcats, as while some students row, others surf, such as sophomore Kiera Campana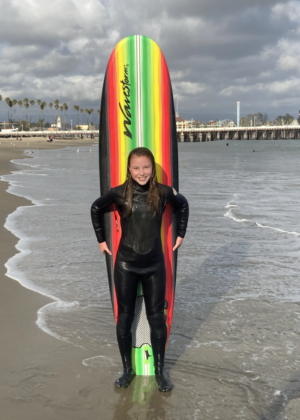 In surfing, individuals ride a wave to the shore with the use of a surfboard. Requiring a combination of significant balance and strength, this sport proves arduous for many. But for Campana, surfing provided a nice reprieve from the mundaneness of the COVID-19 pandemic.
"I was bored and I had free time with my dad," Campana said. "He wanted to take me out and introduce me [to surfing,] because he had been going for eight years."
Campana surfs frequently—about once or twice a month in Santa Cruz. Her favorite spots to surf include Cowell Beach and Pleasure Point. While it was difficult to start surfing at first, Campana found it to be a very rewarding experience. 
"One of the first times I went [surfing] with my dad… I stood up for the first time [on the surfboard] and we were both really excited," Campana said. "It was at Pleasure Point, and it was really great, because they have waves you can ride all the way into shore and they're easy to catch."
Although surfing can be quite intimidating at first for beginners, Campana encourages others to give it a shot for the gratifying and fun experience the sport offers. 
"You feel like you're gonna drown it first, [but] that's not realistic," Campana said. "You should try it."
Like any sport, or really any activity, surfing takes practice. Despite struggling in the beginning, Campana has come to love the sport. 
"When I get up on a wave, and I stay up, then I can just do whatever I want," Campana said. "If it's a good wave, it'll keep going and keep me up [on the surfboard]. [I can] turn, cut, and ride it all the way [to shore]. It's just a good feeling."
These Woodside students have fostered a love for their sports amidst hardship and competitive spirits. 
"It's fun, but it's a lot of hard work and a big commitment," Hill said. "It hurts a lot, but it pays off."