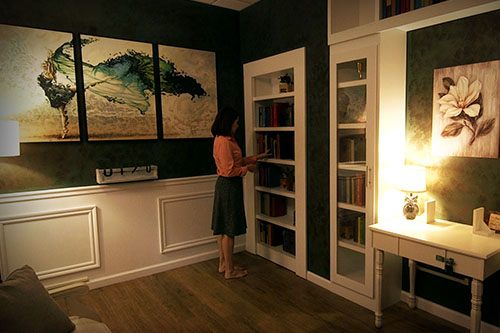 San Mateo's "Red Door" Escape Room induces fear into customers with the turn of a key and a few clues to find a way out.
An escape room is an interactive outside-of-the-box thinking activity in which players are locked inside a room. To get out, they must solve a series of puzzles and uncover lock codes in order to proceed to the next room. This process gets continuously more difficult as the number of rooms conquered increases.
At Red Door, each challenge consists of three carefully planned rooms, with difficulty differing based on which challenge is selected. Clues are placed throughout the rooms in the form of hidden keys, notes, paintings, etc. Each clue has a purpose, and when put together, contributes to opening the next room's door.
Costing from $24.95 to $41.95 per person (depending on the selected experience length), Red Door's escape rooms are intended to bring players together to achieve one common goal- to escape. I attended the "Confinement" escape room challenge with five other people for a close friend's birthday celebration, arriving with high expectations and spirits. We stood expectantly in the customer waiting room, vaguely intrigued by the spooky decorations and faux blood-splattered walls.
 A staff member greeted us with a friendly smile and led us over to an open room with mini lockers to put our things. He led us through the process of the escape room, explaining that we would have a timed sixty minutes to complete the challenge. We elected one teammate to be our clue holder, who wore a tag around her neck that had a large button on it reading: "clue". We could ask her for a hint when we felt a little too stumped; a push into the right direction. The staff member then showed us our room's storyline video, which was reportedly the most challenging option. We watched it and agreed to the various rules and precautions taken to maintain a clean and safe environment. 
The six of us then filed into the first room. It was fairly small, with few pieces of furniture besides the ominous bookcase stuck to the wall. It housed many books, all but four of which were glued to the wall. With the loose books, we put them together to find a clue that led us to open the first door. We were thrilled that we had uncovered a clue and were making progress. Encouraged, we threw ourselves into the new room and split ourselves up to make the most out of the time we had left. Tick Tock. We had already spent fifteen minutes in the first room, knocking our clock down to forty-five minutes. 
We frantically opened drawers and rifled through documents… this second room was truly testing our capabilities. The time was decreasing at a rapid rate and we hadn't yet found one clue. After a brief discussion, we decided on asking for a hint. With pressing the "hint" button, block letters illuminated on the TV screen up above our heads mounted on the wall. While this didn't necessarily give us the answer, we eventually determined the four-digit code for a lockbox, which led us to a second lockbox, which led us to a third lockbox- we were intent on opening up the third door. We walked back into the initial room in hopes of finding more clues to solve our current puzzle, shuffling in a single-file line to the small room. "I think I found something." One of my friends said. "I think you're right, that matches with the writing in the second room-" My other friend started, but didn't finish. A deafening noise cut through the room, vibrating us with its force. Someone had pounded loudly on the window next to us with all their might, leaving us all shaken up and terrified- our united screams must have been heard from several hundred feet away.
I  don't consider myself someone who can be scared easily, but I don't think I've ever been so caught off guard. My legs shook below me as the six of us tried to regain our composure from the shock of the jumpscare. Tick Tock. The time wasn't going to stop on account of our fright, so my teammates continued to scour the area for clues. I, meanwhile, was unable to do the same. My heart was pounding in my ears, and my hands shaking from fear. One other girl and I stood cowering in the corner of the room, our hands hovering over our ears in case of another jump scare. We were terrified! The two of us stuck together, incredulous that the others could continue on with such confidence. Although we eventually unlocked the door to another room, all we did was stand in the corner of that room once we finally got in. The fun had been sucked out of the excursion and replaced with the paranoia of being scared again, our hands never leaving our ears. While the other players continued on eagerly, it was difficult for me to participate. As our time limit came down to the last three minutes, my teammates had been unable to crack the code. They had discovered what seemed to be all of the clues, but which were not working when applied to the locks. Using the last of our hints, they worked as fast as possible to make the most of the remaining thirty seconds. Sadly, we were unable to open the third and last door. An employee entered the dimly lit room, congratulating us and explaining that the majority of visitors don't get as far as we had gotten. We began high-fiving each other in celebration, excited to have gotten as far as we had. 
While the "Confinement" was an experience to remember, it was definitely not one I'd like to relive. The storylines felt a little too realistic and the jumpscares a little too… scary. However, if you are someone who has a high spook tolerance and is looking for an activity for you and your friends to give yourselves a scare, Red Door Escape Room may be the place for you. But brace yourself, because you may not be able to escape the terror that it entails.