Yarn crafts like crocheting, while normally associated with grandmas and cat ladies, are rising in popularity through social media platforms like TikTok and Instagram and at Woodside's Crochet Club. 
The crochet trend began with Harry Styles' patchwork cardigan, which he wore for a Today Show rehearsal appearance, deep into the COVID-19 pandemic. The JW Anderson cardigan made a big splash on TikTok as people posted their handmade replicas. Now, #harrystylescardigan on TikTok has over 41 million views. Styles' cardigan led thousands of teenagers cooped up at home to pick up their crochet projects again and post on social media about their cute creations.
Woodside senior Elise Hadidi saw the viral video of Harry Style's cardigan and decided to start crocheting so she could make one for herself. 
"I got clickbaited into watching a video of someone crocheting the sweater, and I ended up making the sweater as my first project. While it was hard, I have no regrets," Hadidi said. 
Other Woodside students brushed off their old crochet skills when crocheting started trending again. 
"I actually started crocheting a really long time ago with my mom, but there was a long period of time where I didn't crochet at all," Woodside sophomore Keana Velasco said. "I recently started [crocheting] again during quarantine." 
The same goes for many other Woodside students. Woodside freshman Elisabeth Caballerl learned from her grandma at a young age, but she stopped after a few years out of disinterest. 
"I got into crocheting again this year because I saw the hearts that the Crochet Club was giving out during Club Rush," Caballero said.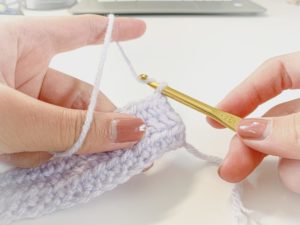 The pandemic also contributed to the increase in crocheters because with fewer contact hours over Zoom and fewer extracurricular activities, more students had time for slow form crafts.
"I had so much time and I had nothing to do," Velasco said. "Crocheting is a really nice way to end my day after stressing out with school and homework." 
Additionally, social media has brought more attention to cute yarn crafts. Now, 53% of yarn artists aged 18-34 crochet or knit daily.
"On TikTok, there are so many videos of people making cute, trendy things, and others are inspired to learn and try it at home," Velasco said. 
Earlier this year, Crochet Club co-presidents Elise Hadidi and Brynn Ayoob set up a table at Woodside's Club Rush. Over 80 students, beginners, and experts signed up for the club.  

"You don't have to know how to crochet to join!" Hadidi said. "We have skilled crocheters who are ready to teach you, and some parents have generously donated crochet supplies for new crocheters."
Crochet Club is every Friday in F-10. Stephanie Finander, the AP Physics and AP Calculus AB teacher at Woodside, acts as the Crochet Club Advisor. 
"My daughter was in ballet and she had to wear her hair in a bun. I couldn't buy a bun net, but I found a pattern, so I learned how to crochet making a bun net," Finander said. "I've also made a bunch of doilies, … an entire tablecloth, and … hundreds of bun nets." 
The club remains popular, with students gathering every week to share their projects and gain inspiration. The popularity of crochet partially lies in the positive impact crocheting has on students' mental health. Crocheting requires small, repetitive movements that build up into a big project. 
"It's really calming and I can just concentrate on one thing at the moment," Caballerl said. "I use it as a way to clear my mind when I need to." 
Crochet also connects crafters with like-minded people. Due to the pandemic, social media became the primary way for crocheters to come together. Woodside junior Raphael Bajet attributes Crochet Club's popularity to its ability to provide crafters with another meeting place to gain inspiration and friendships. 
"[Crochet Club] is not even about the crochet itself as much as it is about the community aspect where people can gather and talk," Bajet said. 
Ultimately, crocheting served as a respite from the dark days of lockdown earlier this year, and it continues to bring joy to Woodside. 
"Crocheting definitely gave me a lot of entertainment and joy during the lockdown," Finander said. "It gave me something to do to be creative!"