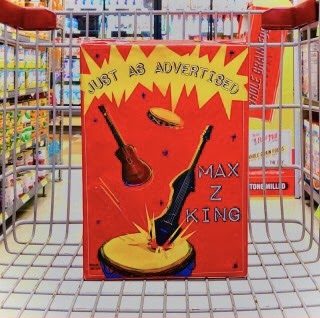 Woodside alumnus Max King has released his debut album "Just As Advertised," produced and written entirely by himself.
King, a class of 2020 graduate, created the record during quarantine, starting work on it in May and releasing it on October 30. Along with writing and production, King also created all instrumentals and sang for the album. "Just As Advertised," described as "more than just a rock 'n' roll album," features 13 tracks, three of which were pre-released as singles.
"I came up with the title 'Just As Advertised' before much of the music," King explained. "Basically, the title came from the idea that I didn't want to set many expectations or make any promises to myself. I just wanted to accept what I made, as it is."
With a musical background based in jazz and an interest in classic rock, music has been a part of King's life ever since he was young.
"I've wanted to make music ever since I started playing music," King said. "That would be [around] fifth grade since I was like 10 years old. Basically, quarantine was the first time I had… time [and] recording equipment, so I was finally able to record music independently at home. Then I had years of experience playing multiple instruments."
During his time at Woodside, King took jazz combo for four years and took audio production for three.
"I knew him to write songs, and he had produced a couple [of] songs in class that were a mix of really good [and] tongue-in-cheek, funny — which I think is reflected in the album,"  Raphael Kauffmann, Woodside's audio production teacher, said. "There's some serious content, but also some pretty humorous stuff, and it also shows a really wide set of musical influences."
While songwriting was a familiar aspect of music production, King actually learned harmonica, percussion, and singing for "Just As Advertised."
"I think my greatest challenge was actually learning to sing because I had never sung before, really," King recounted. "And so I just started singing and playing guitar because it was like, 'okay, if I'm going to make my own music with lyrics, I'm going to sing on it too.' So I practiced singing, and I've been singing ever since."
Zoraya King, King's sister and a freshman at Sequoia High School, attested to the effort that King spent on the album.
"It was very interesting to see how Max was able to express himself, and how he worked tirelessly on it for months on end," Zoraya King said. "Every time that he wasn't doing schoolwork or helping around the house, he was just sitting and working on the album."
Due to the pandemic, both King siblings are attending school from home. A freshman at the University of California, Berkeley, King is studying music in addition to taking physics courses.
"[College is] alright… it's not so bad from home, actually," King said. "I'm definitely happier being at home and with my family and some of my friends that are still here than if I was in a dorm, quarantining all the time."
Being able to spend more time at home due to distance learning is something that King's sister is grateful for.
"I was selfishly happy," Zoraya King said, laughing. "I was very, very nervous for a couple [of] years before he graduated high school that I wasn't really sure how I was going to deal with life without him because I grew up with him, and we're very, very close, so I was scared that if he did move out, I wasn't sure how life would look, and now… I still have more time to connect with him."
Both siblings grew up learning music and playing instruments, which is reflected in "Just As Advertised" — the album features 14 instruments performed by King and background vocals by Zoraya King.
"We value music and concerts and that form of expression a ton in our family," Zoraya King said. "We would always make time to go to concerts, and it was a privilege of ours, but it was a common thing we would do."
Though live concerts aren't available right now, quarantine has still provided time for many artists to create and release new music.
"Wherever this album goes, I think the fact that he used the opportunity to take some of his ideas and put them out into the world… is a fantastic accomplishment," Kauffmann said.
While he produced his music primarily to prove to himself that he could create an album, King chose to publicly release "Just As Advertised," mainly sharing it with friends and family.
"After he produced the album, I was very, very proud of him, and I was able to see his creative side more, which is something that I never really got to see," Zoraya King said. "I can't wait to see what he does next."
Though King doesn't plan to release any other projects for a while, he hopes to focus more on promoting later work and collaborate on music with The Indigo Ribbon Section, the jazz quintet that he has been a part of since high school.
"This album really was a reflection of myself at the time," King said. "I really wanted to get something out by the start of college, like the end-of-high school chapter of my life. So I'm proud that I did it all on my own, that I walked myself through the motion of recording and writing and producing my own music… and I'm looking forward to doing it again."