Para leer este artículo en español, haga clic aquí.
"I spend two to five hours on it everyday."
Ayiana Randolph, a 16-year-old student from the Bay Area, joined TikTok about a year ago. Now, she has three million likes across all her posts and over 115,000 followers.
"I started to notice consistent [follower] growth over the summer," Randolph shared. "I would just post when an idea popped into my head or if I was bored."
With over 500 million active users, TikTok was previously known as Musical.ly before being purchased and rebranded by the company ByteDance in August 2018. TikTok users can post videos up to one minute in length, usually of themselves or their friends lip-syncing, dancing, acting, vlogging, storytelling, and more.
"I think after Vine was deleted, there wasn't an app that was simple enough to watch a short, funny video besides Instagram," Randolph said, referring to the popular video-sharing app Vine that shut down in January 2017. "Once TikTok was created, it was fresh and [gave people] something to do… Around summer is when it really became popular, and more teens began getting into it."
Most people, especially teenagers, are drawn to the app because of its easy access. Woodside freshman Brody Land McGowen believes that TikTok appeals to people because it's hard to stop scrolling through such short videos.
"You just keep watching and watching and watching," Land McGowen said. "There are a lot of jokes and memes."
Another Woodside student, senior Rachelle Taveau, began using TikTok about a month ago after her friends encouraged her to download it.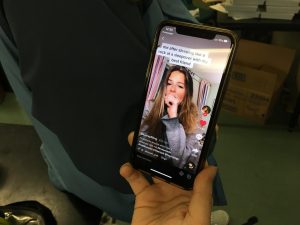 "I spend two to five hours on it everyday," Taveau estimated. "It replaced Netflix."
Woodside senior Isabel de Oliveira noted that videos can easily go viral on TikTok; one of her own videos was viewed almost 300,000 times.
"Anyone can get on TikTok and make things and then suddenly get famous," de Oliveira said. "I think that appeals to people a lot."
De Oliveira joined TikTok around February this year, but she began to use it more frequently in recent months.
"It's changed a lot over the last year," de Oliveira observed. "When I started off in February, it was more peaceful. People were kind of just doing their own thing, and now… people are fighting over getting famous."
Randolph noticed a similar shift in the TikTok community.
"It definitely used to be more positive than it is now, and sometimes it can be very toxic," Randolph said. "But it really depends on your audience and the type of content you put out."
"Certain things can get taken down if they're controversial."
Though the opportunity to become famous attracts many users, some people take advantage of TikTok to spread awareness of important issues. 17-year-old Feroza Aziz (@getmefamouspartthree) posted a 40-second TikTok video that went viral in which she discussed the treatment of Uighur Muslims in China while curling her eyelashes. The video was viewed over 1.4 million times, and, when TikTok eventually took the video down, people were quick to note that the app is owned by China.
"I've seen videos calling attention to what's going on in Hong Kong being taken down because the government obviously doesn't want that out there," de Oliveira said. "Certain things can get taken down if they're controversial."
TikTok later explained that the video had been accidentally taken down due to a "human moderation error," and they restored Aziz's video.
"Do I believe they took it away because of a[n] unrelated satirical video that was deleted on a previous deleted account of mine?" Aziz asked on Twitter. "Right after I finished posting a three-part video about the Uighurs? No."
"Social media has changed in so many ways."
From Facebook to TikTok, Gen Z is living through the evolution of social media. The advancement of technology in the past decade has dramatically shaped how people communicate and interact with each other.
"I think that people do things solely for social media now," de Oliveira said. "Things are on the internet more now than ever; things that could have been considered private five years ago are now public."
"Social media has changed in so many ways," Randolph expressed. "Now, I feel like it's easier to get exposure and reach a larger audience than before. A couple years ago, if you were to meet someone on the internet, it was kind of strange and sometimes frowned upon, but now it's easy and common to make friends around the country and even the world."
The rise of Instagram and Snapchat in the last few years has especially influenced how people share information online, with sharing photos and videos becoming as important as sharing text. According to the Pew Research Center, 67 percent of 18 to 29 year olds use Instagram, and 62 percent use Snapchat. Jane Ponce, an eighth grader at North Star Academy, noticed similarities among popular social media platforms.
"Most of the social media apps right now are all the same thing," Ponce said. "You can chat with each other [and] send pictures to each other."
Forty-one percent of TikTok users are people aged 16 to 24, and Woodside senior and TikTok user Vianne Nickel feels that TikTok is one of the apps that is truly "representative of our generation."
"Gen Z is the grand majority of people using the app," Nickel shared. "We're super fatalistic for the most part, [and] we make a lot of weird, obscure jokes… It represents our incredibly, weirdly chaotic sense of humor."
According to TikTok's official website, the app aims "to inspire and encourage a new generation to have a positive impact on the planet and those around them." Randolph admits that her "large following comes with responsibility," but she will do her best to continue promoting positivity through social media.
"On an app that isn't always kind, I hope to spread love and happiness to others," Randolph said.