Hate is a Virus
There has not been enough media coverage of Anti-Asian hate. In the months after the first case of Covid-19 was discovered in Wuhan, China, the US reported almost 1,500 cases of racism, hate speech, discrimination, and physical attacks against Asians and Asian-Americans. 
Over the course of the past year, the number of Anti-Asian attacks in the United States due to the pandemic has risen. Yet, they have not been recognized until recently. The history behind Asian xenophobia in the United States dates back hundreds of years. To this day, Asian Americans deal with microaggressions, racism, and violence. The rise in hate crimes and lack of media coverage has triggered many families and celebrities of Asian descent to bring attention to the under-recognized issue.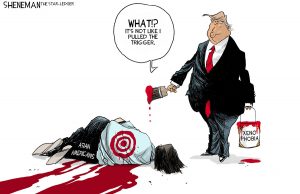 On June 20th, 2020, President Trump called Covid-19 the 'kung flu,' mocking and seemingly pointing fingers at China at a Tulsa, Oklahoma rally. 
"Mostly brought on by President Trump's anti-China rhetoric, there's been a rise in crimes, hate crimes against Asian American people,"  Cameron Lee, an Executive Assistant at Advancing Justice Asian Law Caucus, states, "From March to December 2020 there are at least like 2800 incidents of anti-Asian hate incidents in the US, and of those, like, about 1000 1200 were in California, and 708 were in the Bay Area."
Since COVID-19 started, many hate crimes have been committed against Asians, especially to Asian elders. These hate crimes have increased by nearly 150% as of March 2021.
"It's horrible," Bay Area resident Yingbo Chen said. "My uncle was attacked in Oakland, Chinatown during the pandemic. He was walking by himself when he realized there was another guy walking alongside him, and he was suddenly knocked unconscious. His eye socket was broken, and his head was injured. He stayed in the hospital for multiple days."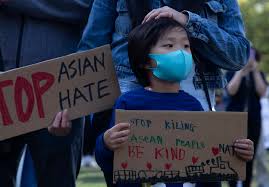 Not only are Asian elders victims or targets, but parents with children present have also experienced racist verbal attacks.
"I was walking home with my two kids, and a crazy [white lady] came up to us and said, 'Hey, you Chinese kids are blocking the way.'"Bay Area Resident, Janet Wang, explained, even though they weren't in the way.
Anti-Asian verbal attacks are not new, as many Asian Americans experience passive-aggressive encounters before the pandemic. Still, now the rise in violence has left many afraid to leave their house.
Eileen Wu, an 84-year-old Bay Area resident, explained, "People would tell me 'go back to your home,' even though I have probably been here longer than them. I've been here since 1955… I try not to be a victim of [the attacks]- I would [rather] stay home to avoid it." 
"Jokes" on Asian features have been normalized to the point where many Asian Americans question whether those "jokes" are racism or just ignorance.
"When I was in high school as a freshman in San Francisco, I experienced some racism. It wasn't life-threatening, but it was like 'you look different", 'you have small eyes,' 'ching-chong China man.' Being a 15-year-old, I fought back, and now thinking back on it, I'm glad I did," Frank Mong, a San Francisco resident, said, "I'm actually still in touch with my classmates from high school, and some of them apologized after all these years."
Although racist remarks or "jokes" are looked down upon, teens still face similar microaggressions as earlier generations. 
"One time, these kids bowed down to us and said 'Konnichiwa, people would bring up dog jokes, say I'm ugly because I'm Asian, or I'm pretty for an Asian." Woodside High School freshman, Tessa Niu, explained. "They would say 'ch*nk' and imitate the fox eye. I would also get mixed up with other Asian classmates, and I was told before that my English was good."
So why is racism towards Asian Americans so normalized?
Lee said, "The Model Minority Myth, [is] the idea that Asian Americans are like the most educated, like have some of the highest incomes of minority groups in the US, and they don't have problems because they are white adjacent. This isn't the case, as [Asian Americans are] on the scale some are the riches while many are the poorest. The harms that are done to Asian American communities are invisible, and people see them as invisible. There's just this idea that racism against Asian Americans isn't real."
Even though more recent events are being recognized and discussed, anti-Asian racism isn't new. Asians have faced xenophobia and discrimination since they immigrated to the U.S. in the 1850s, from the racism towards Chinese immigrants in the gold mines to the Japanese internment camps in World War II. 
Woodside High School math teacher, Diep Nguyen, stated, "Whenever we teach history to our students, we're not taught about how Asians are discriminated in America. It's just passed. It's mentioned a little bit in history when you're learning about the gold rush, but then you don't learn how bad it was. The Chinese Exclusion Act [the only act/ law that prevented all members of an ethnic group from immigrating], for example, made it much harder for the Chinese workers to bring over their family members because they didn't want more Asian people in America. The Japanese internment camp stripped the Japanese away from their homes, thinking that they're colluding with the Japanese government. Those things affect families". 
Representation in media also plays a part in the lack of media coverage. Many Asian-American celebrities state that the lack of diversity and the constant stereotyping has not improved representation and has not allowed viewers to understand or care about these issues on and off the silver screen. 
Marvel's first Asian superhero, Simu Liu, says that "Anti-Asian racism is very real, and it will not be solved with an opulent rom-com or Marvel superhero, but with you – the bystanders – acknowledging the validity of our pain."
Jeremy Lin, Taiwanese-American professional NBA veteran player, who now plays for the NBA G League, dealt with xenophobia on and off the court. In an interview with CNN, he responds to the lack of media coverage. 
"We are tired of being told that we don't experience racism. We are tired of being told to keep our heads down and not make trouble. We are tired of Asian American kids growing up and being asked where they're REALLY from, of having our eyes mocked, of being objectified as exotic, or being told we're inherently unattractive. Those microaggressions turn into actual acts of violence. These are real stories, real lives."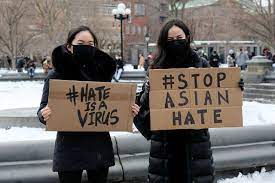 Due to the recent Atlanta massacre, the news media and the President have denounced attacks and wish to protect Asian Americans. 
"I urge Congress to swiftly pass the COVID-19 Hate Crimes Act, which would expedite the federal government's response to the rise of hate crimes exacerbated during the pandemic, support state, and local governments to improve hate crimes reporting, and ensure that hate crimes information is more accessible to Asian-American communities,"
During troubling times hate should not be the answer. The amount of hatred against a specific ethnicity is not acceptable. The Asian community has had enough. Racism is that problem that all ethnic minorities face, and we can not look away and pretend it doesn't exist. We are glad that these issues are getting attention, but we need more action. We have to educate ourselves and our children about the history and current events. We can then have a safer world where our skin color doesn't make us a target of violence and hate.
Nguyen states, "There isn't an easy answer to that (solving racism). The more you interact with other races, other backgrounds, or other cultures, you're just more open-minded in general. We need to educate people about history, educate people about what's currently happening… and leadership needs to spread more messages of kindness and acceptance."