KRON 4 – No Response Nor Comment
How inaccurate news coverage sparks controversy at Woodside High School
On November 10th 1:36 pm, KRON 4 news published "VIDEO: Woodside high school student attacked for supporting Trump" onto their website. With more than 3,000 facebook shares, it's likely to say the story has gone viral in the Bay Area, specifically in the Redwood City and Woodside Area.
This story sparked controversy at Woodside High School. The news package, by Hermela Aregawi and Allison Weeks, pieces together soundbites from sophomore Jade Armenio and her mother, who attempt to explain why Armenio, a Trump supporter, was beaten by another student, who has since been identified in a now viral video as sophomore Maliyah Thomas, because of her political beliefs. While the KRON 4 package includes soundbites of Armenio and her mother, Woodside students are furious that comments from Armenio are blatantly absent from the news package, nor is there no mention that an attempt was made to seek such a comment.
"The way the news story was executed is what broke the camel's back," senior Cesar Zavala said while clearly still upset over the issue.
According to Armenio's soundbite from the KRON 4 news package that aired on the 10th, Armenio said the following:
"She said you support Trump, you hate Mexicans. I said no I do not and she said I [wanna] do it, and I said you want to do what? And she threw me to the floor, pulled out my hair, ripped out my earrings, kicked me inside of the head, kicked me in the stomach, punched me in the nose."
However, Armenio and KRON 4 do not include a major piece of information: the Instagram conversation between both Armenio and another unidentified student. Armenio, identified as @juicyjadie_, agreed with @slothyloppy's  assertion to "F— mexicans."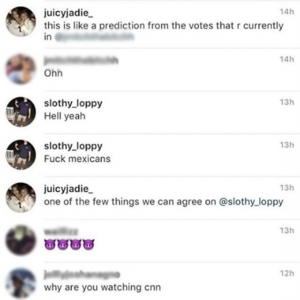 KRON 4's exclusion of this pivotal conversation in their news story is the root of Woodside students' frustration, and what instigated the peaceful protest.
"The inaccurate news report made the majority want to fight back," seniors Cesar Zavala and Manny Delgado (the spearheaders the peaceful protest), told the Woodside World. "When I saw KRON 4 only report one side of the story and then say she got hit because she was a Trump supporter." Zavala continued to say that the title "Trump Supporter… was in order to "get the headlines since it was after the election"
Zavala continued, "The fact that, one, she [Armenio] did not get in trouble for her actions, and two, that she goes on TV lying about why she got hit, when we all know the truth."
Other Woodside students share Zavala's sentiments. Senior Mariela Lopez agreed,"If KRON 4 covered both sides of the story, it would have not been as an extreme reaction. The incident was already controversial, and with improper news coverage, it just made it worse."
It is unclear from the news story if KRON 4 reached out to the Thomas family.
The Woodside World has since reached out to KRON 4 on six separate occasions requesting a comment on their controversial coverage. KRON 4 has not commented nor returned the messages left at their San Francisco location.
Since the one-sided report was broadcasted, it has thrust Woodside High School into the public eye. Wildcats are concerned about being accurately portrayed.
Senior Nicole Brault told the Woodside World, "The news coverage did not make the situation any better. I think people got defensive about their community [and] on how they were being portrayed in the news report."
Zavala added, "Maliyah's perspective was not taken into account, that got us riled up and made us want to protest."