Even though I usually do not watch horror movies, I was interested in watching "Renfield" because I wanted to see what would happen at the end of the movie if Renfield would find peace from his scary-looking master. 
The movie "Renfield" centers around the main character Renfield, Dracula's loyal assistant in the original story by Bram Stoker in 1897. Renfield does whatever his boss demands, even if it means hurting others. As time passes, Renfield realizes how cruel and dark Dracula's world is, and he wants something more for himself. Despite feeling worried, Renfield keeps following Dracula's orders, and his life is ruined by the never-ending demands of his vampire master. However, Renfield knows there must be more to life than this cycle of servitude and suffering. As the years pass, Renfield's desire for freedom grows stronger, and he begins to dream of escaping Dracula's control and starting a new life, away from the evil darkness of Dracula.
"Renfield," was released on April 14, 2023 and explores a mix of supernatural, comedy, and horror genres. The film is directed and co-produced by Chris McKay and written by Ryan Ridley, who used an original idea by Robert Kirkman as the basis for the story. "Renfield" features a cast of talented actors, including Nicholas Hoult as the lead role of Renfield. Nicolas Cage plays the role of Dracula, the infamous vampire from Bram Stoker's 1897 novel. Awkwafina, Ben Schwartz, Adrian Martinez, and Shohreh Aghdashloo additionally play supporting roles. "Renfield" is a fresh take on Stoker's classic story, promising to bring an exciting mix of humor, horror, and supernatural elements to the big screen.
Although the movie seemed very promising, I did not enjoy watching the many gory scenes. I did not like seeing Renfield eat the insects because it looked gross. Also, I would not say I liked seeing the blood, the weapons, the guns, and Dracula's signature scary look with the shark teeth and his wide creepy eyes. However, the movie had many enjoyable parts, including special effects such as flying, dust, and realistic karate moves. I like that even though Renfield is stuck being Dracula's assistant when he attends group therapy sessions to manage the stresses of being Dracula's assistant, the other people who are struggling with similar issues encourage him to have a better life. The people at the Therapy sessions try to give hope to the other people at therapy sessions or other assistants working for monsters and creatures. 
A movie that shares similar supernatural elements to "Renfield" is Hotel Transylvania. This movie is about monsters who want to escape from humans. The movie begins with the monsters getting invited to Dracula's hotel, Hotel Transylvania, to celebrate Mavis, Dracula's daughter, on her 118th birthday. During the celebrations, Mavis meets Jonathan, a human boy at the hotel. Soon after meeting each other, they start to fall in love. Jonathan teaches Mavis that there can be fun in the outside world that she never knew before. She imagines bigger dreams for herself soon after they meet.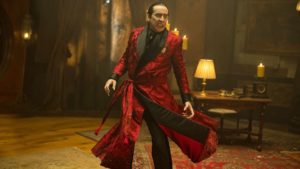 The movie "Renfield" compares to "Hotel Transylvania" because even though the main characters from "Hotel Transylvania" do not try to escape from Dracula, like in "Renfield," "Hotel Transylvania" shows a similar goal of the main character Mavis, wanting to have bigger dreams. For example, the character Mavis dreams of having more for herself than being stuck in the vampire and monster world and not having fun in the outside world as the other monsters do in "Hotel Transylvania. However, I think "Renfield" is a better movie because there is more action and excitement than in "Hotel Transylvania." 
Overall, I recommend this movie. After all, it was enjoyable because the acting in the movie portrays the characters well, and seeing karate movements was cool throughout the movie.