Review: "Midnights" gives you a glimpse into Swift's journeys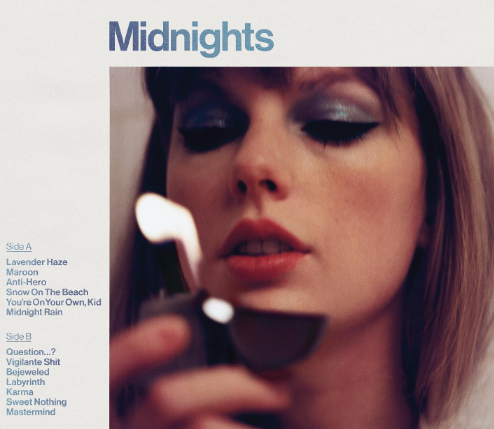 "Midnights" by Taylor Swift is an album that I was drawn to because of her unique ability to write songs about her life and create music that hypes you.
Throughout her album, Swift shared insight about her past relationships, her feelings towards them, her revenge, the illness she faced while growing up as a celebrity, and the experiences she has had throughout her life.
"Midnights" was released by Republic Records on October 21, 2022. 200,000 copies were sold in the first week after the album's release due to critical acclaim. In "Midnights," Taylor Swift describes "13 sleepless nights" in her life as a "journey through terrors and sweet dreams." Drawing inspiration from 1970s fashion and art, Swift adopted a glamorous aesthetic. While albums "Folklore" and "Evermore" emphasized alternative folk, "Midnights" featured electronica, synth-pop, and chill-out music styles.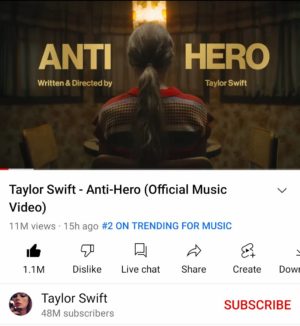 Throughout "Midnights," Swift explores some challenging topics: self-criticism, self-assurance, insecurity, anxiety, and insomnia. The Tenth studio album by American singer-songwriter Swift. "Midnights" is the first album since her 2020 albums "Folklore" and "Evermore." As part of the "Midnights" concept album, Swift collaborated with Jack Antonoff to produce it. The album reached number one in Australia, France, Germany, Ireland, Italy, Lithuania, the Netherlands, Norway, Sweden, and the United Kingdom within a week of its release.
Although "Midnights" has unnecessary swear words, I enjoyed the different sounds she uses throughout the songs. The second thing I enjoyed most about the album is its narrative about her life in the spotlight. When listening to the tracks, the music gets personal and Swift's vulnerability is shown.
"Midnights" is similar to Adele's "30" album since both musical artists discuss the challenges of being in the spotlight and illustrate the different kinds of struggles they faced as artists.
Overall, I thought "Midnights" was a meaningful album because each track conveyed a different aspect of the artist's life, and each song had a different musical style.