10 hidden gems to visit for your refreshing trip to Half Moon Bay
Small Town Sweets
Looking for a wider selection at more affordable prices to satisfy your sweet tooth? Small Town Sweets is the place to be. Nestled into the heart of Main Street, this adorable candy store offers everything from classic sweets, to curated gummy assortments, to bountiful barrels of saltwater taffy.
      2. Sweet 55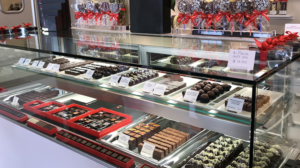 After tasting one of Sweet 55's rich, decadent chocolates, you'll never be able to look at Lindt or Ghirardelli the same way again. Though they draw their inspiration from Swiss chocolates, the quality, creativity, and superb taste of these confections are better described as otherworldly. 
Ink Spell Books
Speaking of Main Street, Ink Spell is a delightful stop for casual readers and bookworms alike. This shop has all the classic perks of a great bookstore, including a vast selection of literature, old and comfy reading chairs to curl up in, and warm employees always ready to give you recommendations for your next favorite novel.
Fengari Fiber Arts
Fengari has all the yarns, wools, threads, and tools to satisfy your inner needle crafter. Also, unlike a typical Michael's or Joann's, Fengari sells and displays an assortment of handmade items crafted locally, or by employees of the store! This quaint Main Street shop is the perfect place to find a new crafting hobby, or to revive an old one. 
Half Moon Bay Coastal Trail

The coastal trail runs straight past the Ritz Carlton, offering several stunning views. (Winnie Einhorn)
This scenic trail spans all the way from the Ritz Carlton to the Marina, offering jaw-dropping views of the ocean all along the way. If you can look past the biting winds and spray of the sea, walking or biking down this trail is the perfect way to experience the scenery up close.    
Cowell Ranch State Beach
Take a quick walk south of the coastal trail to find Cowell Ranch, a small, peaceful, and refreshingly solitary beach. Unlike most of the beaches in Half Moon Bay, this one is never crowded by surfing enthusiasts or large family gatherings. If you're looking for a quiet way to enjoy the crashing waves and colorful cliff sides, this escape from crowded sands makes the short trail to this beach completely worth it. 
Half Moon Bay Joe's

Joe's is a comfy diner perfect for any meal of the day. (Winnie Einhorn)
If you're craving the luxurious menu of a fine italian restaurant, while still getting to experience the close, personal feel of a small-town diner, look no further. Joe's offers a casual yet high-quality dining experience, bound to please you as you settle into the comfy interior decorations reminding you of the Italian countryside, and are greeted by an incredibly warm waiting staff who will go the distance to see a smile on your face. 
Half Moon Bay Brewing Company
Despite what the name implies, the real treasure of the HMB Brewing Co. is their seafood dishes. Located right on the edge of the Marina and always equipped with the freshest catch of the day, this restaurant can take your craving for crispy fish and chips or artisanal fish tacos to a whole new level. 
Duarte's Tavern
Fine, these last two are technically in Pescadero, but the short detour down scenic Highway 1 is entirely worthwhile if you get to stop at Duartes. Located right next to their own vegetable farm, this restaurant never disappoints with their legendary (and very locally sourced) cream of artichoke soup. 
Harley Farms Goat Dairy

If you catch Harley Farms during the right season, you can meet their adorable baby goats! (Winnie Einhorn)
Baby goats and artisan goat cheese… What more is there to say? Visit this quaint farm to sample and enjoy a multitude of hand-made cheeses, sourced from the lively goat population right outside. Or, if you're lucky, you can book a tour or a private meal to experience the full extent of Pescadero's agricultural beauty.