Burgers are a staple of the American diet, and you could find a place that sells them in almost every part of the US. In fact, burgers are such a staple, that when people think of the US, they automatically tend to think of people eating burgers. 
Redwood City is not absent of this either as there are many places within our fair city that sell burgers. We took on the task of trying to find the best burger place in Redwood City.
The criteria that we used are as listed: 
Was the meat well cooked and was it seasoned? 
Are the buns toasted or are they soggy? 
Are the Vegetables and tomatoes fresh? 
Is the cheese tasteable? 
Is it too expensive?
We also interviewed people who love burgers.
Most people that we asked answered that their favorite was In-n'-Out, as it is a California Staple that is loved throughout. 
Other options that are loved by Woodside students are rather wide and varied. Woodside senior Bernardo Garcia loves The Habit, saying it's his favorite because of their flavors,
"The whole Burger is so juicy – like the lettuce is fresh, fresh everything," Garcia said.
Burgers from Redwood Grill were also mentioned.
"[The Burgers at Redwood Grill] are filled with flavor and are a great size," junior Sofia Bellver said.
Reviews of the burger places in Redwood City:
The Habit (pictured above):
The Habit is a California company that is spread all through the state, especially in the Bay Area. Their burger was $9.11 which puts it as not the best in price, but also not the worst. The meat was perfectly seasoned and you could tell that it was not just a slab thrown onto a baking sheet. The cheese was tastable in every bite. The vegetables and tomatoes were fresh and not too much to cover other flavors. The bun was well toasted. There weren't too many pickles either.
Overall I give it a 9/10.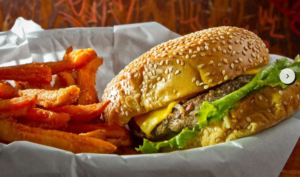 Dutch Goose on Alameda and Avy (not technically in Redwood City, but close enough) was established in 1966 and has been a staple restaurant in the area for decades. If you go to the restaurant you will constantly see local sports teams there celebrating a win and enjoying time with each other. It is $9.25 for a burger at Dutch Goose, which is relatively cheap for a burger around here, and it is well worth your money. The meat was well cooked and the burger was just on point.
Overall I give it a 9/10.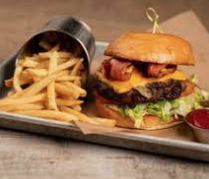 Redwood Grill is a great family-owned restaurant and bar located right off Woodside road. It is a rather recent establishment, being that it opened mid-summer of 2016. It has been thriving as of late, and it is rare that you will ever see the place even close to empty since it is open for breakfast, lunch, and dinner most days. It is $15 for a burger at Redwood Grill, but I believe you get the bang for your buck because the burger is delicious –  whether you sit down or pick it up. The meat was cooked perfectly, the bun was fresh, and there was just the right amount of their special sauce. I give the burger an 8/10.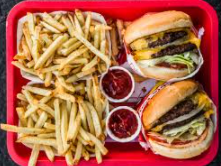 In-n-Out burger is a California staple and the first on the list based on how many people said it was their favorite. The burger itself was inexpensive, only around $3.50. The meat was well seasoned and well cooked. I could taste the cheese but it wasn't overwhelming. The vegetables on the burger itself were fresh and crisp. The buns were well made and toasted to perfection.
People who love it said: 
"It's just a cheap burger place that I enjoy," Thomas Holland, sophomore, said.
"Aside from having good burgers, I really enjoy their milkshakes," junior Alex Buenrostro stated.
"Since they are open really late it's nice because you are able to just go there whenever, unlike most other places," Jessica Gross Woodside junior said.
Overall I give it a 7/10.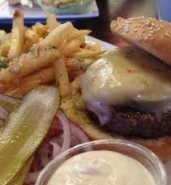 Patty Shack is another great place to grab a burger with family and friends. It is in downtown Redwood City and it is truly a great spot. The burger was cooked well and the bun was toasted to perfection which I enjoyed. I also noticed how fresh the lettuce, tomato, and fries all were; not to mention that it was pretty affordable since it was only $9 for the burger. 
Overall, it was a great experience and I would give it a 7/10.

Jeffrey's is a great place with a very warm and inviting atmosphere that envelops you as soon as you walk in the door. The burger is pretty good, but it could be better. I noticed a significant difference when eating in the restaurant, versus eating the burger at home. The meat is cooked well, the lettuce and tomato are fresh, but there is an overload on the sauce/spread and the bun is soggy. I still enjoyed the burger mainly because it had a thick patty and it was only $8.09.
Overall I give it a 6/10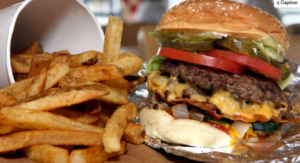 Five Guys is a casual restaurant chain that covers most of the US but because of the sheer amount of people saying that it was their favorite burger place, we decided to add it. The burger was relatively expensive costing $11.99. The meat was seasoned well enough to taste, but it did not overwhelm the senses. I, unfortunately, couldn't taste the cheese, though I knew it was there. The vegetables were relatively fresh and well-cut to fit within the burger. The buns were well toasted.
Overall I give it a 5/10.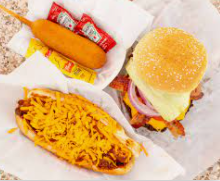 Ben Franks is a little shop native to Redwood City, which I have gone to since I was around five years old. Their burger was $7.11, which makes it rather on the cheaper side. The meat was not the best and rather normal. The cheese was not overwhelming but not underpowering. There were no vegetables on the burger and that drops it somewhat as I had ordered it with all the fixins'. The buns were not toasted and rather soggy.
Overall I give it a 4/10.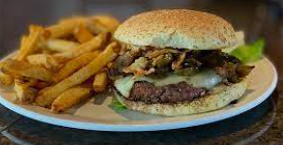 The Grill House is a restaurant in Redwood City. Their burger, the Grillhouse burger, was the most expensive so far at $15.95. The meat was inoffensive but rather middling in quality. The cheese was simply not flavorful enough to taste at all. The burger was frankly over-pickled to the point of souring my mouth completely. The vegetables outside of the pickles were fresh and overflowed out of the sandwich. The bun was untoasted and tasted very plain.
Overall I give it a 3/10.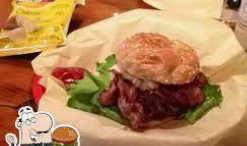 Canyon Inn is a sports bar and grill that has been around in Redwood City since June of 1973. The burger itself was around $6, so it was very affordable, but I was not very fond of it. It was very dry and lacked flavor. It was somewhat small and I didn't love how the burger was cooked. So, even though I liked the laid-back, family-friendly atmosphere and the friendliness of the employees, I did not like the food itself.
Overall, I would give it a 3/10