"Cobra Kai" Strikes Back With Season Three
"Cobra Kai" knows how to do a reboot right, even in its third season.
In recent years, film media companies are rebooting an overwhelming number of popular TV shows and movies from the '80s and '90s. However, many reboots received worse than expected responses, as they failed to recreate the charm and magic of the iconic TV shows and movies they were based on. "Cobra Kai," however, is an exception. Even in its third season, it manages to have the perfect balance of characters both old and new, excellent pacing, and incredible fight choreography, creating an original show with just the right amount of nostalgia. 
Season three kicks off in a very different way than the two seasons that came before. Seasons one and two of the show follow former high school arch nemeses, Daniel LaRusso (Ralph Macchio) and Johnny Lawrence (William Zabka), thirty years after Daniel's iconic victory at the All Valley Karate Championships in 1984, but now from the point of view of Johnny, who was the villain in the original movie. The show picks up when Daniel, now a successful auto-dealership owner, and Johnny, an unemployed absent father, cross paths again when they both decide to start rival karate dojos. Season three opens with tensions between Johnny's Cobra Kai dojo and Daniel's Miyagi-do dojo at an all-time high in the aftermath of the school-wide fight that closed out season two. Johnny's star student, Miguel (Xolo Maridueña), is now in the hospital and Robby (Tanner Buchanan), who is Daniel's student as well as Johnny's son, is wanted by the police for putting him there. Another layer of conflict is added to the karate dojo rivalry when Cobra Kai is taken over by Kreese (Martin Kove), another villain of the original movies.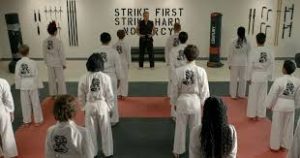 The first two seasons of the show, although critically acclaimed, remained relatively unknown until Netflix brought the series to its platform in June 2020, where it quickly became very popular. When season three aired on January 1, 2021, it made it to number one on Netlix's top ten that day. Netflix has revealed that the show was viewed by 41 million households within twenty eight days of its being aired.
What made the show so unique is that, despite being a reboot, the show is good enough to stand on its own. Having a familiar, almost nostalgic cast of characters and showing them from a different perspective is, of course, a great way to draw people to the show. However, the plot lines and drama of the show make it an excellent piece of television in its own right. Many other reboots have fallen flat in this aspect, all too often relying too heavily on beloved characters to keep viewers watching. I found this to be true in "Fuller House," the Netflix original reboot of the '80s tv show "Full House." What stood out to me the most was its incredible pacing. Similar to the pacing in other shows such as "On My Block" or "Sex Education," "Cobra Kai" has mastered balancing heartfelt and sometimes heartbreaking scenes with lighthearted comedy. "Cobra Kai" is just one of those shows that manages to make you laugh out loud, even when your favorite character is in a coma.