Cultural Exchange: Learning the Background of Visiting Students from Kyrgyzstan and Tunisia
Kyrgyz and Tunisian Ambassadors currently involved in an exchange program at Woodside educated fellow students and teachers on their unique cultures.
Exchange students Adam Ajroudi from Tunisia in North Africa, alongside Aibiike Abdysamatova and Gulnazik Bakhramova (author) from Kyrgyzstan in Central Asia, presented information about their countries during International Education Week (IEW) on November 18 through 22 at Woodside High School. All three students are part of a scholarship program funded by the U.S. Department of State and are getting the opportunity to experience a year as American teenagers.
IEW is a celebration of cultural diversity and an opportunity for international students to share their unique experiences and cultures. IEW began in 2000 and is sponsored by both the U.S. Department of State's Bureau of Educational and Cultural Affairs and the U.S. Department of Education. It is a worldwide event that takes place the week before Thanksgiving every year.
The three Woodside exchange students organized creative presentations and participated in this diversity week by dressing up in their national costumes, bringing souvenirs, teaching their languages, cooking food, and sharing traditions of their culture with the Woodside community.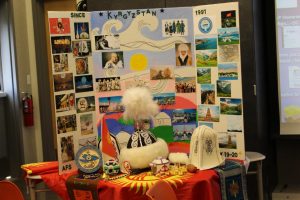 "I believe that by doing these presentations [I add some knowledge] into their [American] culture and add a form of diversity," said Youth Exchange and Study (YES) student and Woodside senior Adam Ajroudi.
Ajroudi participated in IEW by presenting five times for his classes. He brought harissa, Tunisian hot chili pepper paste, and dressed up in djebba, a traditional outfit.  Ajroudi added that students were curious about his country and admired its beauty.
"My students learned about two countries that a lot of them had never even heard of before," said government teacher Ramie Macioce. "[They] didn't know the names of these countries or where they were located. [It's] beneficial that they can sit in class and still get a cultural experience."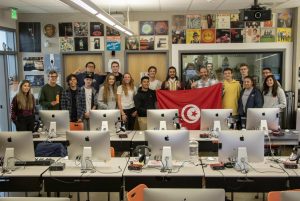 Future Leader Exchange (FLEX) students from Kyrgyzstan, Aibiike Abdysamatova and Gulnazik Bakhramova, did more than ten presentations around Woodside High School as well as at a community center. Both girls dressed up in traditional Kyrgyz outfits, brought traditional dishes, and taught classmates about their 'nomadic' culture.
"I wore our national dress, and I brought a lot of national souvenirs to show the values of my country," said Abdysamatova.
According to FLEX program reports, more than 3,900 of their students gave presentations for IEW this year. One out of every four FLEX students taught their national dances, more than 55 percent of them wore traditional clothing, and over 83,000 people attended in IEW presentations.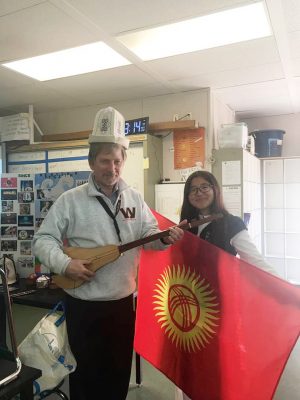 Kyrgyz students demonstrated the traditional dance "Kara Jorgo" ( or "Black Stallion") and played a nomadic game called chuko bones, primarily known to Europeans as the dice game.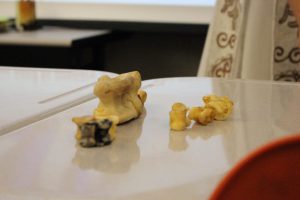 "I thought it was really fun, that she taught us a game from Kyrgyzstan," shared Woodside senior Alec Rodriguez Stangle. "It was a game with bones, and you had to knock over the big bone to make sure to win."
Exchange students were passionate about educating students about their countries and covered all the important aspects of their culture.
"I think what was delightful was your personality… because you had such enthusiasm," drama teacher Barry Woodruff said to me. "You are a wonderful ambassador for your country, and I thought you made us all aware of a country that very few people know about."
The openness and hospitality of American people made our experiences colorful and valuable. People's interests in learning new cultures motivated us to represent our countries in the best view.
"I loved how diverse it was. For us, being in California, sometimes we don't get to be exposed to culture such as yours," shared instructional aide Kathie Holmes.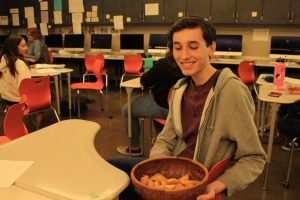 Uncovering the beauty of nature and cultural wealth in these countries entices travelers from all over the world.
"I like to travel, and I've been in a lot of places. When I went home, I told my husband, 'I have two new countries that I'm going to,'" said Macioce.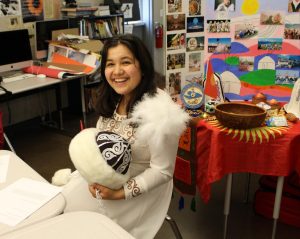 Being far from home aroused a sense of patriotism and made me think about who I am and my background. While I was telling people about nomads' history, I felt like a real 'nomad' and future defender of my country. I was very pleased to share our unique culture and customs with my community. I think this is how we build bridges between countries and expand the knowledge of different cultures around our world. Now I can proudly say that I'm not just a citizen of my country; I am a global citizen.
"I really enjoyed your passion for your country," said history teacher Andrew Ho. "You guys were knowledgeable. You were interactive. It really shows that you [were] proud to be from Kyrgyzstan."