To Restore Trust in the Media, We Must Curb Hate
Hate speech should be limited by the First Amendment.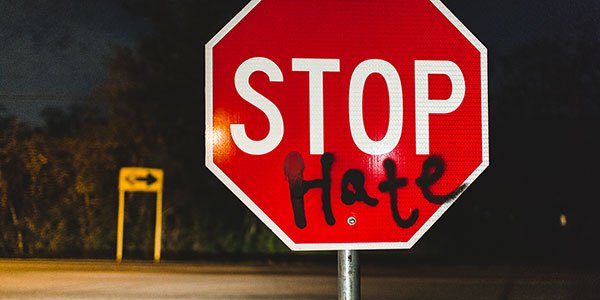 Emma Chiu, Coeditor in Chief
December 19, 2019
Half of all Americans believe fake news is a crucial problem, ranking it as a more pressing issue than violent crime (49 percent), climate change (46 percent), and racism (40 percent). Libel, threats, and obscenities are already illegal, but to further restore credibility during an era of diminishing trust in the media, journalists—and student journalists—must also be restricted in another aspect: hate speech.
Some feel that, however derogatory, hate speech is a part of one's First Amendment rights and must not be infringed upon, lest the United States head down the path towards censorship and brainwashed obedience of government. Yet this is a paradigm of the slippery slope fallacy: a regard for basic human rights is unlikely to result in George Orwell's 1984. 
A report from John S. and James L. Knight Foundation found that seven surveys of American high schoolers conducted between 2004 and 2018 showed a "modest increase" in student support for the First Amendment. However, the report also found "significant differences" in responses based on race and gender. Girls and students of color were more likely to support additional limitations to the First Amendment, including disciplinary actions against hate speech and other offensive content.
This is unsurprising, given that women and people of color are also more likely to be on the receiving end of such speech. One current issue revolves around the social media platform Twitter.
"For many women, Twitter is a platform where violence and abuse against them flourishes, often with little accountability," an article from Amnesty International claimed. "Instead of strengthening women's voices, the violence and abuse many women experience on the platform leads women to self-censor."
Student journalists must avoid following in the footsteps of Twitter; journalism is meant to provoke informed discussion rather than alienate and censor readers through derogatory language, especially as those attacked by the news are less inclined to trust it.
Still, these limitations do not mean that student journalists must shy away from covering controversial events. The Daily Northwestern recently came under fire for publishing photos of student protesters shoved by police, with one angered student labeling an image of herself as "trauma porn."
In an apology statement, eight editors ensured the photo was deleted and wrote, "We know we hurt students that night, especially those who identify with marginalized groups."
Charles Whitaker, the dean of Northwestern's Medill journalism school, argued otherwise.
"The Daily had an obligation to capture the event, both for the benefit of its current audience as well as for posterity," Whitaker argued.
Despite reporting on a campus event in an unbiased, non-hateful manner, The Daily Northwestern faced immense backlash. Meanwhile, politicians have taken little action against Facebook's decision to not fact-check political advertisements despite repeated complaints about propaganda and demeaning language. The Daily Stormer, only recently shut down, spent years freely publishing unfounded, racist, and anti-Semitic stereotypes.
We are focusing on and censoring the wrong things. Blatant hate speech continues to divide the nation and degrade trust in the media; as the future of the news industry, it is the duty of student journalists to limit it.