The College Board's Environmental Context Dashboard Was Not Made for the Greater Good
The Environmental Context Dashboard is designed to show colleges a students disadvantage level based on the neighborhood and family environment they live in.
The College Board's SAT Adversity Index is a terrible idea.
For those that don't know what the SAT Adversity Index is it is a system that calculates an index based on the students high school environment, neighborhood environment, and family environment.
This adversity Index was designed to be an extra tool for colleges to decide who gets the extra bump in the pool of applicants.
According to Inside Higher Ed, "a disproportionate share of low-income families – generally without access to the best public schools – are black or Latin[o]." The "bump" would benefit these groups primarily since these groups have been historically economically oppressed.
A spokesman for the College Board expressed that "This is a tool designed for admission officers to view a student's academic accomplishment in the context of where they live and learn… [The Environmental Context Dashboard] doesn't provide information about the student. It provides information about the student's environment. It puts a student's SAT score and other academic accomplishments included in their college application in the context of where they live and learn."
With these two pieces of evidence it is clear who this index is designed to favor: black and latino students from low-income communities.
Now, many would believe that it is helping the students who are underprivileged, which indeed it is; but the overall question that we should all be focusing on is: is this way of judging students fair to the rest of the applicant pool and is this beneficial for the academic progression of higher education and the intellectual advancements the rest of society is dependent on?
Discrimination in college admissions is evident. These discriminations may be for a "good" cause; but, nevertheless, it is discrimination. And at least someone must be affected in a negative way.
Not only is this system "a back door to racial quotas in admissions," white people and just generally smart people are impacted. Here's why.
According to John Barnhill, assistant vice president for enrollment management at Florida State University  said that admissions officers were finding the information helpful…the context… led to changes in the admissions decision… that involved admitting disadvantaged applicant who might not otherwise have been admitted.
"
a back door to racial quotas in admissions"
— Heath McDonald, Manhattan Institute
If a student who would not have been admitted for their scores, grades, personal statements, etc, then it's because they were not fit for the schools criteria of admission. And to accept students said school normally would not admit because of the tipping factor that they live in low income areas just doesn't make sense.  Money or not, if you're not ready then you're not ready. A student that was of a similar standing but living in a wealthy neighborhood would most likely have lost the spot to the lower income student simply because this other student was disadvantaged.
First of all, Harvard University, world-wide recognized Ivy League, was facing a lawsuit in 2014 because they were putting 2 different caps on SAT Scores for woman, men, Hispanics, African-Americans, Native Americans, and Asian-Americans.
According to NYPost, the Students for Fair Admissions sued the Ivy League school on the "claims that Asian-American students, despite top-notch academic records, had the lowest admission rate among any race."
Already, there are racial quotas when admitting students into colleges. Students with the higher scores are being shut out from rightfully earned admissions because universities are now striving for diversity and inclusiveness. It is especially stunning coming from a school that strives for absolute academic intensity.
Despite the claims that this is race discrimination, dean of admissions William Fitzsimmons insists that "it is not" and that the school intends to "break the cycle" by targeting certain groups who normally wouldn't apply.
They may be targeting a diverse pool of applicant but they are holding different races to different standards. Specifically, African-American, Native American, and Hispanic high schools with mid-range SAT scores around 1100 on math and English combined compared to at least 1350 for Asian-Americans.
Students with historically lower economic backgrounds are getting a better deal with their 1100 scores rather than those who are academically over-achieving but have historically higher incomes.
Bart Grachan, associate dean of progress and completion at LaGuardia Community College of the City University of New York, noted that while people of all groups live in poor neighborhoods, their structures (and housing patterns that are linked to race) are not random, but are intentional, showing that race matters.
Students should be judged solely for their score and not the College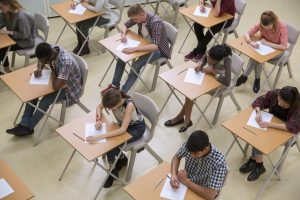 Boards "pity scale." Students should not be accepted into college solely because they live in a bad neighborhood and it shouldn't be a factor to take under consideration.
If colleges see a student with low SAT score living in a wealthy neighborhood no one is going to really ask questions and instead send a rejection letter. But if a student with mediocre SAT scores living in a low income neighborhood applies, the colleges will assume this student must've had some sort of outstanding social barriers and therefore they were unable to reach their full potential.
Despite the substantial amount of SAT tutoring many kids get, the SAT is not the easiest test to conquer. A perfect SAT score isn't unheard of, but it is uncommon, showing that years of expensive SAT tutoring does not guarantee a 1600 on the test and that everyone has a relatively good chance of obtaining an accurate score.
If colleges, such as Harvard University, admit less qualified students based on race and economic status, this could proof calamitous.
Admitting students of lower scores compared to the rest of the applicant pool because economical factors could lead to an academic regression proving dire.  Instead of progressing into top-notch institutions we will regress to mediocre schools, outputting median levels of research; and oftentimes this research is for the benefit of everyone, whether it be in health, science, math, or technology.
This all seems to be a marketing strategy by the College Board, since they have been losing some momentum.
A blog post by Top Tier Admissions wondered, "It's hard not to wonder what else might be behind the College Board's actions… the inclusion of 'AP opportunity' seems like an overt ploy to get more high schools to implement the AP curriculum. We know that the College Board has been losing market share to the ACT, so is this a business decision intended to reverse the declining revenue?"