Looks Can Be Deceiving
You can achieve anything that anyone else can, even if you don't "look like an athlete" or "fit the mold to be good at sports."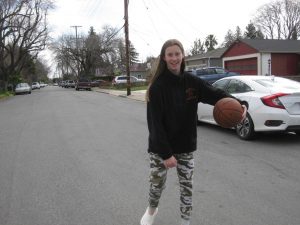 Kids feel the need to put pressure on themselves due to their parents pressuring them to be successful.
"I feel like I put more pressure on myself to succeed, and I think that came from our upbringing on my mom and my sister to do the best that you could," said David Simi, my uncle.
Simi played baseball for Serra High School. He went to Serra for two years and then transferred to Los Gatos High School for junior and senior years, graduating in 1995.
"They told me I was too short or too small or whatever, but it made me want to prove them wrong," said Simi.
He was lucky enough to play baseball and wanted to prove everybody wrong. His mom and his sister were his biggest supporters and wanted him to succeed. He wanted to make them proud.
"More so from my mom, because we were raised in a single parent environment," Simi explained. "I wanted to prove that I could be the best that I could be to make my mom and my sister proud."
My mom Kristina Kinder, David's sister, was not really into playing sports. She still would cheer on her brother and go watch his games when she could. She used to drop him off and pick him up from practice.
"It just wasn't my forte, it wasn't my strength. I was super super shy and it was really hard for me to get out of my shell," Kinder described.
"
They told me I was too short or too small or whatever, but it made me want to prove them wrong."
— David Simi
She loves watching sports and attending sports games. She was not very interested in sports, but she loved to ice skate.
"I think if I have the confidence that I have now, I would have tried harder, because I do love sports, I love watching sports, I love being involved with sports," said Kinder.
My grandma, just like my mom, loves to watch sports at home and played games when she went to school.
"We had tetherball and dodgeball. There were only those type of sports; no soccer, no baseball for girls, or anything," said Marie Kinder, Emma Kinder's grandma.
She went to an all girls school and was surrounded by girls most of her life.
"It was an all girls school, all women's school, so they didn't have a lot of sports," said Marie Kinder.
Girls did not have a lot of options when playing sports back in the day. They had few options because they were supposed to be more feminine and more ladylike.