Woodside's Fall Play "Stage Door" Brings Everything and More in Short Run
Theater's first full play in a while showcases sublime acting, incredible scenery, and a whole lot of emotions
Woodside theater was BACK last weekend with its first full-length play in more than five years. To celebrate, they chose a phenomenal play in Stage Door that tested endurance, emotion, comedic chops, and realism – ones that every single cast member passed with flying colors. 
Written by Edna Ferber and George S. Kaufman, the hit play follows Terry Randall (played by senior Gigi Pistilli), a promising actress from the fictional Footlight's acting club who must decide between a career in movies or stage theater. Film producer David Kingsley (junior Carter Peck) and arrogant, struggling playwright Keith Burgess (junior Gabriel Perez) both serve as Randall's love interests at various points during the play, but cruelly attempt to get her to follow their visions of what she should be. However, it is the rest of the Footlight's Club actresses that soon call on Randall to choose her own path and go after her dream of becoming a Broadway actress. It was an incredibly enjoyable, wholehearted, and exciting feature that mixed in some hilarious jokes, bitter fights, and touching moments to keep the audience guessing all night.
In most professional showings, the play is usually much longer and follows the aftermath of Randall's choice upon herself and fellow Footlight's club mates. In all honesty, though, cutting most of these parts was probably a great idea. It kept the play simple and focused on one, powerful, narrative and built a majority of scenes off of that one goal. Plus, it kept everything under three hours, which beats any of today's baseball games. Overall, the simplicity of the directing team's adapted Woodside version allowed every scene to matter, whether it be hanging out in nightclothes before bedtime or posing for a picture with everybody at the Footlight.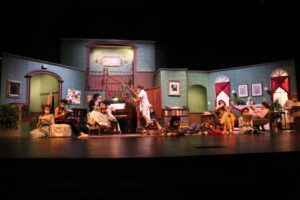 This trimming did, however, lead to most of the focus being placed on Pistilli as Randall, while most of the other Footlight girls seemed like mere extras and didn't add too much to the story – aside from the occasional expositional conversation or emotional support chat with Pistilli. While giving them more use might have been cool, each and every one of them still found the talent to be entertaining and wholesome.
On the topic of acting, the play featured some absolutely stellar performances by the Woodside cast, especially from Pistilli with the lead. I had heard murmurings from friends over how good Pistilli was (and watched her sing in two talent shows), but was absolutely blown away by her performance that night. Her emotions were on-point in every scene and had just the right line between dramatic and believable. 
Other standout cast members included Peck – who mastered the art of calm, hesitated speech with his upright but percipient Kingsley – the masterful piano playing of senior Amelie de Leon's Olga Brandt, the cheerful nature and goofiness of junior Em Dunlavey's Kendall Adams, a three character-three dialect display from sophomore Spencer Calsing Lyons, and the duo of senior Natalie Brault's Mrs. Orcutt and freshman Sierra Madigan's Mattie, who were always moving about but found the time to show courtesy and friendliness to everyone. The entire cast should be proud of themselves for such an incredible performance from each and every member, especially with everyone wearing masks on stage(!) to comply with COVID recommendations. Not even SNL can pull that off.
The thing that impressed me the most about each character, though, was what they did in their dead space. When not in the spotlight, every single actor and actress on stage was still off doing something else, whether it be giggling with friends, pacing the floor, or making a brief cameo to walk up the elaborately-made stairs. These moments added that touch of realism that makes every play stand out, keeping the audience engaged through it all.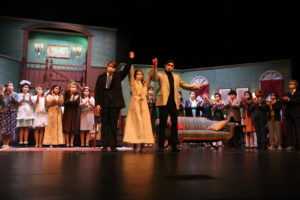 However, a majority of that was fueled by the brilliant authenticity that the play showed. Stage Door was originally written in 1937, and it was obvious that all cast and crew members were committed to keeping that time period alive in the Woodside Performing Arts Center [PAC]. The flowered dresses were a grab-bag of your typical 1900s street garb, while the suits and overcoats were as heavy as an AP class homework load. Additionally, Bowler hats and fedoras were on almost all the men at some point, while the female characters had the most billowy hairstyles you could imagine in a 1930s person. Huge props also need to go to the set designers, as the on-set furniture, walls, decorations, and bookshelves on the two background pieces all fit the times perfectly and added so much to the scene.  
With so much incredible work and bucketloads of talent put into this play, I am honestly a little bummed that its run could only last for two shows. That's only two shows for the 1930s to come alive. Only two shows for the characters to hunt for their attainable dreams. Only two shows for the magic to happen. A longer run period for something that took a couple of months to get together would've certainly allowed more people to enjoy it, and make all the time invested into the show a bit more worth it for the cast (not that it wasn't for the audience!), 
Then again, I guess that just adds to the mystique, glamour, and sheer brilliance of this year's production of Stage Door. 
Woodside's next production will be an adaptation of Disney's Freaky Friday on March 18-19, 2022. Tickets are not yet on sale
Amelie de Leon and Spencer Calsing Lyons, who both had notable roles in the play, are current staff writers for the Paw Print