The Canon EOS Rebel T7 Review: A camera that is far from average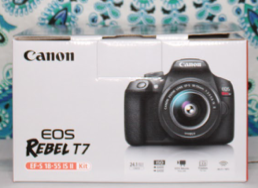 The Canon EOS Rebel T7 DSLR camera has excellent shooting quality and numerous remarkable features. Even though this camera is compact, there's much that it has to offer. The different modes, focusing options, and automatic scene intelligence all make this camera unique from others and better than your phone's camera. This camera is perfect for just about all your photography and videography needs, including short films, YouTube videos, family photos, and so much more.
Canon first began making the EOS Rebel models in 2003, with the first one being the Canon EOS-300D. For its time, the camera had great qualities such as auto-focusing, capturing photos in 6.3 megapixels, a 1.8-inch LCD screen, and even an optical viewfinder. The newest model in the series, the EOS Rebel T8i, also known as the EOS 850D, was announced in early February of last year. Retailing at $749.99, this new model offers recording in 4k resolution (also applicable in the time-lapse mode), face and eye detection, auto-focusing, and a pop-out LCD screen with up to 170 degrees of rotation.  
However, the T7 was a better choice for me over the T8 due to the pricing and user experience level.
The T7 offers the ability to have three different ways to preview live shooting. The first option is the three-inch Liquid Crystal Display (LCD) screen. Second, the built-in optical viewfinder is near the external flash. Personally, my favorite way to view my live shooting is by enabling the Wi-Fi function. This is handy when you're having a solo shooting session; you can save time and adjust anything, including the focus points, exposure, or raising the flash. The T7 allows for crisp and vibrant shots. 
My favorite aspects of the T7 are the Wi-Fi connectivity functions and the terrific battery life. The Wi-Fi feature can send photos and videos to another camera, your computer, your phone, or a printer. This is convenient if your personal computer doesn't have an SD card reader or a port for the camera's USB cord.
The battery life for this camera is simply amazing. I use the camera more for videography, so the battery life has played a huge role in my decision to purchase. The battery lasts for two to three and a half hours, which is excellent compared to previous camera models that I've owned, such as the Canon Powershot ELPH 180. A neat tip for preserving the battery even further would be to use the optical viewfinder instead of the LCD screen because that way the display is off.
The Canon EOS Rebel T7 is full of potential and worth the $449.99. Without a doubt, this is an excellent choice for anyone with little to no experience with cameras because it is easy to use and has remarkable features.