Subtly Sabotaging Stereotypes
The Consequences of "Positive" Racism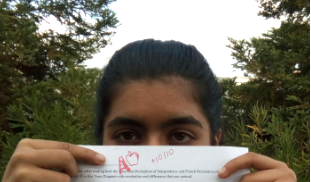 "You're a freshman, right?  Where were you born?" asked the calculus substitute, peering at me over the top of his attendance sheet.  "You must have some brains."  Although the substitute probably no longer recalls this incident, it stuck with me as the first time someone openly connected my achievements to my race.
While racial stereotypes such as "Mexicans are drug dealers" obviously harm recipients, stereotypes like "Asians are smart" are often seen as compliments despite their destructive nature.
"I don't think [positive stereotypes] are compliments," Diane House, a Woodside psychology teacher, asserts.  "I don't think stereotypes are ever compliments.  We should not lump people together and assume that they're going to be a certain way or have certain attributes just because they're part of a group."
Although the effects may not be as clear, House sees "positive" and "negative" stereotypes as equally damaging.  One so-called "positive" stereotype House mentions is that all African Americans are good at sports, which not only detracts from their personal hard work and talent but also sets an unreasonably high bar for the entire race.
Similarly, the "model minority" stereotype hides the problems that Asian Americans still face; while others view Asian Americans as financially successful, just over 10% live beneath the poverty line.
Such stereotypes may discourage people from certain behaviors or actions out of fear of being a "typical" person of that race.  On the other hand, living up to the stereotypes results in their race, not their effort, justifying their achievements.
"It's much more added pressure to live up to an expectation… that's not necessarily true," comments Woodside head guidance counselor Francisco Negri.  "I would say prejudgement in general could really put somebody in a position to fail."
While some stereotypes may appear as compliments, they negatively impact both the recipients and the perpetrators when linked to race.
Using stereotypes perceived as positive may cause recipients to do worse in the fields others expect them to specialize in.  For example, in one study, Asian females performed worse on a math test once researchers commented on the women's supposed mathematical abilities.  In addition, others may view perpetrators as prejudiced, believing that people who use "positive" stereotypes will also use negative ones.
Eliminating these stereotypes is a matter of education, as they result from a lack of exposure to racial diversity.  Upon meeting others, people will realize that others can never be defined by a single characteristic.
"It's about educating people on what's factual and what's not, and it's about encouraging people to expand their little universe to include people that aren't exactly like them," House explains.  "We need to encourage people to get outside of their comfort zone and get to know other people so they can not have these stereotypes."
The next time you meet someone, take the time to get to know them.  Maybe they conform to racial stereotypes or maybe they do not, but they should never have to make decisions based on their race; in the end, people are more than just their appearance.