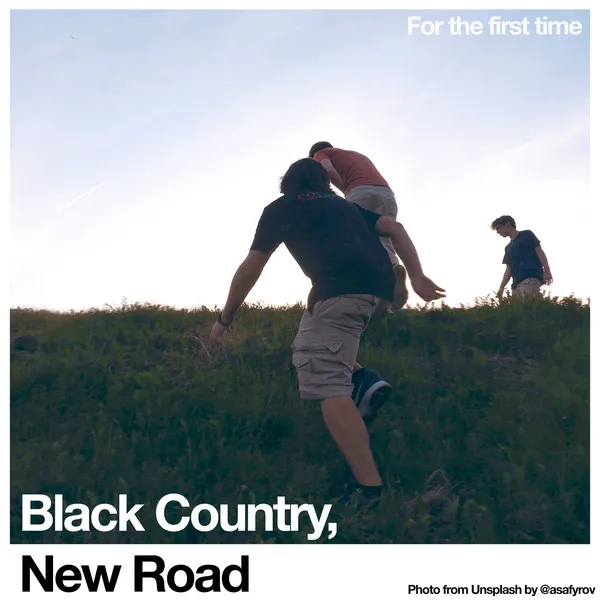 Over two years since the release of their first single, experimental rock band Black Country, New Road has finally come out with their debut album. Aptly titled "For the First Time," this project features two new songs and two rerecordings of old singles.
Although the tracklist is only six songs in total, this album feels more fully-realized than most I've listened to this past year. The opening track, "Instrumental," is five minutes of pure exhilaration. A simple, repetitive synth melody plays over pounding drums, eventually building to include a saxophone that sounds straight out of the soundtrack for a spy thriller. Just as the tension reaches a fever-pitch, it ends, and the instantly-iconic riff of "Athens, France" begins. It's a deliberately unsatisfying transition, further exacerbated by the dissonant melody that follows.
The album version of "Athens, France" is a rework of the version released in early 2019. Vulgar lyrics have been replaced by meta-commentary – "I come down in her childhood bed / And write the words I'll one day wish that I had never said" – and the explosive ending has been toned down severely. It's certainly not a bad change. If anything, this chilled-out version of the song gives the mesmerizing second half more space to shine.
By this point, many listeners will probably notice that Black Country, New Road wears their influences on its sleeve. If they have yet to pin down the origin of these oddly-structured songs, with their half-spoken lyrics and hypnotic melodies, then "Science Fair"'s a nod to the trailblazing "post-rock" band Slint should put everything in context. Like Slint, Black Country, New Road is less concerned with having catchy choruses or danceable hits and more focused on establishing an overpowering mood, leaving the listener with something to chew on. However, there's not much that stands out about "Science Fair" outside of this allusion. It's just as gripping as the rest of the album, but it doesn't do much to differentiate itself.
That's fine because what follows is arguably the best track on "For the First Time": "Sunglasses." This song is also a rework of a single, now sporting a mesmerizing intro of aimless guitar drones and a vocal delivery much closer to traditional singing. The midpoint of this track, where vocalist Isaac Wood belts notes around cascading saxophones and guitars, is one of the few moments on this album bound to pull at the listener's heartstrings. The second half of "Sunglasses" is largely unchanged, remaining just as electrifying as ever.
"Track X" is another standout in that it is by far the album's most tender song. There are no drums, only a sleepy bassline playing in a waltz tempo. The moments where Georgia Ellery sings backing vocals are especially sublime – her sweet voice contrasts nicely with how chaotic and dissonant the rest of the album is.
The pace picks up with the album's last song, "Opus." Although this song is unusually violin-heavy, there's not much to separate it from the rest of the album in terms of quality. A much more fitting conclusion would have been the unreleased track "Basketball Shoes." Clocking in at over ten minutes, this song expertly covers a wide variety of emotions that it's a shame no studio recording of it exists.
Nevertheless, "For the First Time" is an exceptional record. Despite having apparent roots in the post-rock genre, it still feels fresh and exciting.