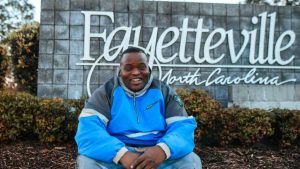 Morae Ruffin, a North Carolinian rapper known professionally as Morray, has recently released singles "Quicksand," "Low Key," and "Switched Up," garnering the support of fellow North Carolinian rappers J. Cole and DaBaby. The North Carolina rappers were very vocal on their social media about the up and coming rapper. 
It's easy to see why he blew up overnight, with his melodic delivery and his lyrics about making it out of poverty and into the rap game.
Morray has a promising future. With fast-paced and catchy delivery on the hook of his single "Quicksand," it is clear that he was bound to get some attention. He also creates heartfelt lyrics to give the listener empathy for the struggle growing up around gangs and gang life. 
Morray raps of having to be in "a war where I couldn't lose" in "Quicksand." His voice has so much range — he can rap with a great flow and cadence, but he also has a very impressive singing voice. Like J. Cole, Morray is a phenomenal lyricist while also being able to produce a catchy hook similar to DaBaby.
His discography may not be as large as others'; however, Morray is a great example of quality over quantity. His amazing production of beats and samples add to the emotion and storytelling of his music. I see great things in his future, and you should keep an eye on him.