FKA Twigs released her second album "Magdalene" on November 8, 2019, marking her first full-length album since 2014's "LP1." The album features Twigs collaborating with a variety of talented electronic artists across nine songs.
"Magdalene"'s first track, "thousand eyes," functions as a soft introduction to the album's themes and sonic landscape. Heavily shaped by experimental electronic producer Nicolas Jaar, who also had a hand in six other of the album's tracks, the song starts slow and meditative. Twigs's singing is soft and repetitive, and cavernous drums quietly plod along in the background, almost as if "thousand eyes" is being played inside a church (something that connects to "Magdalene"'s semi-subtle, semi-religious themes). As the song progresses, synthesizers and bass that seemed almost hidden in the song's mix begin to twist and distort into feverish, leaping waves of sound for Twigs's increasingly-stressed vocal intonation to spring off of. "If I walk out the door, it starts our last goodbye / If you don't pull me back, it wakes a thousand eyes," she sings.
It's no secret that "Magdalene" is largely about Twigs's breakup with actor Robert Pattinson; in this way, "thousand eyes" also functions as an introduction to "Magdalene"'s subject matter as well, beginning at the breakup that Twigs spends the rest of "Magdalene" deconstructing. More specifically, "thousand eyes" is about how, after severing ties with Pattinson, Twigs instantly put herself under the scrutiny of the "thousand eyes" of the tabloid press. And, when she sings "I'm so cold with all those eyes," she recounts how lonely it feels to have to deal with that scrutiny alone.
The next track, "home with you," is equally haunting. A sluggish, alien effect masks Twigs's vocals in the song's verses, backed by almost-inaudible piano chords that make the song feel simultaneously alive and sedated. Then, as the piano grows in volume, Twigs's singing intensifies to the point where it seems as if she's fighting against something unseen, with the ending of the line "Mary Magdalene would never let her loved ones down," specifically drawn out so much that it sounds like tearing paper. While the song briefly includes a hip-hop-adjacent moment with 808s in the second verse, it mainly stands divided between two sections: the cold, lonely verses, and the warm, open chorus. The piano in "home with you" begins as unsettling and restrained, but it becomes more conventional and vibrant as Twigs's natural, unfiltered voice begins to sing the song's chorus. By the end of the song, what sounds like an entire orchestra plays numerous beautiful solos simultaneously, presenting a unique interpretation of the feeling of "running home" that the song is about. While "home with you" is not exactly a sad song, it's one of "Magdalene"'s most effective moments.
Track three, "sad day," is the first in a pair of tracks with production from EDM legend Skrillex. On the one hand, the sung melody is relatively simple, and the EDM-influenced breakdown that comes after every chorus isn't reinventing any genre cliches, but on the other hand, the efficient way in which the song is written makes it so that not a moment is wasted. "sad day" seems to ooze nostalgia in this way, like a Top 40 song from a decade ago that sounds sadder than it did when it first came out.
Ironically, "holy terrain" (the other song Skrillex helped with) sounds like a forgettable Billboard hit. All the technical elements of a traditionally "good" song are present – a crisp trap beat, an ethereal melody, and production from trendsetters (Kenny Beats and Arca) and seasoned musicians (Jack Antanoff) – yet none of them coalesce into something emotionally stimulating. Future's verse in particular, a rather bizarre inclusion on such a personal album that has no other featured vocalists, slows the song down so much that when the final chorus plays right after it, it feels like an incredibly tacky way to prolong a track that has already died.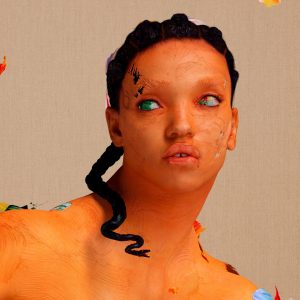 Thankfully, the Cashmere-Cat-assisted "mary magdalene" picks the album back up. In fact, Twigs is so talented at creating moods that this song feels less like a collection of melodies and instruments and more like a scene from a science-fiction film about monks. Twigs has always been adept at connecting the old and new – on "LP1," she mixed old dance stylings with her own futuristic pop flavor, and this is no less apparent on "Magdalene." "mary magdalene" in particular makes good use of call-and-response vocal arrangements, what sounds like a mandolin, metallic drums, and fiery electronic glitches. If "mary magdalene" is a scene from a film about monks, then so is "fallen alien," but in a much different way. "mary magdalene" is almost calming; oppositely, "fallen alien" is hectic and angry. When Twigs sings "When you fall asleep, I'll kick you down," as children's choir samples and chaotic drums crash together, she seems to spit with a disarming fury.
"mirrored heart" takes "Magdalene" back down to the quiet sadness that the album seems to specialize in. Its reverb-cloaked drums thud against mushy guitars as Twigs sings lyrics that wouldn't be out-of-place on a sad college student's Facebook wall: "But I'm never gonna give up / Though I'm probably gonna think about you all the time / And for the lovers who found a mirrored heart / They just remind me I'm without you." No other song on the album encompasses loneliness as much as this, yet it refrains from feeling too self-indulgent because Twigs's loneliness is so visceral that the listener can't help but relate completely.
Once the tail end of "mirrored heart" fades out, the beginning of "daybed" slowly sneaks in. While the pioneering producer Oneohtrix Point Never helped Twigs produce this track, his signature synthwave flourishes are held back so that Twigs can effortlessly flow through the song in a dream-like trance. "daybed" is an unquantifiable emotion – one only replicated by the peace of quietly watching a dog sleep or the frail contentedness of staying in bed on the internet past 4 AM – distilled to its bare essentials. While descriptions like "bright red velvet" and "smooth sludge" seem like odd descriptors for music, no other words can come close to describing how tangible "daybed" sounds.
Once closing track "cellophane" takes its place, "Magdalene" seems to find a calm, resonating niche to settle down in. Despite having repetitive and simple lyrics, "cellophane" is perhaps one of the most heartbreaking songs of the year. The way its melody seems to heave up and down, a piano and beatboxed metronome looping over and over again to provide a steady rhythm, makes the song function as a sort of comedown from the fervor of the rest of "Magdalene." "Didn't I do it for you / Why didn't you do it for me," sings Twigs, her lyrics vague enough to be about all of the heavy subjects weighing on her mind at once. When the song finally sways into something resembling a dance rhythm, it feels less like a club track and more like the swaying of a car flipping over in slow motion. When "cellophane" (and, by extension, "Magdalene") ends, Twigs seems to have excised every one of her laser-sharp emotions through song. Anxiety, loneliness, sorrow, comfort, and anger are all laid bare until both her and the audience are left with nothing, and Twigs breathlessly whispers, "They're waiting / And hoping / I'm not enough."
Simply put, "Magdalene" is an exercise in creating cinematic, emotional portraits, unparalleled by any of the work of Twigs's peers. It is easily one of 2019's best albums.