Lana Del Rey's angelic vocals and melancholic lyrics combine with her new politically active stance to bring her best album yet, Norman F***ing Rockwell.
Del Rey released Norman F***ing Rockwell, her sixth studio album, on August 30, 2019 after a year-long lead-up that included singles such as "Mariners Apartment Complex" on September 12, 2018 and "hope is a dangerous thing for a woman like me to have – but I have it" on January 8, 2019.
The songs on the newest album are beautifully written, mixing her ethereal voice with poetic lyrics. Many are similar to previous releases, full of nostalgia and Del Rey reminiscing over ex-lovers. The album is aesthetically amazing, artfully tying together the singer's past through songs such as "Cinnamon Girl" and "California."
"Cinnamon Girl" acts as a continuation to Del Rey's "Radio," released in 2012 for her debut album Born to Die. 
"Now my life is sweet like cinnamon," sings Del Rey in "Radio."
The artist directly references "Radio" in the title of "Cinnamon Girl." However, the lyrics to "Cinnamon Girl" contrast with her happiness shown in "Radio," instead focusing on her painful past.
"If you hold me without hurting me / You'll be the first who ever did," she sighs.
Similarly, "California" references her dreamy 2014 single "Flipside."
"You caught me once / Maybe on the flipside I could catch you again," Del Rey croons in "Flipside."
Both songs detail her hopes to reunite with a past lover when they come back into town, and in "California," she promises to throw them a party if they return to her.
Though the album artfully references Del Rey's past, it also incorporates other personal ideas at the same time. In "Bartender," Del Rey exposes her issues with the paparazzi and her desire to lie low, something she has not explicitly sung about before.
"I bought me a truck in the middle of the night / It'll buy me a year if I play my cards right," sings Del Rey. 
As of September 9, Del Rey has over 17 million monthly listeners on Spotify and 14 million followers on Instagram. Her extreme level of fame brings many challenges beyond simply avoiding the paparazzi. Since the beginning of her career, critics have brought up concerns with her lack of political stance. When asked in 2014 if she was a feminist, she changed the subject to SpaceX. 
"For me, the issue of feminism is just not an interesting concept," Del Rey told Fader. "I'm more interested in SpaceX and Tesla, what's going to happen with our intergalactic possibilities. Whenever people bring up feminism, I'm like, god. I'm just not really that interested."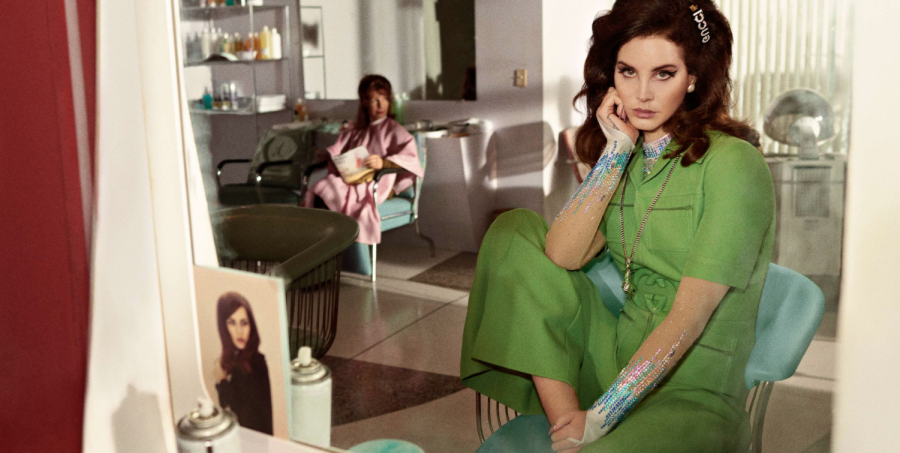 Later on, in her 2017 release Lust for Life, she finally provided some political information in her song "When the World Was at War."
"Is it the end of America?" she wonders.
This, along with vague comments implying her dislike with President Trump, was the extent to which she talked about her political beliefs and leanings. That is, until Norman F***ing Rockwell.
In "The Greatest," Del Rey references the Southern California wildfires, reminding the listeners that "L.A is in flames, it's getting hot." 
The line speaks about climate change, adding another element to the singer's political activity.
"Kanye West is blonde and gone," she murmurs in the next line, providing rapid-fire political commentary at the end of "The Greatest" to make up for her years of silence in the spotlight. Del Rey is no longer afraid to voice her opinions, even if it means calling out another artist for his political views.
On August 9, Del Rey released a single, "Looking for America," separate from Norman F***ing Rockwell, but just as important. In it, she tackles America's gun violence epidemic.
"I'm still looking for my own version of America / One without the gun, where the flag can freely fly," she sings.
Instead of easing herself into her new political persona, she dove straight in and is already making ripples. Del Rey's latest album proves she is a force to be reckoned with, and she shows no signs of stopping her growth.