"I've taken out my Invisalign, and this is the album."
Billie Eilish, a bold, blue-haired 17-year-old from Los Angeles, released her debut album WHEN WE FALL ASLEEP, WHERE DO WE GO? on March 29, 2019, quickly obtaining the top five spots on the U.S. Spotify charts.
Eilish first rose to fame with her dreamy single "ocean eyes" in 2015, followed by her 2017 debut EP dont smile at me. In 2018, she returned to top charts with her forlorn collaboration "lovely" with Khalid for the 13 Reasons Why Season 2 soundtrack.
Juxtaposed with her airy, angelic vocals, Eilish's songs often focus on dark themes. Songs featured in dont smile at me are generally about sorrow, innocence, and sanity, while in WHEN WE FALL ASLEEP, WHERE DO WE GO?, Eilish specifically focuses on elements of horror, darkness, grief, and loneliness to develop a ghostly narrative.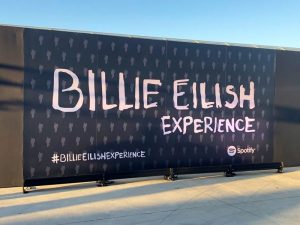 Eilish kicks off WHEN WE FALL ASLEEP, WHERE DO WE GO? with a 14-second track called "!!!!!!!" full of laughter and banter, most likely featuring the moment when she officially finished the album. It demonstrates how Eilish scatters bits and pieces of her personality across her album; another example is in "my strange addiction," where she samples audio from an episode of the popular sitcom The Office.
Eilish's laugh from "!!!!!!!" swiftly transitions to the hypnotizing beat of her second track "bad guy," a song designed to be a hit. She describes herself as "the bad guy" in a relationship, which draws a parallel to "she'll want the Devil on her team / My Lucifer is lonely," a line from a track titled "all good girls go to hell." The contrasts between innocence and corruption, good and evil, are consistent throughout her album.
Similarly, her single "you should see me in a crown" is anything but vulnerable: Eilish is bold, fierce, daring. Opening with the chilling sound of scraping knives, she sheds her quirky, almost-too-relatable persona from dont smile at me to reveal a dauntless facet of her personality. In her accompanying music video, Eilish fearlessly sings while being covered in spiders— a feat that speaks for itself.
Eilish's fourth single "wish you were gay" displays her frustration with a crush and unreciprocated feelings, as she regretfully sings, "I just kinda wish you were gay / To spare my pride / To give your lack of interest an explanation / Don't say I'm not your type / Just say that I'm not your preferred sexual orientation." Although some called the song out as queer-baiting, Eilish defended the song's intended meaning.
"It's so not supposed to be an insult," Eilish said in an interview with PopBuzz. "I feel like it's been a little bit misinterpreted. I tried so hard to not make it in any way offensive… the whole idea of the song is… 'you don't love me because you don't love me and that's the only reason, and I wish you didn't love me because you didn't love girls.'"
Intended as a sequel to her 2017 song "party favor," Eilish's "when the party's over" is a mournful ballad that tells the story of a on-and-off toxic relationship. Although Eilish explained in a past interview that it wasn't intended to be a sad song, the slow beat and her sorrowful tone unify to compose one of the most woeful, desolate songs on the album.
"xanny" is sorrowful in a different way. The song title refers to Xanax, a drug intended as a treatment for anxiety but commonly used for recreational purposes. Unlike other artists, Eilish criticizes consistent recreational drug use, singing "I don't need a Xanny to feel better / On designated drives home / Only one who's not stoned / Don't give me a Xanny, now or ever."
"I have never done drugs, I've never got high, I've never smoked anything in my life," Eilish said in an interview with The Guardian, explaining that the song is "less 'don't do drugs'" and "more 'be safe,'" quietly adding, "I don't want my friends to die anymore."
The motif of death carries itself into "bury a friend," which features the title line "when we fall asleep / where do we go?" in the chorus. As one of the most ominous songs on the album, the ghostly track feels like the plot of a horror movie converted into an eerie song, with the majority of lines being interrupted by a brief scream.
"It inspired what the album is about," Eilish explained in an interview. "'bury a friend' is literally from the perspective of the monster under my bed… I also confess that I'm this monster, because I'm my own worst enemy. I might be the monster under your bed, too."
The music video, with over 103 million views, utilizes horror elements for an eerie, bizarre aesthetic, prominently using flickering lights and moving shadows to develop a chilling mood not unlike that of the television show American Horror Story.
"8" is from the perspective of someone that Eilish hurt. The early verses are sung by Eilish in a higher pitch, giving the impression that a young child is singing. Fans on Twitter observed that the shift from a high pitch to a low pitch not only marks the album's shift in mood but follows the shape of a literal 8.
The album's last four tracks— "ilomilo," "listen before i go," "i love you," "goodbye" —are all reminiscent of her classic, pure vocals from dont smile at me. Their gentle melodies but gloomy lyrics contrast the haunted, harsher tracks that are featured earlier in the album, serving as a relief to her perpetually inauspicious tone.
[playbuzz-item item="5cbcf9fb-4d85-4a20-a2ff-a5aa58f1a00b" shares="false" info="false" wp-pb-id="500800″]
Eilish blurs the lines between reality and dreams in WHEN WE FALL ASLEEP, WHERE DO WE GO?, fearlessly embracing a darker persona. She defines creativity. At just 17, she isn't afraid to stand out from a crowd of pop stars by contrasting her pure voice with ominous lyrics, creating abnormal but beautiful ballads referencing her personal disquiet.
Heartbreaking, daring, disturbing, or all of the above, Eilish is certainly a powerful force to be reckoned with in the music industry.
"My debut album. My baby. My child. This album is the world to me," Eilish expressed to her 16 million Instagram followers in a caption. "Please take care of it."
Some song and album titles are intentionally stylized in all capital or all lowercase letters.