Growing up, I watched High School Musical and Hannah Montana like everyone else. I didn't realize until elementary school that none of the stars I admired looked like me. Yes, I had role models. No, I didn't have relatable role models.
Over the summer, I worked at a library where I handed out free books to K-12 students. One of the books, Jenny Han's To All The Boys I've Loved Before, caught my attention: it wasn't the title that caught my eye, but the photo of the teenage girl on the front cover.
She looked like me.
After reading the book, I discovered that Netflix was making the novel into a romantic comedy; the protagonist would be portrayed by Asian-American actress Lana Condor. Netflix released To All The Boys I've Loved Before on August 17, 2018, resulting in widespread popularity.
To All The Boys I've Loved Before circles around the life of ordinary high schooler Lara Jean Covey, who is shocked to discover that someone mailed her secret love letters to her five former crushes.
"I really enjoyed the movie because I found the main character to be very relatable," expressed Angelina Quiroz, a high school senior from Reno, Nevada. "She isn't like your typical teenage girl that you see in TV shows and movies… I think a lot of people were able to connect with this character."
With incredible amounts of publicity and a 95% critic rating on the online movie reviewer Rotten Tomatoes, calling To All The Boys I've Loved Before a success would be an understatement.
"I really loved the movie!" Woodside junior Hazel Griffin enthused. "It was a sweet story, beautifully shot, and overall just so cute! One of the best parts about it was that the fact that the leading lady was Asian-American, [and] that didn't contribute at all to the plot. If she had been a white girl, the movie would have still gone the exact same way— but she wasn't, and it was wonderful."
Some compared another Netflix original rom com, The Kissing Booth, to To All The Boys I've Loved Before, as the films received similar levels of publicity and surprisingly high audience ratings.
"I was very surprised by [To All The Boys I've Loved Before] because if we compare it to The Kissing Booth, Netflix did a really good job," college student Matt Natali noted. "It was a very cute teenage romance without too many cliches."
Despite enjoying the lovable cast and their undeniable chemistry, others still found the plotline a little too predictable.
"There were some downsides for me, but that was mainly due to plot holes and clichés," Woodside junior Lauren Hodgson stated. "The plot was very, very predictable. All in all though, it felt fresh for a romance movie."
According to a September 2017 study, less than 4.3 percent of all television characters are Asian. Asian-American actors often play doctors, martial art masters, sidekicks for comic relief, nerds, or the antagonists, and a change from these stereotypical roles reveal why the casting of an Asian-American protagonist in To All The Boys I've Loved Before is so refreshing.
"
After I got the audition for To All The Boys I've Loved Before… I was like 'what? The lead is written as an Asian-American girl?' That blew my mind because… I never see that. It was such an empowering moment for myself.
— Lana Condor, role of Lara Jean Covey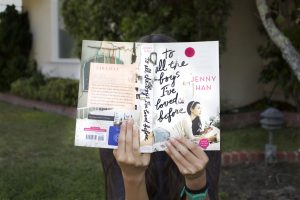 "I thought the movie was a little cheesy, but it was cute; I enjoyed watching it," junior Ally Smith admitted. "I felt like it was a little stereotypical… [but] it was cool that there was an Asian lead. You really don't see a lot of diversity [in film], so it was really nice to see that."
Another popular novel-based film, Crazy Rich Asians, recently hit the theaters with incredible feedback, topping even the highly-anticipated The Meg by millions in the box office. Denoted by its title, the Hollywood film is the first movie in twenty-five years to star an all-Asian cast.
Woodside junior Laura Quintana compared the impact of Crazy Rich Asians as similar to that of Marvel's Black Panther: "[Hollywood] should increase the population of Latinos and Asians, in general, to star in movies. [Hollywood] already did it with African Americans with Black Panther, but Latinos and Asians still need their big break."
As an Asian-American teen girl myself, I want people who look like me to be accurately represented in media and entertainment. I want the girls watching movies to have someone to look up to. I want my little sister to know she can be successful because Lana Condor was.
"It's definitely a step in the right direction, the direction that all of Hollywood should be going in," Griffin stated. "It was so refreshing to see Asian-American actresses playing everyday teenage girls and not stereotypical or racist characters. So many people can relate to Lara Jean. And the fact that that she's Asian-American doesn't change that fact in the slightest— it enhances it."
It's unbelievably important for everyone to have role models, and despite a somewhat predictable plot, the refreshing relatability of the protagonist in To All The Boys I've Loved Before not only satisfies viewers but goes beyond the limits of traditional rom coms, reminding young girls that they can be their own hero.
"[To] anyone who looked like me, if they wanted to do something, I would never want them to write it off because of the way they look," Condor described in an emotional video from Netflix's Instagram account. "After I got the audition for To All The Boys I've Loved Before… I was like 'what? The lead is written as an Asian American girl?' That blew my mind because… I never see that. It was such an empowering moment for myself. The opportunities are out there, [and] I'm hoping that this film inspires Asian-American young girls."