National Period Day Raises Awareness For Period Poverty
In honor of National Period Day, reporter Taila Lee spoke with the co-founders of the company Peach Pack to discuss menstruation stigma.
People across the United States celebrated National Period Day on Saturday, October 19, organizing rallies in all 50 states to raise awareness for period poverty and to petition for increased accessibility to menstrual products.
Period poverty, or the lack of access to affordable menstrual products, affects 800 million people who menstruate daily. Nearly 25 million women live below the poverty line in the U.S., but 35 states still have a sales tax on pads and tampons.
Self-described feminists Sage Mellet and Alyssa Carp are the co-founders of Peach Pack, a subscription service that provides users with a monthly supply of menstrual products and self-care items. Their business is less than a year old.
"One morning, Sage and I went for coffee with a friend, and we were talking about the convenience of subscription-based businesses," Carp told The Paw Print. "We soon realized— and were shocked to find out —that there weren't any mainstream-curated, monthly-subscription services for menstrual products. At the time, we saw a huge gap in the market and thought the idea was simply perfect— a business model which encompassed our passion for womanhood, periods, [and] feminism."
Though Peach Pack is primarily a business, Mellet emphasized how the company's values make Peach Pack "more than just a subscription service."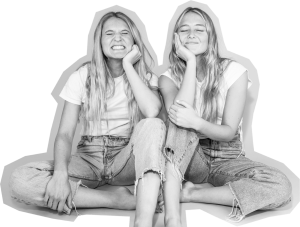 "Our business's foundational pillars include breaking the period taboo, ensuring everyone has access to safe, organic, and environmentally-friendly menstrual products, creating an empowered community, and, most importantly, giving back to those in need," Mellet said.
Along with providing "sustainable, natural, and ethical" products, Peach Pack also donates a portion of their profit to the Pad Project, an organization that makes reusable, washable pads for women living in Kenya. Though organizations like Peach Pack and the Pad Project speak openly about menstruation, it remains stigmatized.
"We live in a patriarchal society which continually endorses particular notions of womanhood, femininity, and beauty," Carp said. "Periods are deemed as something gross, dirty, and definitely not fitting into society's mold of beauty… we grow up being ashamed of this normal bodily function and embarrassed [by] it."
Senior Victoria Kovarik agrees that menstruation is heavily stigmatized — even at her all-girls high school.
"I still see myself and my friends hiding our pads and tampons on the way to the restroom or whispering to each other to find Advil for cramps," Kovarik said. "There's still the sense that periods are taboo and dirty. I was called weak for leaving my internship early because I had terrible cramps. I've had friends who bled through their jeans because they were afraid of asking to use the restroom."
On Instagram, Peach Pack (@peachpack) encourages people to share their experiences with periods, and some personal stories are turned into Instagram posts.
"Hearing our Peach community speak up and openly about their periods is so wonderful," Carp said. "We want Peach Pack to be the place where everyone feels comfortable and empowered to take ownership over their periods."
Carp noted that "normalizing period talk, creating spaces where you can openly speak about your periods," and "mak[ing] sure people don't feel like they're alone" are key to fighting menstruation stigma.
In addition to openly discussing menstruation, rallies to spread public awareness about period poverty are also gaining traction. Kovarik recently helped organize a period rally in Princeton, New Jersey, for National Period Day. About 100 people attended.
"This rally was meant to address all aspects of period poverty," Kovarik said, "as well as [to] advocate for the inclusion of menstrual products in Medicaid, granting access to menstrual products in schools, shelters, and prisons, [and] learning what we can do to help pass legislation surrounding period equity."
Mellet hopes that people will continue to discuss menstruation openly and comfortably.
"Although we do believe the conversation has definitely started to shift, we do think that there is a long way to go," Mellet said. "The sense of shame and embarrassment that many feel about their period is definitely still apparent… That is why it is our mission to dismantle these sentiments, to empower all to take ownership over their periods, and to keep the conversation going."