Varsity football's rodeo-themed opener game of a 55-13 win against Jefferson High School offers a glimpse of the spirit students can expect to see this school year. 
As the game set off, with the first kick by Woodside, cowboy boots pounded against the bleachers as junior Evan Usher scored the game's first touchdown within minutes of the first quarter. Senior Oliver Lyssand's touchdown later followed this to close out the first quarter with a 21-7 lead over Jefferson.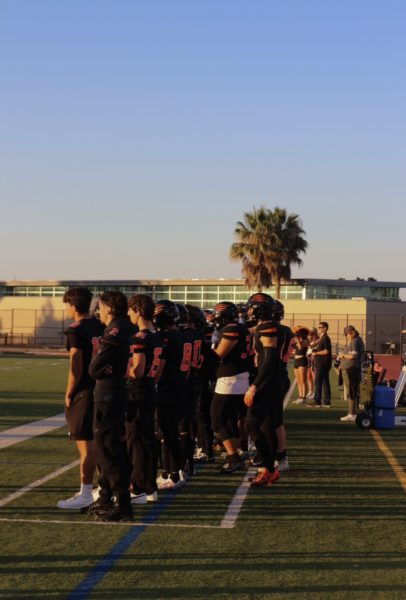 With each touchdown, the crowd was spurred by the spirited music from the marching band. The student section, decked out in flannel shirts and cowboy hats, showed their support with high energy and positivity as touchdowns by sophomore Daniel Torres and junior Isaiah Jacobo closed out the game.
Chloe De Leon
"I'm excited," junior Maxwell Tienken said. "I hope we do well."
Alongside students, faculty members joined the opening rally and football activities with appearances from Principal Karen Van Putten, Administrative Vice Principal Charles Velschow, and Instructional Vice Principal Cara Klackle at the Wildhat robot versus administration frisbee toss.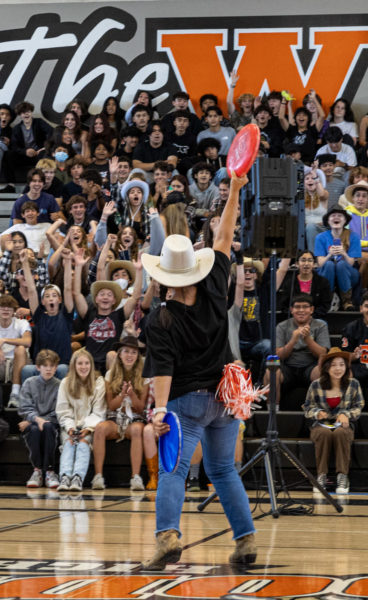 "[The first game and rally] is always fun," Velschow said. "I'm happy it is not too hot."
For the Board of Student Affairs (BOSA), the continuous spirit from the student body provides the team progress towards their ultimate 2023-24 goal. Representatives of BOSA hope that the excitement shown at the football game will carry into all aspects of the school year.
"We want everyone to embrace the challenges that come their way," senior and BOSA President Malin Petersson said. "Embrace is the theme of our school year. We want to embrace our differences and celebrate diversity."
With this new theme, inclusivity became the center of the rally, which featured dance and cheer performances, athletic team captains, new teachers, and grade-on-grade competition. This year's opening rally and game marks a spirited start to the school year. 
"I am pretty lit," sophomore Rylan Vutam said. "I love my friends that are all here."