Stanford's annual Powwow celebration returns
Stanford University is holding its 52nd annual Powwow (a North American Indigenous ceremony involving feasting, singing, and dancing) this weekend to "celebrate our traditions, ancestors, and mothers." It will involve drumming contests, dancing, singing, speeches, and arts & crafts, all on Stanford campus.
The Powwow, which the program defines as "a celebration of life and Indigeneity," is located at Eucalyptus Grove, Stanford and will run from 5:00 pm Friday May 14th to 6:00 pm Sunday, May 16th. The theme this year is Intertribal Unity.
"We chose this theme to reflect the importance of unity within our communities and to celebrate this connection," Stanford Powwow Co-Chairs Landon Swopes, Nena Dorame, and Irvin Provost said. "This year, we wanted to take the time to highlight the excellence of our elders. We have all benefited from the strength and knowledge of our elders, and we want to take advantage of every opportunity to honor them."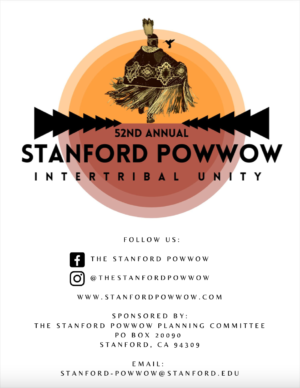 The Stanford Powwow is the largest student-run powwow in the US, having originally been founded in 1971 by the Stanford American Indian Organization (SAIO). 
Contests for a variety of different indigenous dances will be held throughout the weekend, such as the Grass Dance, Gourd Dance, Men's Fancy, Southern Straight, and Men's Traditional for men, and dances for women such as the Fancy Shawl, Jingle Dress Dance, Blanket Dance, Round Dance, Snake Dance, and several others. Cash prizes will be awarded to top places as well as jewelry and quilts for certain events.
The schedule of events can be found here.