The Woodside dance team won second place in the overall competition against Lincoln High School, in Fremont, California on February 18.
"This competition was a first for our team," junior Barbara Schoenamsgruber. "A lot of us have done competitions in the past but never [represented] Woodside. We had so much fun and [we] were so excited. We did pretty good considering it was our first and we hope to do so many more in the upcoming years." 
While a variety of different dance types were performed such as hip hop, contemporary, and lyrical, the dance team competed in the jazz category at the competition.
"We are trying to be more diverse with our dance styles this year since we typically do hip hop, jazz, and street jazz," Schoenamsgruber said. 
The team's costumes were designed to accentuate the jazz style of dance.
"Jazz is our strongest style, and we wanted our costumes to be super sleek," Shaffer said. "So we went with a black mesh bodysuit."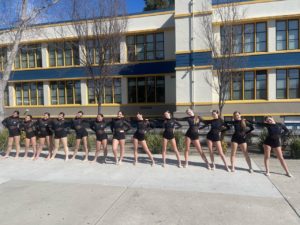 The team prepared by matching their make-up style for the dance. 
"Our hair was also slicked back to continue the sleek and simple look, and our makeup was pretty simple, just normal show makeup with red lipstick," Shaffer said. 
The team promotes its events through social media to encourage support.
"We promote by posting about the event on our Dance Team Instagram and having our teammates repost them on their stories," Schoenamsgruber said. "We also mentioned them in our school's daily announcements on the days leading up to the event." 
To prepare for the competition, a guest choreographer came in and helped choreograph the dance routine. 
"We had a guest choreographer come in and do the choreography for us which is how we got our music and made the actual dance," Shaffer said. 
After the dance, the final pose ends up being the rewarding part. 
"The most rewarding part of dances is always the last move and the final pose because after we finish the dance it's always so fun to walk off and get hyped up with your teammates," Shaffer said.
Despite getting second place, Shaffer remained positive, as well as her teammates.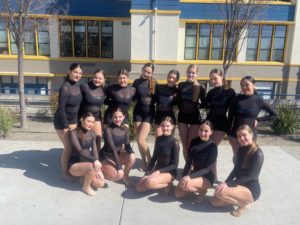 "So I'd say the most rewarding part of it was just finishing strong and being proud of ourselves for our performance, plus also placing second and getting a trophy for that," Shaffer said. "Overall our performance was pretty solid with a few minor mess-ups and mishaps, but it definitely was one of our better performances for sure."
Ultimately, Schoenamsgruber stated that choreographing and spending time together was one of the best aspects of competing as a team.
"The most rewarding part of our Spring show is definitely getting to learn, perform, or teach dances from teammates who normally don't choreograph our dances," Schoenamsgruber said. "The main [rewarding part of the season] would be spending time with everyone before closing out our season and sending off our seniors to college."