Campus affected by the bomb cyclone rainstorm
The rainstorm, the bomb cyclone storm, gushed through the Bay Area, and heavy wind swept our campus at the start of January 1, 2023. The rainstorm caused many power outages, flooding, and road closures around California. It took place all over California and affected Bay Area students for two weeks.
This powerful storm rapidly became more intense as the pressure drops suddenly and significantly. News organization KRON 4 News alerted their viewers that The Bomb Cyclone was life-threatening on television. The powerful storm affected people across the Bay as well as the Woodside community. People in most of the Bay Area lost power due to outages. Volunteers supported the community by handing out sandbags in local regions or health kits. The American Red Cross was a massive support to many individuals, and they had a lot of local places for assistance. There were also community organizations helping the homeless, sheltering them indoors. Other local organizations that helped people in need were The Salvation Army Monterey Peninsula Corps, The American Red Cross, and more. Woodside students and staff experienced flooding, causing them to stay inside and not share outdoor activities as usual.
Chemistry teacher Zachary Larson said the storm affected his home a little, but remained optimistic.
"In addition to what I was saying about being stuck inside, [I got a little water] in my garage," Larson said. "It was fine. It just took a little bit of cleanup. So it [was not] that big of a deal."
Science teacher Alton Lee described the effect of the storm on the California drought.
"One rainstorm or even one season or a few weeks of heavy rain will help but not completely work because one of the reasons is [we've been]in a trap for a while," Lee said. "There needs to be [more] work to get our water supply back to a place where we consider it to be good. This helps, but we need to do more."
Senior Amanda Marcos noticed that the construction around her stopped during a storm.
"The construction on my street stopped for a bit due to the storm, but there has not been any flooding which is good," Marcos said. "I was restricted to hanging outdoors due to the fear of storms coming down hard."
Lee discussed the advantages of the rainstorm and had some concerns.
"The question becomes, where is [the snow going to go] when it melts?" Lee said. "[Moreover], if it goes [on] the right foot, ideally, it would go to the places that we need it to go to keep our water, [and] our supply up. The challenge of course is if it doesn't… we have [an] issues of plumbing stuff like that."
CNN and the National Weather Service estimated that over 100 million people were under flood alerts during the rainstorm, including Larson.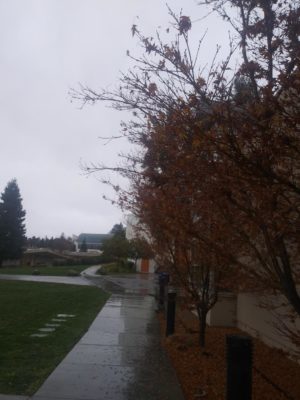 "To be honest, I actually really liked the rain," Larson said. "I grew up in Oregon, where it rains a lot, and I've kind of always liked rainy weather, but it makes things a lot more difficult for a couple of reasons, "My son now is about 15 months old and he loves going outside and we he has a trike that we take him out and we take him on walks, we take him to the park, and when it rains a lot, it's just harder to get out and do stuff with them."
Substitute Teacher Randy Mont-Reynaud talked about how the rainstorm affected her winter break.
"I turned on a YouTube fireplace video on my big screen and watched [much] football, All cozy!" Mont-Reynaud said. "I studied Italian and Spanish and tended to my non-profit in Haiti. Donations were coming in, so that cheered me up considerably. I sent photos and short videos to colleagues in Haiti and Sicily. I went out for walks between raindrops with my new umbrella."
While the rainstorm affected many people, Woodside students, and staff are now more prepared for the next storm that will come later on.
"We are stocking up on flashlights and making sure our doors [do not] let in water," Marcos concluded.