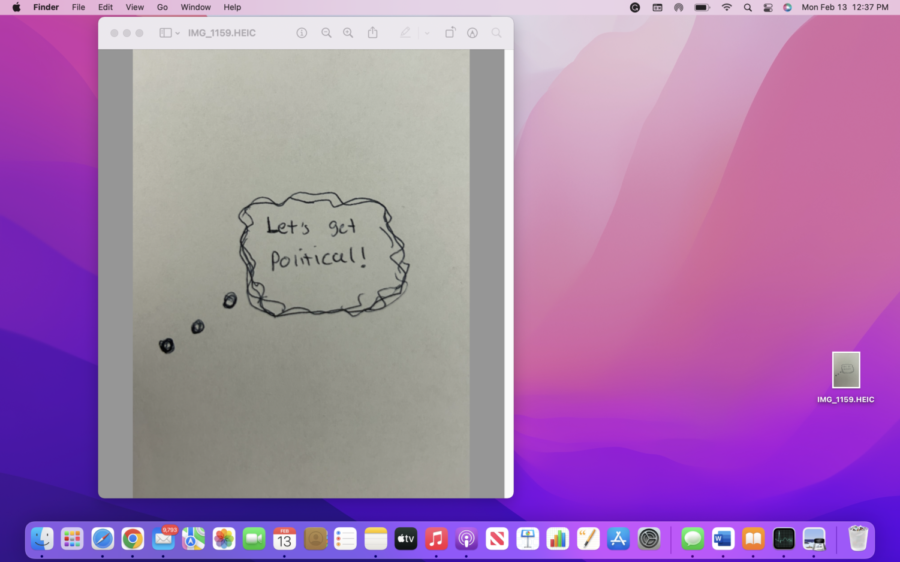 Many teenagers have shown increased resistance to bringing up political topics with their peers due to the rising division between the two political parties. 
It can also be challenging to partake in these intimidating conversations out of fear of how a student's fellow classmates may perceive them. 
"Usually people don't share the same opinions and can take things really personally," junior Kelly Baek said. "The outcome of the conversation isn't very respectful to one another."
Many students feel they don't know enough or are not educated enough on current political events to speak about them. 
"They don't have enough vocabulary to have a good conversation with their peers,"  junior Alya Madhani explained. "Like knowing the right words to say and especially feeling like maybe their peer knows something more than they do."
With the rise of social media, it can be hard for some students to navigate where they truly stand on different political matters and events. 
"I think that social media has a really big impact on how teenagers are more reluctant to talk about politics with their peers," junior Isaac Covacha said. "It allows [teens] to hear other people's opinions and not be able to form their own." 
Another issue is that teenagers can feel immense pressure to conform to the opinion of those around them. 
"I think a lot of what we talked about can be a reflection of our parent's ideas," Madhani stated. 
Although it might seem difficult for some students to take part in political discussions, there are many things students can do to help promote a safe speaking environment. Acknowledging and accepting that there will be differences between peers is the first step on the right path toward preventing unwanted tension. 
"I think teenagers should be aware that everyone has their own opinions and should have an open mindset," junior Alessandra Gutierrez said. 
Along with being open-minded, other students have noted it is important to respect the person you are having a conversation with and see them as your equal. 
"Trying to stay calm [is important. Often students] blow up on someone because I've seen that happen a lot, especially on social media," Baek said. "So saying things like 'I disagree with you' and 'I understand your standpoint even if it's different from mine' can definitely help."
Students may still feel hesitant about the idea of having these political-based conversations in class, as they think it can cause conflict with their peers.
"Even if someone has a civil conversation with one another, there will always be differing views," Covacha said. "That could cause more arguments and more harm than just not talking about [issues] in class."
With the political world being constantly divided, students may want to avoid unpleasant and uneasy feelings that might occur when discussing these topics in a classroom setting. 
"I feel like in a class it can cause arguments and can be awkward," Gutierrez said. "It can be uncomfortable for some students."
However, some students believe addressing political topics in a classroom can open them to a wide range of opportunities. 
"It would be good if we could do it in a school setting," Madhani said. "Everyone could [have] better general knowledge of what's happening in the world." 
Partaking in these easily accessible political exchanges can also promote openness and better connections between students. 
"I think it's a good idea to think about [political ideas] early," Baek said. "Also, it promotes respect towards others and helps you talk to others more politely."
Whether or not students felt they should pursue political conversations in class, it doesn't hurt for teenagers to research and develop an understanding of these topics. Younger people have a lot of influence on our society's values. 
"I think in high school that's definitely where you should start working on politics, because when you're 18, you'll be able to vote," Covacha said. "You will basically choose how the country is being run."