Flavored tobacco products, such as vape pens with flavored smells, are now illegal to sell in California by Proposition 31. On November 8, voters approved banning flavored tobacco products like cotton candy, cherry, and menthol cigarettes.
Vaping is a huge problem for American teenagers. It explicitly affects teenagers' focus and causes concern about how teens use vaping as an escape. In some high schools, students vape with a well-hidden vaping device. It is not uncommon for teenagers to vape in the school bathroom, whether this be during lunch or even while taking a bathroom break in between classes. Teenagers who vape have a higher risk of developing health problems such as breathing issues and increased anxiety and depression. The hope of Proposition 31 is that teen vaping will decrease along with the issues that are derived from vaping itself. 
Juul is a popular company that manufactures indisposable electric vape devices; the company was founded in 2015.
"[Juul], who makes electronic cigarettes and nicotine pods, targets [specifically] teenagers through magazines that teenagers read," Instructional Associate Debra Adler said. "[Teenagers are] the biggest purchasers of E-cigarettes [and] or vape pens."
Given that teenagers make up the largest demographic of vape consumers, the health problems associated with vaping can have a larger impact on underdeveloped youth. 
"You know, the lungs [are not] fully developed yet; it can cause respiratory issues, buildup in the lungs that will develop into more respiratory issues as they become adults," Woodside's health aid Nanette. Pasion said. "Since [I am] in the health office, kids with asthma that may be [affected by vaping will] experience more flare-ups exacerbations of their condition, which could then lead to some emergency situations." 
Among American middle and high school students, 2.5 million used e-cigarettes within the past month.  According to the FDA, more than one-third of middle school students (380,000) reported current e-cigarette use.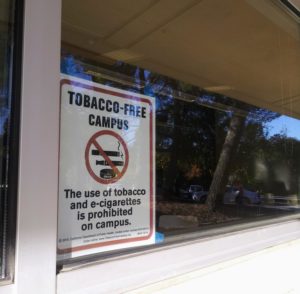 "I believe that the company, Juul, and others like them should not be targeting the teenage population because vape pens are more addicting than regular cigarettes," Adler said. 
End Tobacco Damage Now (UNDO) reports that teens vape nicotine seven times more than adults and use flavors 96% of the time. 
Teenagers develop a solidified attachment to the flavors found in vape products, prompting the likeness of addiction which can spiral into continuous health problems.
"The vape pens, the liquid that you buy, you [do not] know where it comes from, and [many] teenagers are dying, and are also [are] getting very sick," Adler said.