Woodside's leadership students often aren't credited enough for the effort they put into homecoming and other school events.
With spirit week wrapping up and the homecoming dance a couple days away, here's a behind-the-scenes sneak peek of what can be expected at the rally and dance. The people in charge of this year's rally were Victoria Mendoza-Ceron, and Jessie Lin as the leads. Addie Durrett, Josie Hussussian, and Georgia Skarakis were also major helpers when planning the rally.
Mendoza-Ceron, a sophomore and one of the two Homecoming rally committee leads, began planning homecoming at the end of September and is excited to bring interactive activities to the rally.
"This year, we're going to [play] are you smarter than a teacher," Mendoza-Ceron said. "Students and teachers [are] going against each other [and answering] riddles. And then we've been working with Mrs. Van Putten- she wanted to [play] can you pass farther than a principal with the football game on Friday, so we're going to throw a football to see who can pass farthest."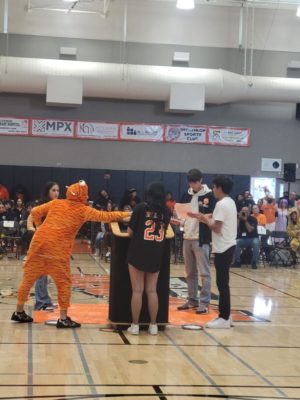 The focus of this year's rally was to make the event more interactive, as entertaining the audience is often difficult.
"A big takeaway is interactions because you're interacting with not only students to find participants, but also staff and band," Mendoza-Ceron said.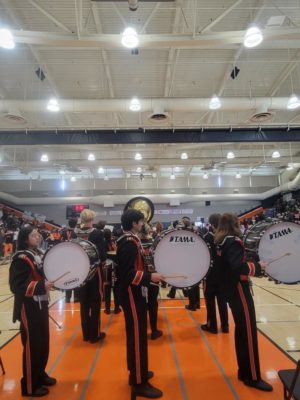 Although the all-school rally is an important event for homecoming week, the dance is an event a lot of people are eager to experience. Megan Xu, a junior and lead of the homecoming dance committee, has worked really hard to make the dance a fun experience for everyone.
"[The dance] is going to be outdoors like last year since, people really enjoyed it being outdoors," Xu said. "It's going to be a similar setup. From the setup, hopefully people will be able to have a lot of fun and free range."
Last year's homecoming recieved positive feedback, so most of the stage set up will stay the same. However, while there will be many similar aspects,, there will be big changes as well.
"We're going to input lighting, up the decorations, and pretty much improve upon what people liked last year," Xu said.
With the feedback Leadership received from the last year, they are focusing on making changes that can allow people to have a funner experience.
"The theme is different," Xu said. "We've upgraded to two photo booths instead of one, since last year we knew the lines were long. [We're] definitely improving lighting, since that was an issue on the field last year, and we're trying to work with other committees to make it as eco-friendly as possible."
Many improvements are being made for this year's homecoming events but the process of planning school wide events is not easy.
"It's extremely hard," Mendoza-Ceron said. "I wouldn't have expected it to be that hard. I [just thought] we have to make the script, but no, we actually have to email everyone."
Getting students to participate in the rally is difficult, but getting started on the actual planning process of the rally truly made the process difficult.
"We've been working for a month and most of the things we've had to do we weren't able to until we got the okay or the themes," Mendoza-Ceron said. "We didn't get the themes until October, so we were weeks behind. It was very difficult."
Planning a rally is very challenging but students often dismiss how hard their peers actually work on them.
"I'd tell people to acknowledge the work that goes through," Mendoza-Ceron said. "Honestly, a lot of people don't pay attention at rallies, and I'm one of those people. It can get pretty boring, but this year, me and Jessie are really working to make it interactive [and] really fun. So we hope people enjoy it."
There is so much work behind the scenes that goes unnoticed, but even though it's a lot of work, everyone enjoys watching the end result.
"I'm very excited for the games because we didn't have that many participants," Mendoza-Ceron said. "I had to go around and ask some of my personal teachers. I'm very excited because the questions are very funny.
The focus this year was to build on the previous homecoming. Even though it's a ton of work, it's all worth it in the end.
"Just being able to watch something come together like that, and work with other people to [make] all of your ideas… reality is very cool to me," Xu said. "That's why I love Leadership so much."